Stanley Marketplace Restaurant Guide
At Stanley Marketplace, you'll find some of the best food and beverages in Aurora. It is home to over 50 local businesses, many of which are restaurants, but there are also stores, specialty markets, fitness centers, and salons. It's easy to spend an entire afternoon or evening at Stanley Marketplace. If you're looking to grab a bite to eat or something to drink, the guide below will show you the perfect spot to satiate your appetite.
Click below to find what you're looking for:
QUICK BITES
FAST CASUAL
RESTAURANTS
LIBATIONS 
QUICK BITES: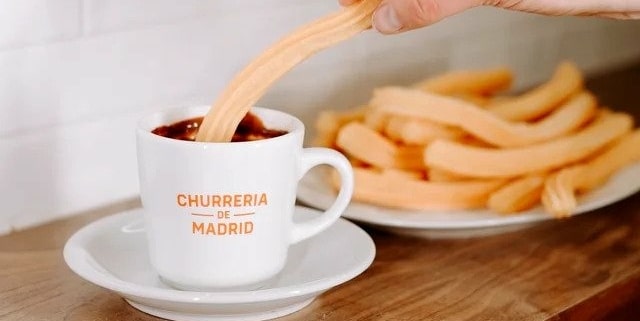 Churreria de Madrid 
Desserts, Spanish | $
If you'd like a quick, sweet treat – whether you're in the middle of shopping or finished dinner at a nearby restaurant — Churreria de Madrid is a great option, especially for something unique. Its main menu offering is churros, but not just the simple fried dough coated with cinnamon sugar (though you can order those, too). Try a churro filled with dulce de leche, pastry cream, or fruit preserves, and dipped in rich, thick chocolate. Each bite is a bit of heaven.
There are also tapas on the menu, including a Spanish tortilla, which is like an American omelet. Don't miss out on the fresh and crispy patatas bravas (Spanish potatoes) served with your choice of salsa brava or Granada mayo.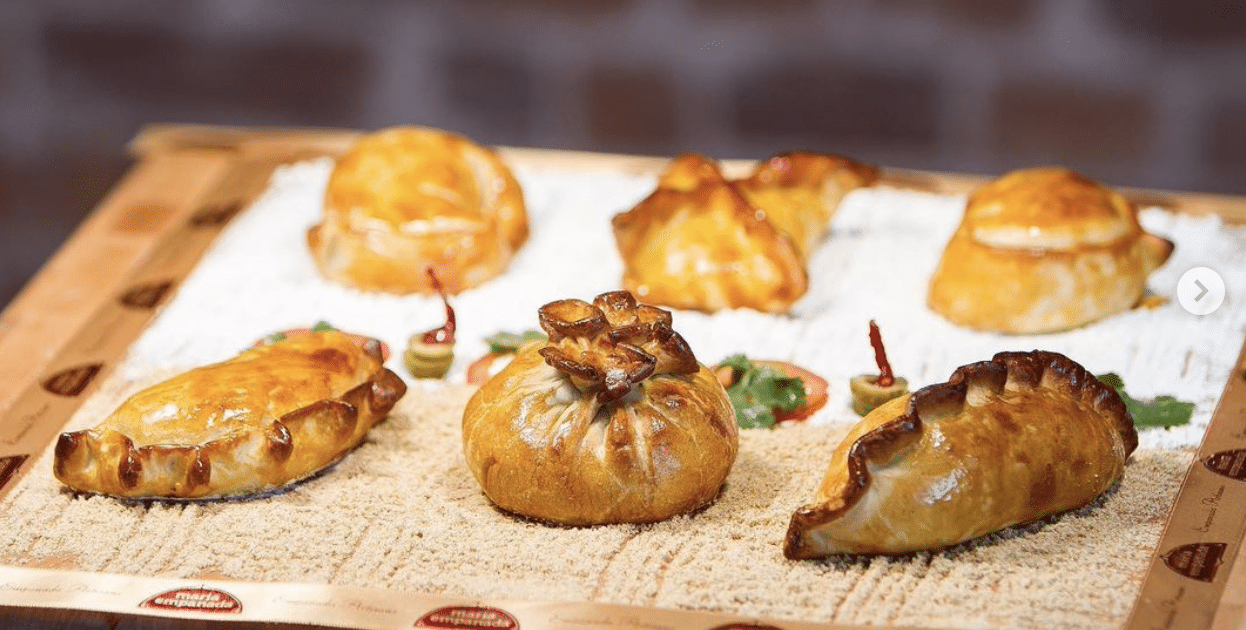 Maria Empanada 
Argentinian | $$
Run, don't walk, to Maria Empanada. The Stanley Marketplace location is a simple counter, serving authentic Argentinian empanadas, each made by hand. Chef Lorena poured her family's heritage into Maria Empanada, and the passion is evident in the flavors, aromas, and textures in her food.
There is a wide range of flavor options, from breakfast egg empanadas to Italian caprese to chicken chimichurri. A surprising standout is the simple corn empanada. Empanadas are a great handheld snack, which you can enjoy at one of the tables scattered around the Marketplace or walking through the stores. If you're in the mood for something sweet, there are several desserts available at Maria Empanada as well.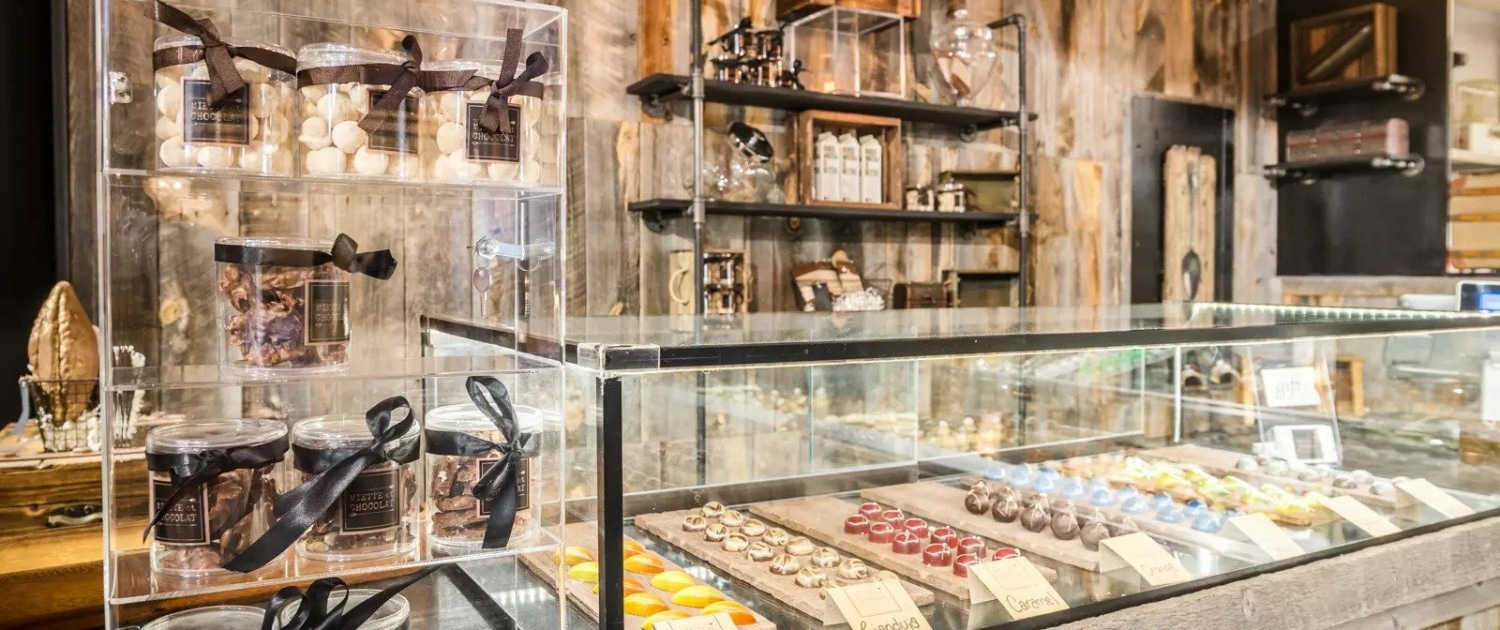 Miette et Chocolat 
Desserts | $$
Nearly hidden in the corner at Stanley Marketplace, Miette et Chocolat is the place to stop and treat yourself or a loved one. The co-owners, chocolatiers and pastry chefs, Gonzo Jimienez and David Lewis, have created a French patisserie with a modern twist.
You'll find French macarons in a wide range of flavors, specialty chocolates and bon bons, and unique chocolatey confections you won't see anywhere else. There's a reason to always check back at Miette et Chocolat – they will often offer specialty items for one day only, like pumpkin pies, sea salt chocolate chip cookies, or crème brulee.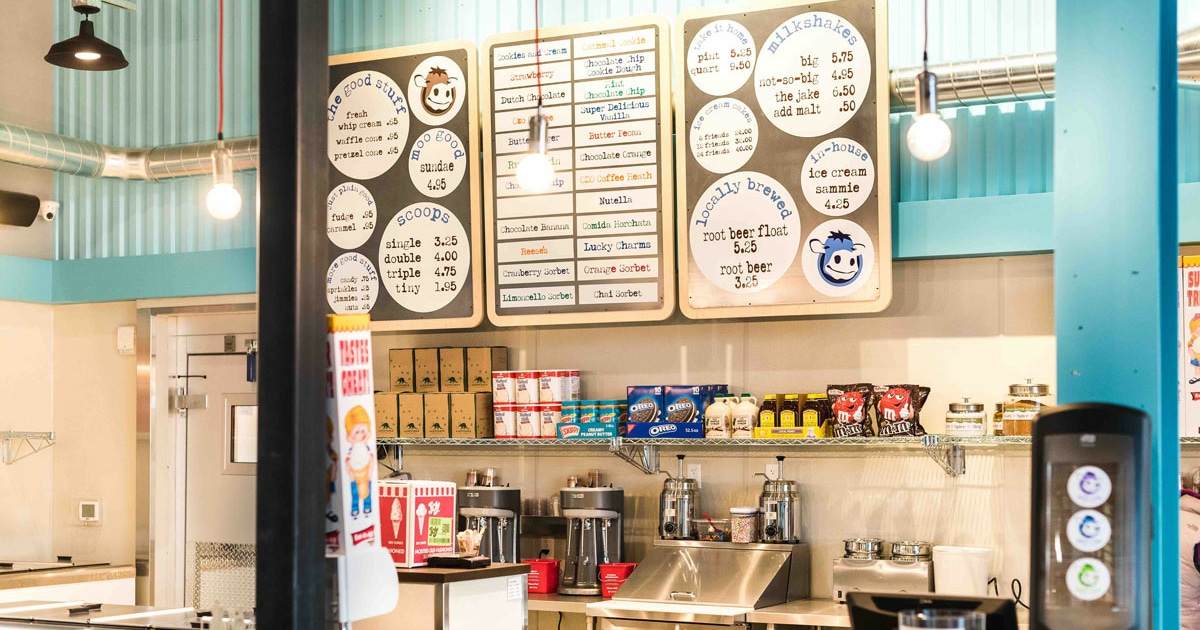 Sweet Cow 
Ice Cream, Desserts | $
Homemade, small batch ice cream? Say no more. Sweet Cow offers the classics like vanilla and cookies and cream, but you can also try unique flavors such as gingersnap molasses and strawberry golden Oreo. The ice cream is amazing in a cup, but it's even better in a pretzel cone, a sandwich made with freshly baked cookies, or coated in homemade hot fudge.
It is located across from Tattered Cover's children's bookstore, and you can feel the energy of this corner of Stanley Marketplace as soon as you walk by. There is a grassy 'meadow' outside Sweet Cow, filled with inflatable cows for children – or adults – to play with.
FAST CASUAL: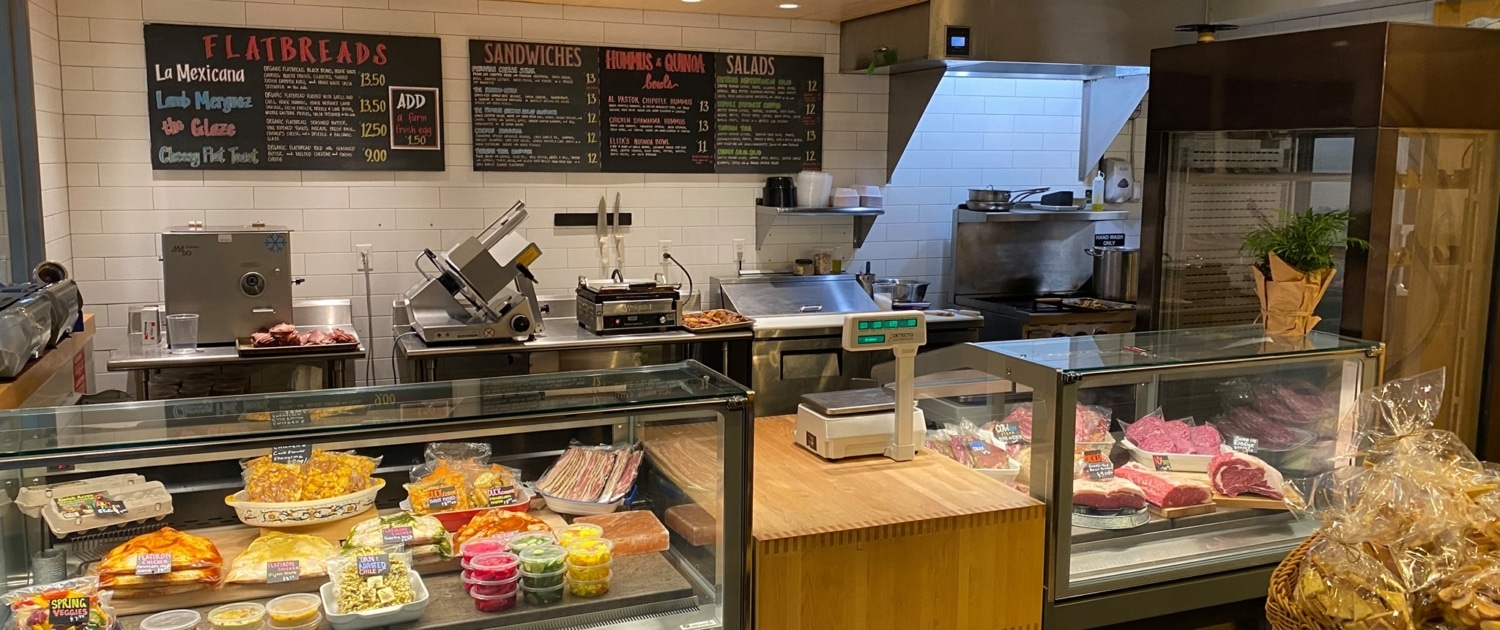 Elita Specialty Market & Kitchen 
Mexican, Israeli | $$
Elita looks like a little market at first glance, with dips, pickles, and breads set out for sale and a well-stocked meat counter. However, it serves a variety of freshly made sandwiches, bowls, and salads. Chef Raquela (Rocky) grew up along the Mexico border and was eventually raised by an Israeli family in Colorado, leading to the interesting fusion of Mexican and Israeli cuisine offered at Elita.
The chicken shawarma sandwich (and the chicken shawarma hummus plate) is a delightful and surprising combination of flavors. You can taste the lime in the hummus and a bit of heat from the chili oil, transforming what typically tastes like a true Israeli dish to something with Mexican flavor.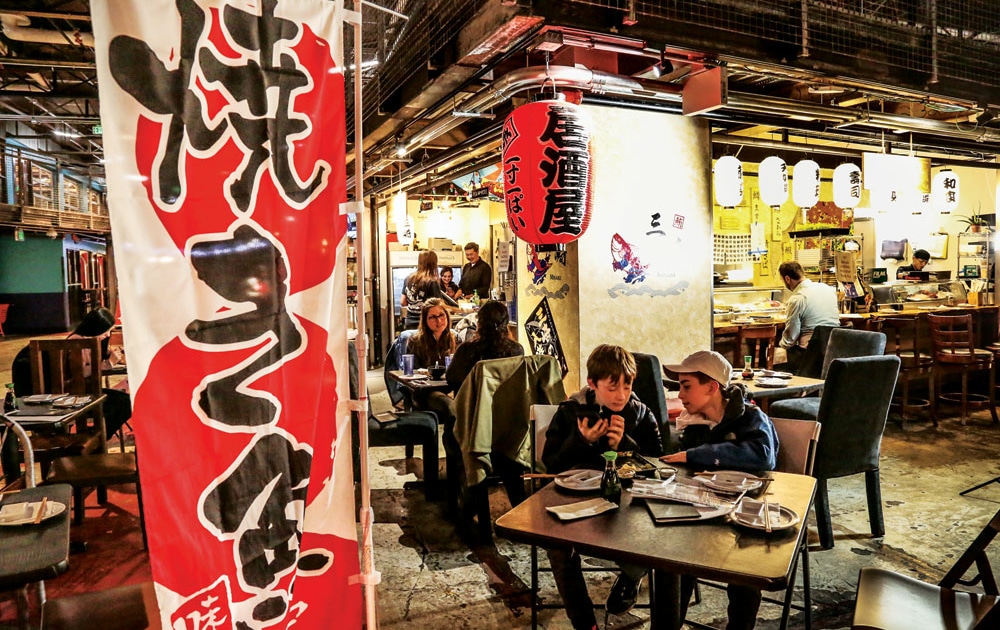 Misaki 
Sushi | $$
Misaki is the only place to order sushi at Stanley Marketplace. It's located in the heart of the space with just a few tables scattered around the hall. Even if you're not a fan of sushi, there's something for you on Misaki's menu.
Start off with the spicy edamame or shishito peppers for an umami treat, then your choice of sashimi, nigiri sushi, or rolls. If raw fish isn't your thing, try the California or Spider rolls made with crab or one of the Vegetarian rolls.
Rolling Smoke BBQ 
Barbecue | $$
There's some finger-lickin' good barbecue in Stanley Marketplace. With an emphasis on Southern style comfort food, Rolling Smoke BBQ dishes out all the classics: brisket, burnt ends, pulled pork, ribs, sausage, and smoked chicken – all served with mac and cheese, potato salad, collard greens, or coleslaw.
Owner Terry Walsh started Rolling Smoke as a food truck, which quickly blossomed into a few brick-and-mortar locations. The staff uses hickory and pecan woods to smoke all their meats – and even standing near the counter in Stanley Marketplace will make you crave some delicious barbecue from the smell alone.
RESTAURANTS: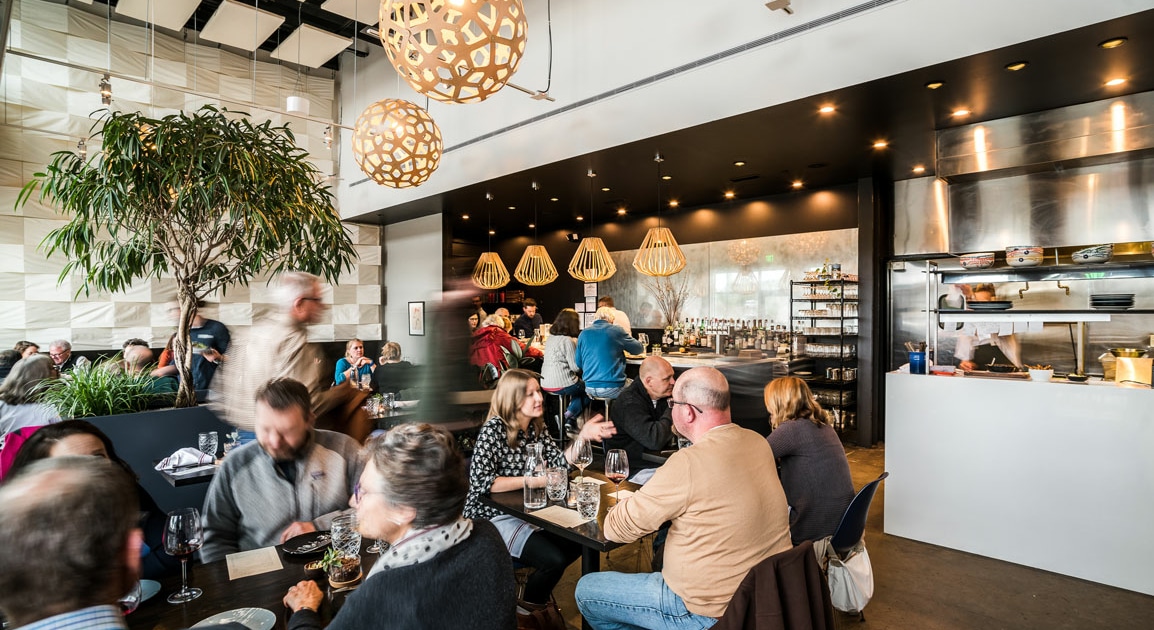 Annette 
Scratch to table | $$$
Annette is a fine-dining establishment, helmed by James Beard Award-winning chef Caroline Glover. Don't let "fine dining" intimidate you, though. This scratch-to-table restaurant boasts many accessible and delicious offerings, including panzanella, roasted half chicken, and pasta with zucchini. If you're a more adventurous eater, try the chicken liver pâté or grilled beef tongue.
There's one thing in common with each dish on the menu – each is simplistic and beautiful, and the high-quality ingredients are allowed to shine. For example, don't overlook the butter lettuce + tarragon salad – it's one of the best salads you'll ever eat.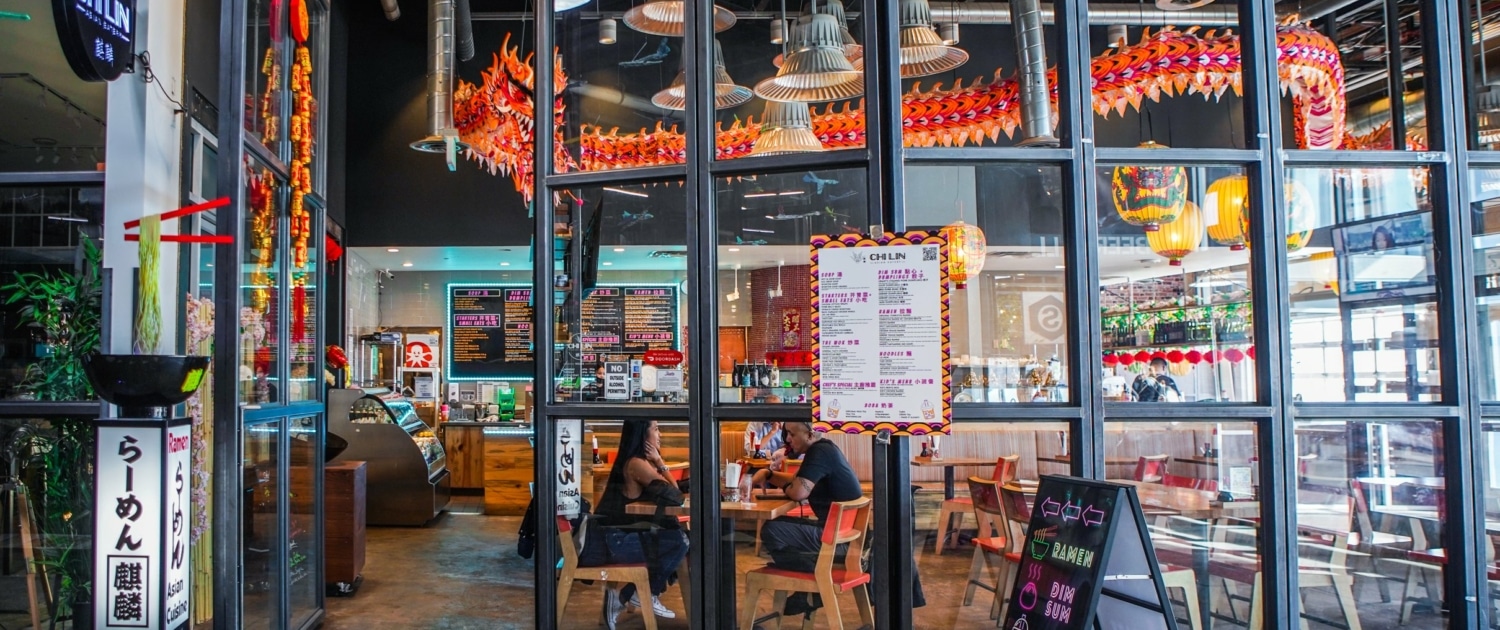 Chi Lin Asian Eatery 
Pan-Asian | $$
There's something for everyone at Chi Lin – and by that, literally everything on the menu is delightful. There's a range of pan-Asian treats, including Japanese Takoyaki, Chinese dim sum, and Pad Thai. It's the kind of restaurant where you should order a bit of everything on the menu and share it among friends or family. However – if you order the Braised Pork Belly Rice Bowl…you won't want to share.
There are also a few sake and soju options available to drink. If you've never tried it before, soju is an umami-forward spirit, sometimes called a Korean vodka. Sake, on the other hand, tends to be lighter and fruitier tasting. If you're opting for something non-alcoholic, try the delicious boba or green teas.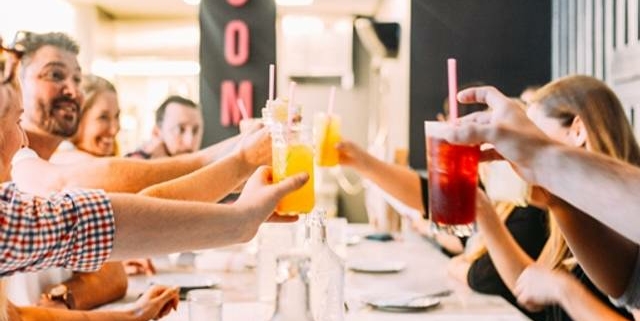 Comida 
Mexican | $$
Happy hour, dinner, or brunch – Comida is the place to be. It's a lively Mexican restaurant, serving everything you expect from your favorite taqueria and more. Comida's roots are based in Mexican street food, but with a twist of Southern American comfort food.
Start off with a signature margarita, and there is a long list to choose from. If you're open to something on the spicy side, be sure to try the Pineapple Habañero Margarita. There are plenty of other cocktails and drinks to enjoy, if tequila or mezcal is not your thing.
Comida's Griddled Tacos are a particular favorite, made with your choice of protein on a griddled soft corn taco shell and served with cotija, smoked gouda & asadero cheeses, salsa verde & crema. You can't go wrong with any choice, but Stella's Pork Carnitas are something special.
SPECIAL OFFER: Camp Christmas patrons can order a free chips and salsa trio (limit two per table). Just show your tickets to redeem.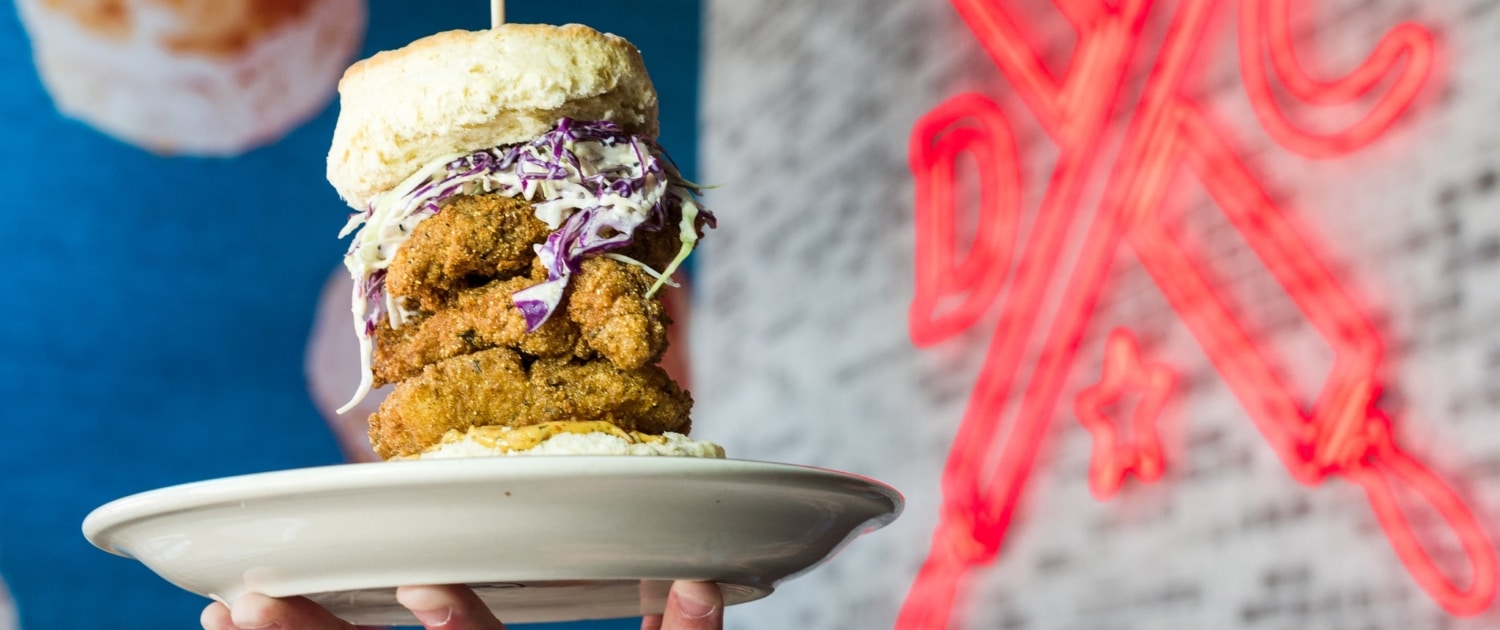 Denver Biscuit Co. 
Breakfast | $$
Denver Biscuit Co. is the place to stop for brunch – as long as the wait isn't too long. Pro tip: be sure to join the online waitlist before heading to Stanley Marketplace to get a table. Its menu features – you guessed it – fresh buttermilk biscuits, made into sandwiches, cinnamon rolls, and other breakfast favorites.
Its biscuit sandwich menu boasts diverse offerings, so there's sure to be something for everyone. For a classic breakfast, try The Dahlia made with sausage, apple butter, a fried egg, and maple syrup. If you're leaning toward barbecue, try The Elmer, made with pork belly, barbecue sauce, fried onions, coleslaw, and house-made pickles (the pickles are really something). But whatever you do, don't miss out on the giant cinnamon rolls, even if you package one up and take it home to enjoy later.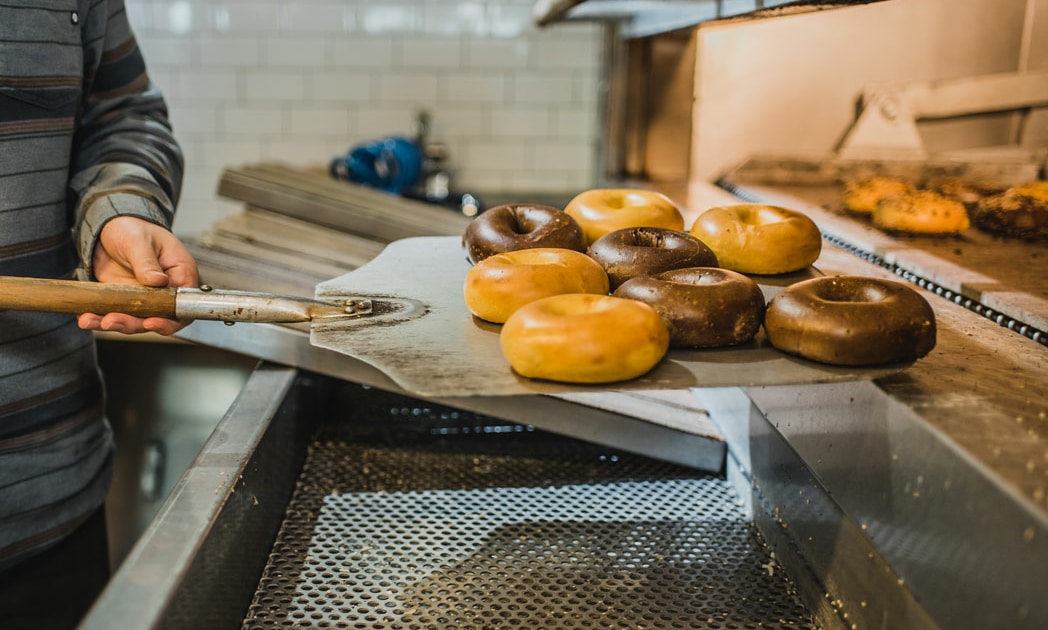 Rosenberg's Bagels 
Sandwiches | $$
If you've been craving a New York City style bagel, you've come to the right place. Not only does Rosenberg's make its own bagels, of course, but it also cures its own fish for a delicious bagel with lox. Stop in at any time of day for the best bagel sandwiches around.
Sit down with a delicious bacon, egg & cheese on an Everything bagel, wash it down with a delightful drip coffee or breakfast cocktail (mimosas, anyone?), and while you're at it, take home a dozen bagels with schmear for later. It also serves several pastries and baked goods, like babka and challah.
Pro tip: If you're at Stanley Marketplace after 4pm, Rosenberg's becomes Famous Original J's, serving hot, fresh pizza.
LIBATIONS: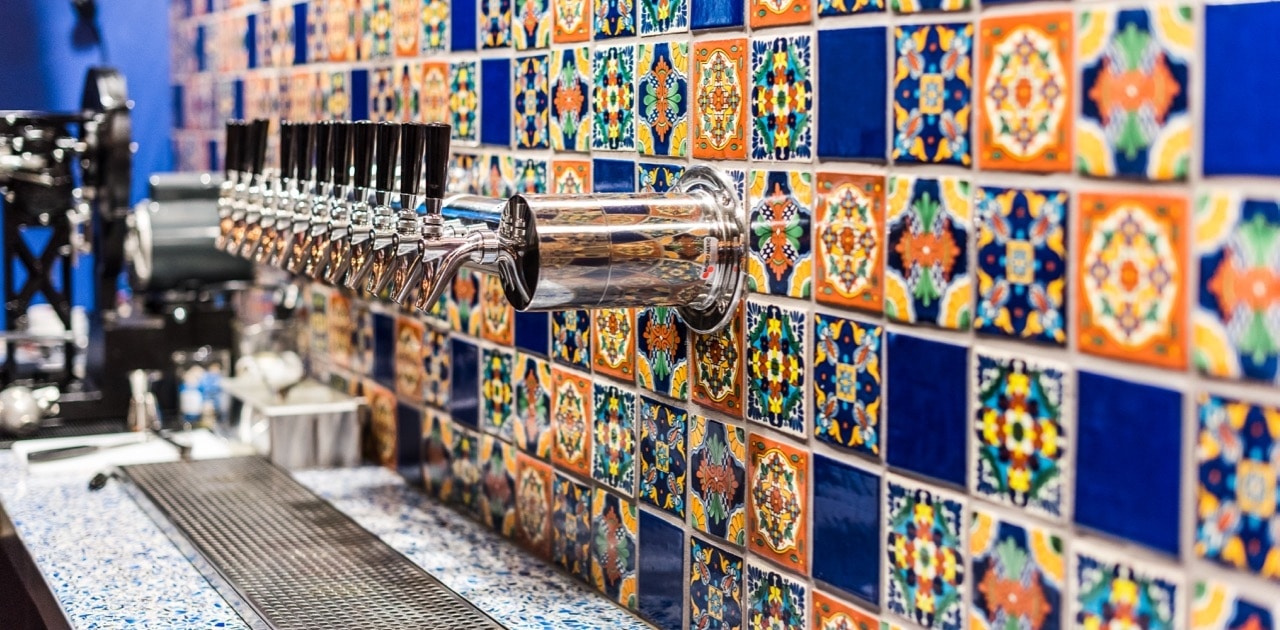 Cheluna Brewing Co. 
Beer | $
Cheluna is the only production brewery at Stanley Marketplace, and the first Latin-owned and operated craft brewery in Colorado. Owners Javi and Jen were inspired by Oaxaca, Mexico (where Javi's grandparents were from) and the culture shines in Cheluna's décor and brews. The space is typically jumping, as Cheluna offers events like watch parties and live music most nights.
There are chelas (slang for beer) offered year-round, while others are seasonal and special releases. If you're not typically a beer fan, try the Chilango Hefeweizen, inspired by Mango con Chile – it's especially delicious with a Tajín rim.
SPECIAL OFFER: Camp Christmas patrons can purchase a discounted pint of Cheluna hard seltzer for only $5 (limited to one pint per person). Just show your tickets to redeem.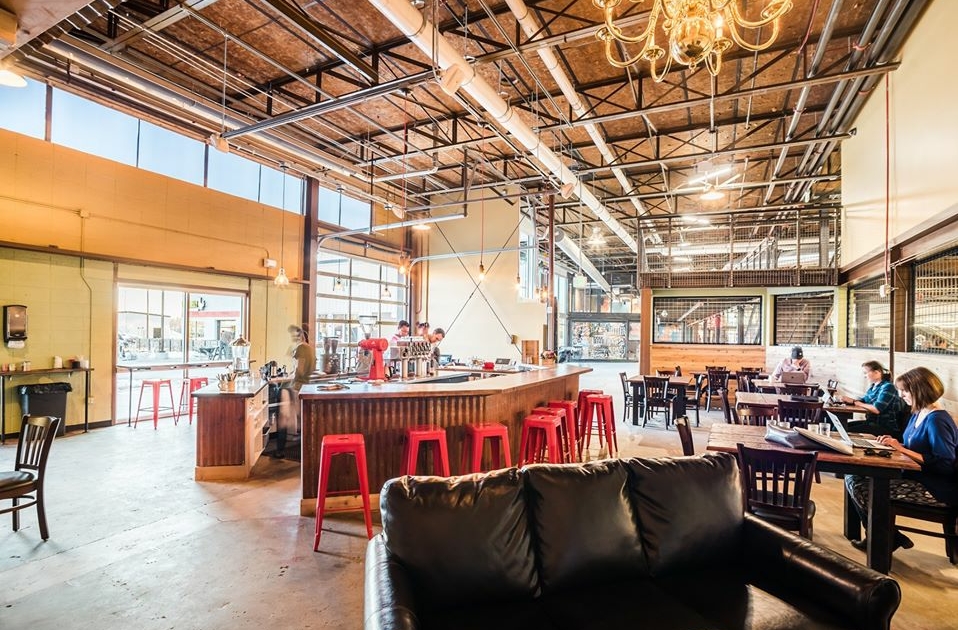 Logan House Coffee 
Coffee | $$
Stanley Marketplace is the original Logan House Coffee location, a local chain in four neighborhoods. It's an excellent place to bring your laptop, catch up with a friend, or relax after an afternoon of shopping. It has a large menu of coffee and espresso beverages, made with its own house-roasted coffee beans.
Highly recommended items include the cold brew or nitro cold brew and a draft latte (you can add your choice of house-made syrups, like chocolate or lavender honey). There is also a selection of baked goods available, such as coffee cake, cookies, and donuts.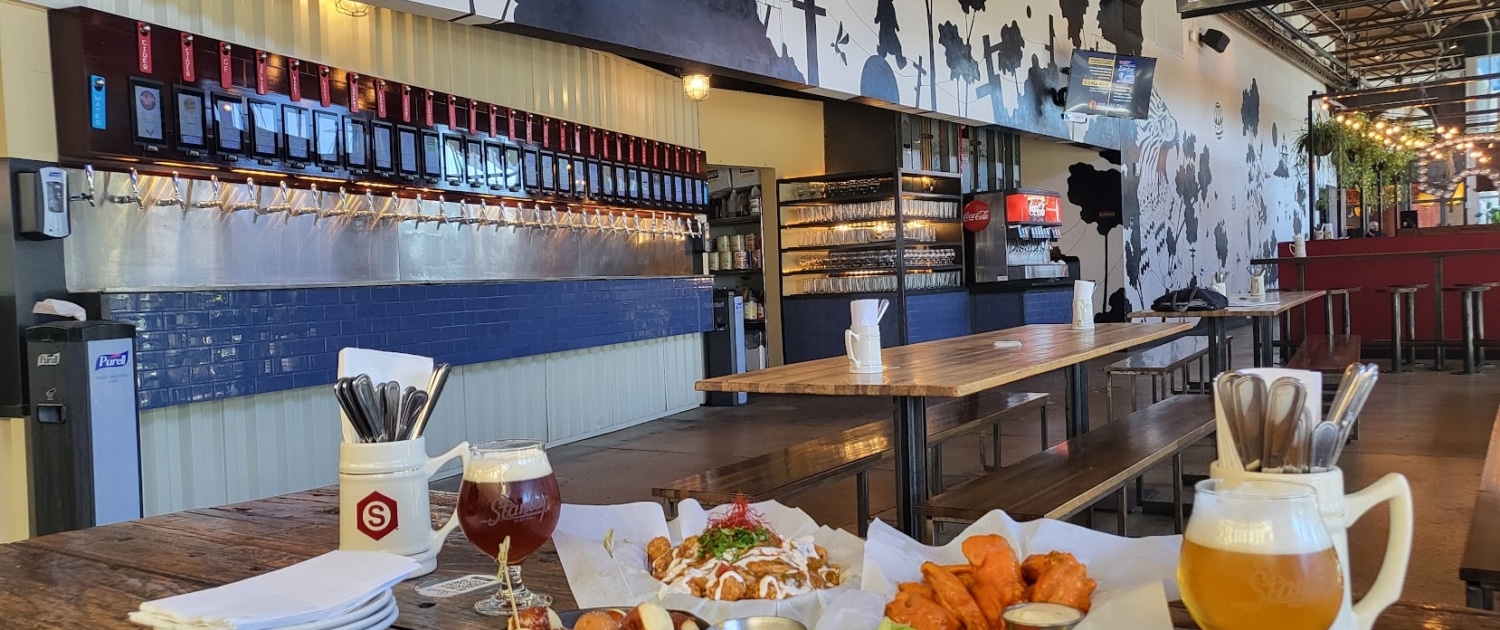 Stanley Beer Hall 
Beer | $$
At the West end of Stanley Marketplace is Stanley Beer Hall, an indoor/outdoor spot that's perfect to relax for happy hour or a late-night drink. It also accepts large group reservations, so it's an excellent spot for a celebration.
Featuring over 50 pour-your-own taps, you can pick and choose to have a little or a lot of something new, or a tried-and-true favorite. The taps pour a wide variety of beer, plus wine and cocktails. Stanley Beer Hall also serves food, if you're looking to pair your IPA with a burger and French fries.
https://www.denvercenter.org/wp-content/uploads/2023/10/stanley.jpeg
861
1200
Emma Hunt
Emma Hunt
2023-10-02 13:58:13
2023-11-08 10:14:44
Stanley Marketplace Restaurant Guide