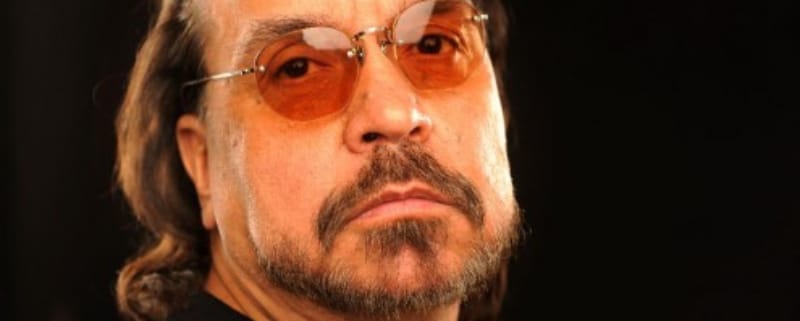 'Garcia has touched and transformed countless lives with his passion, stories and civic contributions.'
The Bonfils-Stanton Foundation saluted Su Teatro Executive Artistic Director Tony Garcia for four decades of promoting Latino culture in Denver through the performing arts by presenting him with its Community Service in the Arts Award on May 14. The honor comes with a $35,000 prize.
Garcia grew up in the Chicano protest movement in the 1970s as an artist who made waves with his political stories while creating endless opportunities for anyone wanting to give being an artist a try. Garcia is the heart of Su Teatro, a theatre company born of anger in the neighborhood forcibly displaced by the construction of the Auraria campus. It was there he saw the cumulative effects of social and economic neglect on a proud, poor community manifest itself in crime and alcoholism. "But I am not angry," he said. "There are things I am clearly not happy about, but as you get older, you want to stop complaining and start doing."
Garcia has not stopped doing in 40 years. Su Teatro is now a fully functioning multidisciplinary cultural arts center on Santa Fe Drive that attracts about 12,000 a year to its affordable live theatre, films and concerts.
"Tony uses his formidable sense of humor and extensive knowledge of Chicano and Latinx history to inspire and serve his community through his work as an award-winning playwright, musician, composer, educator, social activist, mentor and nonprofit leader," Bonfils-Stanton Foundation President and CEO Gary Steuer said at the non-profit's 34rd annual awards celebration.
In addition, Senga Nengudi was presented with the Artist Award and Damon McLeese with the Arts and Society Award.
"In 2019, we once again recognize three extraordinary Colorado artists and arts leaders who inspire us, challenge us and make our community more vibrant and equitable," said Steuer. "Ed Stanton's goal with these awards was to shine a light on achievements by individuals that too often go unsung in our own community, even as they are celebrated nationally and internationally. These honorees exemplify that objective, which remains as relevant as ever."
More about Tony Garcia
(Provided by the Bonfils-Stanton-Foundation)
With a formidable sense of humor and extensive knowledge of Chicano and Latinx history, Denver native Anthony J. Garcia inspires and serves his community through his work as an award-winning playwright, musician, composer, educator, social activist, mentor, and nonprofit leader. Using sharp wit and political satire, he has been able to bring conversations about gentrification of neighborhoods, racial inequity, immigration, impacts of war, and even the trials of love to light through Su Teatro's varied programming. Garcia has touched and transformed countless lives around the country, but it's in Denver where his passion, stories and civic contributions have made an enduring impression on the community.
As a kid, Garcia grew up surrounded by the Chicano movement and was influenced by its tenets around social and political justice and cultural identity. Raised in Denver's Westside neighborhood, Garcia was one of hundreds of Chicanos who were involuntarily displaced to make space for the Auraria campus. He saw first-hand the effects of how social and economic oversight of a community could result in extreme hardship. Garcia was shaped by this change but found strength in his identity and voice.
Garcia received his B.A. in theater from the University of Colorado at Denver. In 1972, he joined the student-organized theatre group Su Teatro as a guitar player and soon became the creative force behind the company. Over the years, Garcia grew with Su Teatro, and the company has endured to become the third oldest Chicano theatre in the country. It was in 1989 that he became Su Teatro's Executive Artistic Director. In addition to running the theatre, spearheading its development and subsequent move to Santa Fe Drive, he has expanded the American theatre canon by contributing more than 40 new plays and original works for the stage. He has inspired a new generation of Latino artists and leaders in the process. Through Garcia's commitment to cultural equity and a desire to "broaden the mainstream," he has worked to influence arts policy thereby creating opportunities for the Latino arts sector and for the Chicano and Latino community to share their stories, history and experience.
The sphere of Garcia's influence is both vast and deep. He's served as a faculty member in the Department of Chicano Studies at Metro State College for more than 20 years. He is a board member of the National Association of Latino Art and Culture and a former board member of the Western States Arts Federation. His numerous distinctions include being named The Denver Post's 2010 Theater Person of the Year, a 2009 Resident Fellow of The Island Institute in Sitka, Alaska, the University of California Irvine's Chicano Literary Award for Playwrighting in 1989 and was awarded a United States Artists' Rockefeller Fellowship in Theater Arts. In 2011, Garcia also was named a Bonfils-Stanton Livingston Fellow.
Garcia's commitment to Denver and Colorado is as strong today as it was 40 years ago. He continues to advocate for equitable representation of cultural work and organizations, mentor young artists, contribute to civic change and shine a light on Colorado's Chicano community.
Guest Column: Tony Garcia on moving from marginalized to mainstream
Other Honorees
Artist Award: Senga Nengudi, nationally acclaimed abstract sculptor and performance artist. Senga is being recognized for her creative and moving art that touches on themes such as body image, racial identity, technology, rituality, and labor politics, to name a few. Today, she continues to make art, including poetry, photography and painting that draws on her experiences and observations.
Arts and Society Award: Damon McLeese, Executive Director of Access Arts. For over 20 years, there isn't much Damon hasn't done in his career in the arts. He strives to create platforms for young people to express their artistic soul and further their career pursuits at Access Gallery. Damon's transformational leadership is dedicated to developing leading-edge programming and innovative social enterprise options, while changing the narrative and bias around disability.
About the Bonfils-Stanton Foundation:
Every day, Bonfils-Stanton Foundation strategically invests in imagination and innovation, because cultivating the creative spark is vital to making our community an exciting place where people want to live, work and thrive. Since its founding, the Foundation has distributed over $72 million in charitable contributions. Learn more at Bonfils-StantonFoundation.org.
https://www.denvercenter.org/wp-content/uploads/2019/05/Tony-Garcia.jpg
532
800
John Moore, Senior Arts Journalist
John Moore, Senior Arts Journalist
2019-05-17 17:37:33
2019-05-22 15:48:06
Su Teatro's Tony Garcia honored for four decades of Latino culture