The World of Hip Hop: Where in the metro area to learn about hip hop through dance, art and observation
By: Linnea Covington
For Lin-Manuel Miranda, creator and original star of the hit Broadway musical Hamilton, hip hop helped him stand out and propel him into stardom. Not only that, but Hamilton also gave hip hop another way to push to the forefront of American culture. But hip hop is more than just dancing and some clever lyrics; it's a culture and lifestyle steeped in history.
"It's easy to get lost in the catchy rhythms and rhymes, but there is something more rooted in what hip hop is," said professional dancer Edgar Page, who is the Academy Director and Manager of the Cleo Parker Robinson Dance Academy (CPRD) in Five Points. "There is a whole thought process behind it, and even doctors of dance who speak to this experience."
In general, said Page, there are five elements to hip hop. The first two are the oral and aural tradition. This is what the emcee (or MC) does, be that rapping, turn-tabling or even just rhyming. Basically, it's the words and sounds, which flow together fluidly and often convey something relevant and/or important to the situation. Next there's the dancing. Often, it's a form of breakdancing or B-boying and is something that fully embodies the physical side.
After movement comes visual, which can be from the way the clothes and accessories are worn to graffiti in the background. Finally there's knowledge, the mental side of hip hop. To get into that element, understand that hip hop originally came from the predominantly Black section of the South Bronx in New York City during the 1970s. Most of the residents there were economically depressed and hip hop formed as a way to push back on society, claim power and speak about what was going on. It's only grown bigger and more important since then, finally hitting the country's biggest stage at the 2022 Super Bowl halftime show.
"Each of these elements come together to help one understand why hip hop is this phenomenon that's so inspiring worldwide," said Page, who also founded his own dance company, Edgar L. Page: Feel the Movement. "Now there are so many prolific feelings of those who are truly rooted in the experience of hip hop in Colorado and around the world."
In order to fully understand hip hop, or at least try, Page suggests immersing yourself in it. Here are different ways and places to delve into the culture, learning along the way.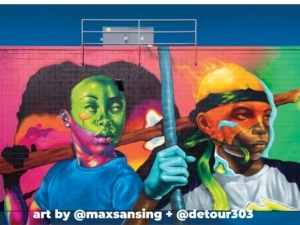 Take in Local Graffiti
There's graffiti and then there's graffiti art. See the latter on a walk through RiNo. Not only are there unsanctioned pieces of spray paint art, but whole murals done with permission. In fact, each summer the neighborhood hosts CRUSH WALLS, an urban art event that's been going on for 12 years and features graffiti artists from around the country.
Or, book a tour of the art from a local guide such as Denver Graffiti Tour, who has a two-hour jaunt each Saturday and some Sundays around 10am. There's also the Denver Microbrew Tour, which has two-and-a-half hour tours in RiNo combining the art and beer each Friday, Saturday and Sunday.
Go See Hamilton for a Different Take On Hip Hop
While the original production of Hamilton has been steaming on Disney+, locals get a second chance to see the Broadway touring musical in person. From February 16 through March 27, check out the award-winning show at The Buell Theatre and immerse yourself in hip hop and American history at the same time. And if you miss it, chances are it will tour again in Denver down the road.
Learn to Dance
Get some movement in your bones and practice the art of hip hop. There are many places teaching these movements, though Page recommends you find a teacher that resonates with you.
"It's fun," he says. "But a true educated instructor is going to give you a lesson about life through the experience and often they disguise the learning through the movement."
Check out this list of dance studios Page recommends, and book a hip hop class for yourself, your kid or anyone else who wants to learn how to move this way.
Cleo Parker Robinson Dance Academy: Since 1970 CPRD has been a pillar in the both the dance and local community. Here, children 7 years old and up can sign up for hip hop classes in varying skill levels. There's also an adult "no pressure" class. If you want a more intensive lesson, check out the International Summer Dance Institute, which starts in June for all ages.
BBoy Factory: In April 2012 Colorado got its first breakdancing studio. There are classes on basic hip hop, poppin, powermoves, kids' breakdancing and more.
EVQ Elite Dance Studio: On South Broadway this colorful studio teaches adult femme hip hop, boys hip hop, hip hop for younger kids and teens and different levels of adult courses.
School of Breaking: Hip hop hopefuls of all ages can find a class at this Aurora studio. Classes start at age 3 and there are instructors there that teach up to the age of 70.
https://www.denvercenter.org/wp-content/uploads/2022/02/Graffitti-art_Crush-Walls_@chromaj.jpeg
257
782
DCPA Press
DCPA Press
2022-02-14 14:55:50
2022-02-15 11:19:20
The World of Hip Hop: Where in the metro area to learn about hip hop through dance, art and observation