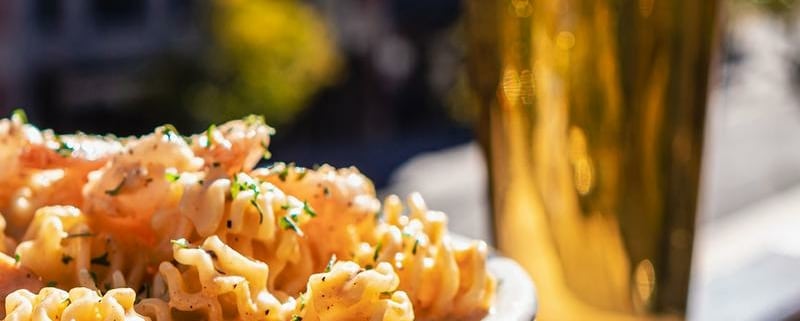 Gumbo, Hush Puppies, Fried Chicken and More of Denver's Southern Food
If you're salivating for a taste of the South—grits, fried chicken, Creole spice, crawfish, catfish, and other classics–Denver has a surprising abundance of Southern cuisine to choose from so you can decide how to approach this dining out part of your evening or afternoon.
BRUNCH
Southern food shines as breakfast, lunch or dinner, with pretty similar options for each. If you're headed to a matinee, consider grabbing brunch.
Lucile's Creole Café has locations around the Front Range, including Denver. Start with a chicory coffee, spiced tea, or Cuban OJ before indulging in an order of beignets. Breakfast choices include eggs Pontchartrain, Pain Perdu, and a Creole omelet; lunch can be red beans and rice, andouille po'boy, or gumbo. My personal favorite: their famous buttermilk biscuits and grits.
There are multiple locations in the metro area for the Denver Biscuit Company and just as many choices for what you can put on a biscuit: buttermilk fried chicken with a selection of condiments, beer-battered catfish, bacon, gravy, sausage, or go sweet with strawberries and whipped cream.
LOCALLY OWNED RESTAURANTS
Support local business owners in your quest for an authentic meal, regardless of their proximity to the theater. Maybe one of these places will be closer to home or en route to the show.
Saucy's Southern BBQ & Cuisine is located at 2100 S. University near the University of Denver and is a fast casual restaurant to meet the needs of the local students. Choose between hot links, ribs, or wings, then add a side of corn, baked beans, or green beans.
Randall's has a jazz theme and New Orleans-style menu with red beans and rice, gumbo, crawfish etouffee, fish plate, and shrimp dinner. You'll find this gem at 3349 York St.
Cora Faye's Café at 15395 E. Colfax Ave. in Aurora has an eclectic menu of Southern favorites, or what they call "century old family recipes": beef oxtails, neck bones and rabbit, frog legs, chit'lings, pig ear sandwiches, and "real" Kool-Aid or sweet tea. For those of us not ready for these slightly exotic offerings, there is also Southern fried chicken, pork chops and "sammiches."
SOUL FOOD
There is not much of a distinction between soul food and Southern food, other than the history. Yet there are some restaurants that identify as serving soul food.
Mattie's Soul Food Bar & Lounge is casual and authentic with menu items like neck bones over rice, greens, candied yams, shrimp po'boy, and cobbler for dessert. This is a locally-owned restaurant located at 4309 Freeport Way in Denver.
Mississippi Boy Catfish & Ribs at 5544 E. 33rd Ave. has a few "Your Momma…" side dishes to complement their proteins of chicken, catfish, beef, and pork such as Your Momma's Sweet Cornbread and Your Momma's Potato Salad. 
NEAR THE THEATRE
If you want to combine your dining with your theatre night, choose a place close by so you can walk off some of those biscuit and fried food calories.
Nola Jane Restaurant & Bar is at 1435 Market St. and can fill a few of your cravings: po'boys (including catfish and oyster), fried okra, gumbo, hush puppies, and cornbread.  Drinks include a shot of pickle juice and selection of bourbons and whiskeys.
Tupelo Honey Southern Kitchen & Bar is at 1650 Wewatta St., just behind Union Station. They've put all the southern specialties in one dish here: mac-n-cheese waffles with Asheville fried chicken. Hard to imagine there would be room for dessert, but they do have banana pudding and pecan pie on the menu.
https://www.denvercenter.org/wp-content/uploads/2023/01/full.jpeg
800
800
Mindy Sink
Mindy Sink
2023-03-03 11:56:51
2023-10-25 10:25:23
Gumbo, Hush Puppies, Fried Chicken and More of Denver's Southern Food