Unleash Your Inner Playwright
Imagine two characters meeting on the street. One sincerely believes they know each other, while the other insists they have never met. How would their interaction go?
If this prompt got your creative engine running, consider taking a playwriting class from the Denver Center for the Performing Arts (DCPA) Education Department.
Since 2012, DCPA Education has offered playwriting classes as part of its adult curriculum featuring teaching artists including Steven Cole Hughes, Melissa McCarl and the current head of the program, Kelly McAllister.
When McAllister joined the department, he began teaching the Playwriting Lab, a workshop-style class designed for beginning and ongoing playwrights to develop their work. While working off the existing curriculum, the most significant change McAllister brought to the class was incorporating staged readings of each student's work using acting students from other courses.
"A play is meant to be heard out loud with an audience," McAllister explained. "We have a theatre space; we have actors; we have plays. It's really where you learn the most."
Upon seeing the positive influence staged readings had on the playwrights in his class, McAllister introduced First Mondays. Modeled after a program in New York City and Los Angeles by Naked Angels, wherein playwrights bring in what they are working on to be read aloud.
With a $5-10 fee for writers to participate, First Mondays was an affordable option for those who don't have time for classes or want to add another space to workshop their plays. It also offers local actors, writers, producers and directors networking opportunities. Unfortunately, the program hasn't returned following the shutdown, but the team hopes to bring it back.
Writers aren't the only ones benefitting from playwriting. McAllister frequently sees actors taking his classes and shares that when wearing a playwright's hat, actors gain a better sense of how a character functions in the larger story.
"They gain more appreciation for how much work goes into dialogue and how changing just one word in a sentence can break the flow, rhythm or intention of a scene."
Melissa McCarl, another teaching artist at the DCPA, is one example of a performer-turned-playwright. While working professionally as an actor, McCarl was simultaneously writing. She completed her first full-length play, Painted Bread, about the life of Frida Kahlo, which was voted "Best New Play" by The Denver Post.
This spring, she is teaching Mining for Drama in Dramatic Writing. The heart of her class focuses on making choices that squeeze the maximum comedy or drama out of one's writing. Students will create strong, three-dimensional characters and dynamic dialogue through thought-provoking writing prompts and exercises paired with text analysis of modern dramatic writers.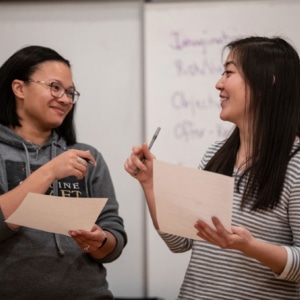 "I love being someone's creative sherpa," McCarl said. "Guiding artists to deeper choices and those 'aha' moments. I believe that art heals, and it's wonderful to bear witness to growth through the creative act of writing."
For the young creative, the Education Department offers the Middle School & High School Playwriting Workshops and Competition. The program launched in 2013 and evolved into the Middle School & High School Playwriting Competition in 2021. This program acts as a vehicle for advancing literacy, creativity, writing and communication through playwriting.
Each year, winning middle and high school playwrights have their works published in the annual Playwriting Anthology. Over the past ten years, the program has taught 1,377 workshops in 408 schools to 27,098 students across 27 counties.
Whether you're an actor wanting to learn more about the creative process behind a script or a local playwright looking to workshop your plays, the DCPA Education Department has many opportunities to get involved.
Check out available classes here.
https://www.denvercenter.org/wp-content/uploads/2022/08/DCPAEducation_SummerCamp2022_McLeod9Creative-0668.jpg
4480
6720
Madison Stout
Madison Stout
2023-01-19 11:27:06
2023-01-19 11:29:45
Unleash Your Inner Playwright