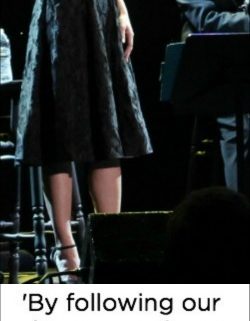 Video: Kelli O'Hara and Brian d'Arcy James at Saturday Night Alive
Brian d'Arcy James and Kelli O'Hara co-headlined the Denver Center for the Performing Arts' annual 'Saturday Night Alive' concert on March 5, helping to raise about $877,000 for the DCPA's arts education programs.
Why does arts education matter?
"Because I think it leads to smarter people, more communicative people and more powerful people," said Broadway superstar Kelli O'Hara. "School is a place where you learn that arts are … allowed. Where you learn the language of acceptance and freedom."
O'Hara and Brian d'Arcy James co-headlined the Denver Center's annual Saturday Night Alive concert for arts education on March 5, helping to raise about $877,000 for the DCPA's arts education programs.
"The Denver Center for the Performing Arts is really on track here because arts education so wildly important," said O'Hara. She is the most recent winner of a Tony Award for Best Actress in a Musical, for The King & I. James is a three-time Tony Award nominee, including last year for his current role in Something Rotten!
The benefit in Denver was the first time the old friends ever performed together in concert. The pair met performing in Broadway's The Sweet Smell of Success in 2002.
"That show was a big deal for both of us at that time in our careers," said James. They marked their shared past by singing a song that was cut from the Sweet Smell of Success score, "That's How I Say Goodbye." James called it a bittersweet moment given composer Marvin Hamlisch's death in in 2012. "He was such a guiding light for that show and a force everyone knows musically," James said. "So being able to represent him in this way with Kelli is a really special thing."
O'Hara is the national spokesperson for a program called "Theatre in Our Schools," and March is "Theatre in Our Schools Month." If arts disappear in our schools, she said, "then we're doing our math and doing our science and playing our sports and we're never talking and we're never communicating. And as we know in this world, communication and the lack thereof is causing a lot of problems, or the type of ways we communicate.
"I'm looking forward to how we can affect how much theatre is in our schools, and in what ways that affects children. It's about how children can find their voice and communicate and ask the questions that these different types of art are bringing about in their minds. It's a way to really open up a child. It's very important to me, so I'm excited to be a part of it."
Here are more excerpts from our talk with O'Hara and James:
John Moore" How did arts education help you growing up?
Kelli O'Hara: I grew up on a farm in Western Oklahoma, and arts education wasn't a huge deal (there). We had a lot of sports. But my state is now actually really reaching out. I just recently helped them raise some money for arts education. It's becoming important everywhere because it's important for kids. It's a conversation starter. It's a way kids can feel and learn and speak and communicate better. My arts education is what brought me here. In college, there was a voice teacher named Florence Birdwell at Oklahoma City University and I knew of her since I was 5 years old. And that experience with her in my college, learning the craft and her technique and her life lessons really, kind of sent me to New York, which was a big move for me.
John Moore: Didn't she also teach Kristin Chenoweth?
Kelli O'Hara: She did, and a lot of other amazing singers. I wouldn't be here without the mentoring through education that I had with Florence.
Brian d'Arcy James: I grew up in Saginaw, Mich., which is in the middle of the state. I was surrounded by arts through my school and through my community. I contend that arts education is the chance for some young person to find their voice and express themselves and learn about who they are, which I think strengthens their outlook on life and their confidence in themselves to step forward into their future. That is a really remarkable thing that arts education provides. I was able to satisfy my curiosity about the theatre through my arts education in my community and my school.
Kelli O'Hara: I think if you learn from an early age what you're feeling and how to put words to it and even sometimes if you're doing it through different channels, which art creates, there's a release and there's a growth that can happen from that release, which you might not be getting at home.
John Moore: Why was it important for both you to be here in Denver tonight?
Brian d'Arcy James: It makes me proud to think that I've been asked, along with Kelli, to be any kind of magnet that would allow people to feel like they want to support this particular event. But also, more importantly, to support the larger idea of arts in the community. We're here because of what we learned and what we were able to achieve as young people in the arts. If we have any chance to support that or to inspire people to continue to think that is a good idea, it makes me very proud.
Kelli O'Hara: By following our dreams, we have witnessed what art can do, not only for ourselves, but also for children. I know the changes that happened in me, just from having some support once I found it. That's something I really want to drive and push and support. We both have kids of our own now. We want the best for them, and we want them to have this added freedom to communicate. And the arts are the way to do that. We're artists, so we already think that – but I've watched it happen with many people who aren't artists, too.

Photo by John Moore for the DCPA NewsCenter.
Random Trivia:
Kelli O'Hara's husband, acgtor and songwriter Greg Naughton, is the nephew of actor David Naughton (An American Werewolf in London).
Brian d'Arcy James sang a medley honoring songwriters who hail from his hometown of Sagninaw, Mich., including Stevie Wonder and Isham Jones.
​Check out more of our Colorado theatre coverage
2016 Saturday Night Alive Set List
'S Wonderful (duet)
"He Loves Me" (O'Hara)
"Wonderful Guy" (O'Hara)
"Always" (O'Hara)
"Just in Time" (O'Hara)
Opera Country" (O'Hara)
"I Could Have Danced All Night" (O'Hara)
"That's How I Say Goodbye" (duet)
"The Sun Went Out Today" (James)
"She Cries" (James)
Saginaw, Michigan medley (James)
"Seven Days" (James)
"Beautiful City" (James)
"Everybody Loves You Now" (James)
"Who I'd Be in Your Eyes" (James)
"When October Goes" (James)
"If I Loved You" (duet)
Previous coverage of 2016 Saturday Night Alive:
Brian d'Arcy James: 'The confetti is still falling'
Five intriguing auction items
Concert photo gallery:

Photos from the 2016 'Saturday Night Alive' benefit concert. To see more, click the forward arrow on the photo above. Look for our more photos from the Saturday Night Alive gala later this week. Photos by John Moore for the DCPA NewsCenter.
https://www.denvercenter.org/wp-content/uploads/2018/04/featured-image-2598.jpg
746
250
John Moore
John Moore
2016-03-15 17:53:00
2021-02-03 10:55:34
Video: Kelli O'Hara and Brian d'Arcy James at Saturday Night Alive