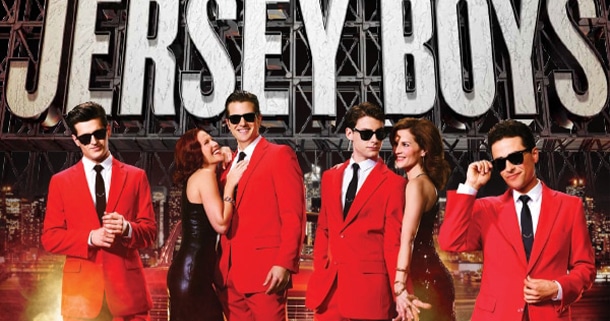 Who Are The Four Seasons?
Compiled from material by Center Theatre Group
How is it possible that The Four Seasons have been part of American culture for four-and-a-half decades, and who they are has remained a mystery? Why is it that we have known their songs by heart while knowing or learning little about the singers?
Four Seasons lead singer Frankie Valli suggests that the main reason was a lack of promotion.
"We were not embraced by the record industry," he says. Schooled by their mob connections about the way record companies routinely short-changed their artists, The Four Seasons wrote and produced their own music and retained the rights to it, giving the label owners far less profit and thus far less incentive to publicize them.
Valli adds that the group's blue-collar orientation did not draw the excited attention of the media. "We were just a bunch of working stiffs," he says, "not fashion magazine pretty boys."
Born Francis Castelluccio and raised in a housing project in Newark, Valli had planned to become a hairdresser, but his Italian born mother nourished his childhood interest in music with weekly trips to concerts, and at 16 he cut a solo record.
A year later he joined twins Tommy and Nick DeVito and Nick Massi (formerly Tommy and the Nicks, a trio whose alternate career plans, to the extent that they had any, tended to involve unregistered handguns). The four formed the Varietones, and with some changes along the way they became the Four Lovers and then (naming themselves after a bowling alley) The Four Seasons.
Songwriter/keyboardist Bob Gaudio stepped in – introduced to the group by now-famous actor Joe Pesci – after Nick DeVito left to serve a jail term. This was a group with a far from glamorous resume, to put it mildly, which is most likely why there was a notable lack of publicity about their personal lives.
All four of the original members were prodigiously talented. Frankie Valli had a signature ability to sing falsetto. When he joined the group, Bob Gaudio had been writing hit songs; his "Short Shorts" made it to the top of the charts when he was 15. Still, the odds were long that boys with their beginnings could blast themselves onto the Hit Parade. Even when they did, says Gaudio, "We weren't The Beatles. We weren't The Beach Boys. We weren't anybody but people who made hit records, and we were really only as good as our last hit."
And good they were, selling 175 million records worldwide before they were 30 years old.
Initially rubbing elbows with Elvis Presley (both he and Valli cut their first records in 1953), The Four Seasons displayed unusual staying power. After hitting the pop charts 40 times in the 1960s, most bands would have disintegrated, especially under the onslaught of the so-called British Invasion that brought The Beatles and The Rolling Stones to American shores, and the added pressures of the Vietnam War, which ended the Boomers' innocence.
But The Four Seasons fell back and regrouped, downsizing to two, Valli and Gaudio, whose partnership was sealed with a "Jersey contract" (a handshake) and endures to this day.
By 1974, Valli was back in the Number One spot on the music charts as a solo performer, and a year later, the group reunited for two more years at the top of the charts, before breaking up in 1977. Rock music was changing, falsetto singing was enjoying a new popularity as The Bee Gees ushered in the disco era, and Frankie Valli reached new heights with a triple platinum hit: the title song from the musical Grease.
Valli and Gaudio reformed The Four Seasons with two new members in 1980, the year Ronald Reagan was elected President, and began recording and touring.
In 1990, The Four Seasons were inducted into the Rock 'N' Roll Hall of Fame. And now, in a stunning apotheosis of the American dream, their legend and renown have new life in Jersey Boys, which Richard Corliss of Time magazine said "will run for centuries." Now that's staying power.
DETAILS
Jersey Boys
April 15-17 • Buell Theatre
Tickets
This article was compiled from material in the Jersey Boys Discovery Guide prepared by LA's Center Theatre Group. Susan Harper, Writer and Rachel Fain, Managing Editor
https://www.denvercenter.org/wp-content/uploads/2022/02/Jersey_Boys_610x375.jpg
375
610
DCPA Press
DCPA Press
2022-03-09 15:27:54
2022-03-18 11:22:57
Who Are The Four Seasons?