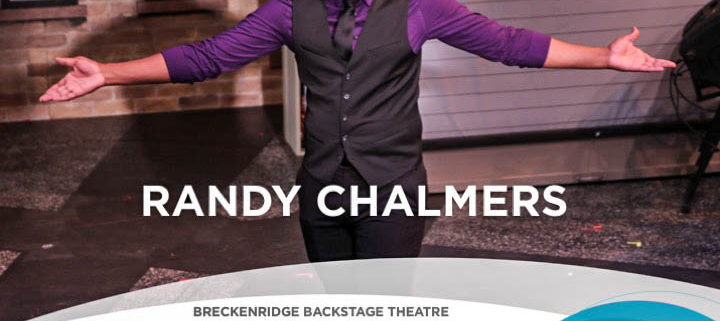 2017 True West Award: Randy Chalmers
Main photo above: Randy Chalmers performed at 'Miscast 2017,' a benefit for The Denver Actors Fund, in a number with 'In the Heights' castmate Jose David Reynoza that was spun as a comic competition between two male actors for the lead in 'Funny Girl.'

2017 TRUE WEST AWARDS

Day 17: Randy Chalmers
Breckenridge Backstage Theatre
Town Hall Arts Center
Inspire Creative and Parker Arts
By John Moore
Senior Arts Journalist

Randy Chalmers is a young guy to already have a signature role, but the rising actor joined some heady company this year when he played the same character in Hairspray for the third different company and third different director.
Only a handful of local actors have ever done it in Colorado, and the names are big: Joanie Brosseau (Evita), Billie McBride (Driving Miss Daisy), Margie Lamb as the mad mother in Next to Normal, Sharon Kay White as Adelaide in Guys & Dolls, Carla Kaiser Kotrc as Domina in A Funny Thing Happened on the Way to the Forum, Scott Rathbun as William Barfee in The 25th Annual Putnam County Spelling Bee, Carolyn Lohr (Kate Monster) and Leslie Randle (Bad Idea Bear) in Avenue Q, and the great comedian Bill Berry as Mr. Sowerberry (Oliver) among them.
That overachieving Megan Van De Hey has played Patsy Cline four times in Always … Patsy Cline for four different directors. That's not everyone but … it's a short list. (Side note: The legendary Melissa Swift-Sawyer has played Patsy five times for four directors in four states.)
And this year, along came young Randy Chalmers.
The Colorado Springs native, whose very first postgraduate performance was a breakout turn as Seaweed J. Stubbs in Hairspray for Performance Now in 2014, joined that rarefied group this year by again playing Seaweed in back-to-back stagings of the sweetly subversive John Waters musical for the Town Hall Arts Center in Littleton and then Inspire Creative in Parker.
How back-to-back? He was in performances for one when rehearsals began for the other.
Chalmers' roster of Hairspray directors goes like this, in order: Kelly Van Oosbree, Nick Sugar and Liane M. Adamo.
(Photo above right: Randy Chalmers in Town Hall Arts Center's 'Hairspray.' Photo by Becky Toma.)
One might imagine that playing the same role for a third time could start to become old hat for an actor. Van De Hey says "the difficulty comes in being open to new direction and not just re-creating the exact same performance." Re-creation, she says, is easy. "Finding new is difficult."
But Tanner Kelly, the Music Director for Inspire Creative's Hairspray collaboration with Parker Arts in July, said Chalmers approached the challenge as a professional in every sense of the word. "Though Randy was still playing Seaweed in another production, he was willing and ready to try our fresh take and adapt to what we wanted for our production," Kelly said. "Not only did I love what he brought to Seaweed and to our version of Hairspray, I also loved what Randy brought to the table as a human being."
Seaweed is the charismatic son of R&B icon Motormouth Maybelle in the story, set in segregated 1962 Baltimore. He's a charming, silky-smooth dancer but is only allowed to appear on a popular local TV dance show on the designated monthly Negro Day. And in falling in love with an impressionable white teenager, Seaweed turns a woke Penny Pingleton into a gleefully proud Checkerboard Chick. In Chalmers' case, make that Checkerboard Chicks: Scene partners Chelsea Ringer, Cara Lippitt and Christy Oberndorf.
(Story continues below the photo)

Above: Randy Chalmers in three productions of 'Hairspray': Photos by Becky Toma (left), Pam Spika (middle) and RDG Photography (right).
2017 was remarkable Chalmers for more than just Hairspray. The role that perhaps even more clearly signaled the emergence of a mature leading man was his follow-up performance in Town Hall's In the Heights.
That's Lin-Manuel Miranda's Fiddler on the Roof-inspired love letter to the gentrifying Washington Heights neighborhood of New York City. Chalmers played Benny, a taxi-cab dispatcher who falls in love with the Puerto Rican boss' daughter, Nina.
"Chalmers smooth, riffy voice is exactly what the role requires," wrote Broadway World reviewer Chris Arneson. Or, as esteemed Music Director Donna Debreceni puts it: "He's got a voice like buttah."
Says Sugar, who has now directed Chalmers in five productions: "It's great to see Randy embrace his strengths and talents and shine as a performer. He continues to get stronger as a musical-theater actor with each show, and it's exciting to watch that growth come alive on stage."

(Pictured at right: Randy Chalmers with Rose Van Dyne in Town Hall Arts Center's 'In the Heights.' Photo By Becky Toma.)
Chalmers graduated from General William Mitchell High School in Colorado Springs and attended the University of Northern Colorado in Greeley. His early credits in Denver include major opportunities made possible by the late, audacious Ignite Theatre, including Rent and Dreamgirls.
Audiences presently can see Chalmers in a completely different light this holiday season as a Wickersham Brother in Town Hall's kid-friendly (and nearly completely sold-out) Seussical. He'll follow that by playing Sebastian for Inspire Creative in the first homegrown production of The Little Mermaid since Disney first introduced the developing musical to the world here on its way to Broadway in 2007. The Inspire Creative production will play at the PACE Center from Jan. 19-Feb. 11.

John Moore was named one of the 12 most influential theater critics in the U.S. by American Theatre Magazine in 2011. He has since taken a groundbreaking position as the Denver Center's Senior Arts Journalist.

Randy Chalmers 2017:
Ensemble in Breckenridge Backstage Theatre's Toxic Avenger The Musical
Seaweed J. Stubbs in Hairspray, Town Hall Arts Center
Seaweed J. Stubbs in Hairspray, Inspire Creative and Parker Arts
Benny in In the Heights, Town Hall Arts Center
Wickersham Brother in Seussical, Town Hall Arts Center
They said it:
Donna Debreceni, In the Heights Music Director: "Whether he is a Wick in Seussical; or a pig in Shrek; or Flick in Violet; or Seaweed in Hairspray; or most recently, an amazing Benny in In the Heights, Randy's instincts and innate musicality are something I can always depend on and — most important — enjoy."
Alisa Metcalf, Performance Now Artistic Director: "He's very reliable, a hard worker and just a really sweet person … and super-talented to boot."
About The True West Awards: '30 Days, 30 Bouquets'
The True West Awards, now in their 17th year, began as the Denver Post Ovation Awards in 2001. DCPA Senior Arts Journalist John Moore — along with additional voices from around the state — celebrate the entire local theatre community by recognizing 30 achievements from 2017 over 30 days, without categories or nominations. Moore was named one of the 12 most influential theater critics in the U.S by American Theatre Magazine in 2011. He has since taken a groundbreaking position as the Denver Center's Senior Arts Journalist. His daily coverage of the DCPA and the Colorado theatre community can be found at MyDenverCenter.Org



A look back at the history of the True West Awards

The 2017 True West Awards



Video bonus: Inspire Creative's Hairspray cast appears at Alamo Drafthouse:
https://www.denvercenter.org/wp-content/uploads/2018/04/featured-image-5525.jpg
556
720
John Moore
John Moore
2017-12-17 04:04:00
2018-06-15 08:48:13
2017 True West Award: Randy Chalmers