2019 True West Award: Kelly Gregson
Day 28: Costume designer has made a fashionable entrance to Colorado theatre
A national star of stage and screen quietly moved to Colorado in 2018, but you might not know it because he's a costume designer who slipped into town as smoothly as an arm sliding into a perfectly tailored glove. But his eye-popping work is already starting to announce the arrival of a major talent on local stages as varied as Opera Colorado, Wonderbound Dance, the Cherry Creek Theatre, Boulder Ensemble Theatre Company and Curious Theatre Company.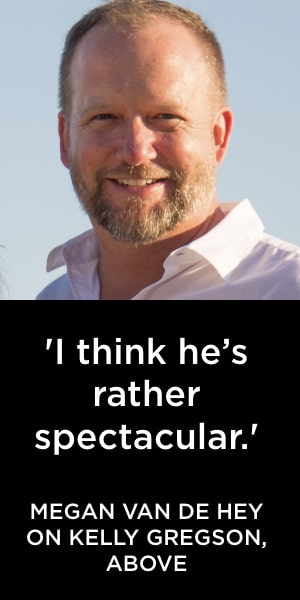 "Kelly Gregson is kind of a big deal," said area actor and vocal coach Traci Kern, who happens to have been Gregson's best friend since before the two did their undergrad work together at the University of South Dakota. Gregson went from there to Juilliard and on to a career that has spanned Broadway, film and TV. He's worked in various wardrobe capacities for the Metropolitan Opera and on the Academy Awards. Broadway credits include Fosse, The Sound of Music and Matthew Bourne's Swan Lake. He's worked under fashion designer Bob Mackie for concert tours by Pink, Diana Ross, Cher, Barry Manilow and Tina Turner. He's worked for Jim Carrey, Ben Stiller and as a cutter for Mark Bridges on Inherent Vice, the film that earned Bridges a 2015 Oscar nomination. Other TV and film credits have included Saturday Night Live, Sex and the City, Marvel's Agents of S.H.I.E.L.D., "Tropic Thunder" and "La La Land."
So yeah, kind of a big deal.
Gregson moved to Colorado last year to take a job as supervisor of the University of Denver's costume shop. By July, he already had been nominated for his first Henry Award for costume design among lower-budgeted companies.
How "lower"? Try $500. That's how much Gregson had to spend to build costumes for a cast of 10 in Cherry Creek Theatre's period production of Stephen Sondheim's A Little Night Music. Rather than simply borrow existing clothes, Gregson hand-made most every vintage piece, to astonishingly thrifty effect.
The musical, best known for the song "Send in the Clowns," is set in 1900s Sweden. The story centers around past lovers who reconnect as various trysts and liaisons play out over a weekend in the countryside. It was directed by Kelly Van Oosbree and featured a who's-who of area singers including Brian Merz-Hutchinson, Susie Roelofsz, Jeremy Rill, Rachel Turner, Megan Van De Hey, Ryan Belinak, Lindsey Falduto, Barret Harper, Susan Long and Sophia Dotson.
What he did for all of them "was absolutely brilliant," said Kern, the show's Musical Director. "Kelly took next to nothing and made the most beautiful, elegant costumes you can imagine."
Van de Hey played Countess Charlotte Malcolm, a deeply cynical manic depressive who was nevertheless a decade ahead of the curve from a fashion standpoint. So Gregson flashed her look forward with a long, two-piece dress suit that looked "very '20s and very flappery," Kern said, while her castmates were relegated to a much more appropriately confined look.
"I think what he made for me was rather spectacular," Van De Hey said of a look accented by three tiers of pearls. "There was something about the slow and straight line of her character that was elegant and simple and very slightly understated."
More than that, though, she said, "He made everyone look beautiful, and their costumes absolutely reflected their characters. And I have no idea how he did it. I saw him literally make some of those costumes out of curtains. I think he's a genius."
Kern said Gregson's pedigree and experience is reflected in every design choice he makes.
"He is just so smart, and there is a reason for everything he does," she said. "If someone is in brown, just ask him why, because there is always a reason behind everything he does."
And soon he will have lots of reasons to explain. In addition to his work for the University of Denver, Kern said Gregson already has nine shows lined up for the coming year. And he's certainly not doing it for the money. "He's doing it because he is an incredible person, and he is super-generous with his time and his talents," said Kern.
Coming Tuesday: The 2019 Colorado Theatre Person of the Year
Kelly Gregson/2019 at a glance
A Little Night Music, Cherry Creek Theatre
Ice, Wonderbound Dance Company
Figaro, Opera Colorado
Tuesdays with Morrie, Cherry Creek Theatre
Traci Kern: Stripped, Aurora Fox
Coming up (a partial list)
Cherry Creek Theatre's My Way: A Musical Tribute to Frank Sinatra (January 24–February 23)
Boulder Ensemble Theatre Company's Bloomsday (February 6-March 1)
A Little Night Music: Critics' corner
"I can almost see Costume Designer Kelly Gregson's renderings come to life in my head. A true page to stage experience." – Jon Bee, Broadway World
"I was delighted by Kelly Gregson's costumes. I loved the range and 'regalness' that accentuated every cast member." – Michael Mulhern, denvertheaterperspectives.com
Note: Traci Kern and Kelly Gregson started a design company called Hugo and Henri Designs, which makes bags and other accessories for dogs and their humans. Click here to see their Instagram page.

About The True West Awards: '30 Days, 30 Bouquets'
The True West Awards, now in their 19th year, began as the Denver Post Ovation Awards in 2001. DCPA Senior Arts Journalist John Moore — along with additional voices from around the state — celebrate the entire local theatre community by recognizing 30 achievements from 2019 over 30 days, without categories or nominations. Moore was named one of the 12 most influential theater critics in the U.S. by American Theatre magazine in 2011. His daily coverage of the DCPA and the Colorado theatre community can be found at MyDenverCenter.Org
https://www.denvercenter.org/wp-content/uploads/2019/12/Day-28-Kelly-Gregson-featured.jpg
531
1000
John Moore
John Moore
2019-12-27 13:52:46
2019-12-30 01:03:05
2019 True West Award: Kelly Gregson