2019 True West Award: Mayor Mike
Day 18: Few character arcs span Parker mayor's transformation to arts champion – and performer
Parker Mayor Mike Waid is a conservative Catholic Republican who is covered in tattoos, performs in musicals, dances in the ballet and was accused of being a communist for wanting to build a town library.
"I'm not your traditional mayor, am I?" he said with a laugh.
Asked and answered.
But Kelly McAllister, who directed Waid this year in his production of The Full Monty at the PACE Center and calls himself "as left as you can get," believes that if every town had a Mayor Mike, "the world would be an infinitely better place," he said.

Parker is a town of 54,000 located 30 miles south of Denver. Waid was the Town Council member who made the motion in 2008 authorizing construction of the $21.7 million PACE Center, which today welcomes 225,000 audience members a year. He was elected as mayor for the first time in 2012, and, three years later, West Side Story directors Tanner Kelly and Ralph Neumann approached him with an irresistible idea for a cameo: How would Waid like to play the perpetually cheerful Principal Glad Hand, who makes repeated attempts to prevent trouble between the gangs at the high-school dance?
Make no mistake: Waid is not an actor. Or at least he wasn't at the time. "I have a unique acting style that will surely move audiences to tears … of some sort," he says of himself. McAllister is more charitable in his assessment.
"I would not say Mike is a natural actor – but he is a natural ham," he said with a laugh.
To no one's surprise, Waid said yes.
Before we go on, you have to know more about just how unlikely this story is. Waid grew up in a loving family in Albuquerque with a Marine dad and a stay-at-home mom. As a kid, he had three priorities: "Making money, playing sports and chasing girls," said Waid, who started his first business when he was in sixth grade and went on to live out every jock's dream by marrying his high-school sweetheart. The arts weren't shunned in his family. They just didn't exist.
"Up until four years ago, I thought theatre was stupid," Waid admitted. "I am not proud of this fact, but when I was in high school, I was the kid who beat up the theatre kids."
And if you fast-forward to 2008, when Councilman Waid made that dramatic motion to build the PACE Center, he didn't do it because he had gone through some sort of metaphysical transformation and come out of it as an arts champion. (No, that came later.) "I looked at it purely as an economic generator," he said. And it is. According to a formula developed by Americans for the Arts, the PACE Center generates about $11 million in economic activity for the town of Parker every year.
'It was like a drug. And it has snowballed ever since.' – Mike Waid
Which brings us to West Side Story. Here's how Waid tells the story:
"The first time I had anything at all to do with West Side Story was the first day of tech week, which means they all had been working on this thing for months. The show was opening in less than a week, and here I come walking in completely blind. I didn't know the story. I had never even seen West Side Story. I had never read a script of any kind in my life. I didn't know what blocking was. All they told me was, 'You play the principal in one scene at high-school gym.' So someone hands me an iPad with the words I'm supposed to say, and one of the performers kindly guides me out onto the stage. And then someone says, Go!'
"So I start reading my first paragraph. I'm saying something about the kids forming two circles, and the next person who talks is a character named 'Big Deal.' But I didn't know that was the name of a character in the story at the time. So as I'm reading the first script of my life, I come to the words 'BIG DEAL' on the screen in big, capital letters. And I just assume that means I'm supposed to say it with emphasis. So I yell out, 'BIG DEAL!' and keep going, and everyone starts laughing. Then the actor who's playing Big Deal says to me, 'Hey! That's my line!' "
For many theatre newbies, it's the thrill of the first standing ovation that hooks you for life. It was different for Waid, whose day job is running a hipster exotic car museum in Parker called Vehicle Vault. "I'm the kind of guy who is impressed by a finely tuned engine," he said. He found one in West Side Story.
"I first noticed that this theatre thing was going to change my life forever during tech week," he said. "I was looking around and seeing the incredible amount of time and effort these amazingly talented performers and technicians and crew members were putting into their craft for their pure and simple desire to improve someone else's life – and they get paid squat to do it," said the lifelong money man. "It reminded me of every sports team I ever played on in school. You bust your butt, not for your own glory but for the sake of the team. I fell in love with theatre right then and there.
"I tell you, it was like a drug. And it has snowballed ever since."
At this point in the interview, Waid subtlety shifted from talking about artists as "them" and started talking as "one of them."
"We're up on that stage to make those people in the audience forget the things that are causing them strife in their lives, and to give them a brief moment of joy and entertainment," he said.
Wait, can this be the same guy we were talking about at the start of this story? If so, this is the biggest flip-flop in political history.
Waid is cool with that. "But I'm still a Republican," he said with a laugh.
"I am telling you, Mike Waid is a rock star in Parker," McAllister said. "He walks into a room and people go nuts for him. It's just a shame that he's term-limited after 2020."
Waid now has performed in six Broadway musicals at the PACE Center, and he makes an appearance every year in the town's annual presentation of The Nutcracker of Parker (performing now through December 21). That is a special joy for Waid because he has two young sons who love the ballet.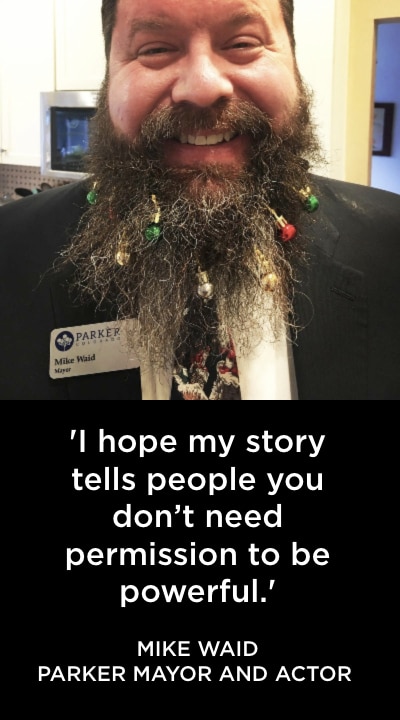 So after playing everything from Sir Robin in Spamalot to Monsignor O'Hara in Sister Act to Cowboy Bob as a guest star in Ponderosa High School's production of Footloose, one must ask: How is the mayor's acting now that he's a stage veteran?
"Well, I wouldn't say he comes across like he went to Juilliard – but he's getting better all the time," McAllister joked.
But Waid brings much more into the rehearsal room than his acting. He brings joy, McAllister said. "He's just one of those people who makes everyone else happy to be there, and that has nothing to do with him being mayor. He's just a genuinely good dude. He's someone you want to have on your team. He's in it for the right reasons."
He's talking about theatre – and politics. There is simply no way to overestimate the value of having a mayor who not only supports the arts – he participates in them, and in a highly visible way.
"I ran for mayor for three reasons: Pamela, Christopher and Matthew – my wife and two sons," Waid said. "I firmly believe that we all have an obligation to leave this place better than we found it. I wanted my wife and kids to live in a community that was the best place to raise a family. I just didn't realize then that also means the arts."
Waid began to see the arts in a new light after the Town of Parker courted Rocky Vista University to open a private medical school in 2006. That's the only for-profit medical school in the United States, and one that graduates as many doctors each year as the University of Colorado School of Medicine.
Read up on all of the announced 2019 True West Awards to date
"When Rocky Vista first moved here, I met with them and asked for the top five reasons they chose Parker," Waid said. "One of them was arts and culture. They want their employees to live in a community that embraces culture. That meant something to me."
Waid now uses his public position to do good work in the community proudly and loudly. Since 2013, Waid has raised more than $216, 000 for St. Baldrick's Foundation, which funds childhood cancer research. And when Danielle Hermon Wood, his castmate in The Full Monty, needed preventative surgery after being diagnosed with Lynch Syndrome and had more than $4,000 in medical bills erased by The Denver Actors Fund, Waid decided to return the favor. He challenged friends and colleagues to donate to the fund in $50 increments. When the total reached $1,000, he threw a pizza party to celebrate.
"My hope is that when people go see a show now, they have a better understanding that those men and women on stage who are putting their hearts and souls into it are real people who have real needs and real troubles," he said.
Making the most of his mayoral time
At the start of this story, Waid joked about not being a traditional mayor. He says that line for laughs. But in truth, he added, "I think it's kind of sad" that more mayors aren't like him.
"Sometimes people come up to me after a show and they say, 'Wait, you're the mayor?' – and they say it as an insult. As if me being in a show, or how I look, should somehow disqualify me from being a leader in my community. So I'll say to them, 'Why shouldn't I be the mayor? Because I have tattoos? Because of my beard? Because I dance in the ballet?' I tell them I wear those things as a badge of honor.
"I hope my being mayor reinforces in people the pure, raw importance of arts and culture in our lives, and that the arts should be on the same playing field with everything else that makes a community great, like parks or school safety. A town is not a three-legged stool; it's a 12-legged stool. But that old saying is still true all the same: All it takes is one weak leg for the whole thing to lose its balance."
Imagine if every community had a leader who spoke with this kind of passion for the arts:
"I hope my being the mayor encourages people to not accept the box that society puts them in. I hope my story encourages people in their 60s who have always wanted to paint to go out and paint. I hope my story encourages someone who has always wanted to hike a mountain to go out and hike a mountain. I want a 10-year old who hears my story to say, 'Hey, if he can start a business when he was in middle school, then so can I.'
"I hope my story tells people you don't need permission to be powerful. We all have the power to be powerful."
Parker Mayor Mike Waid/On stage
West Side Story, Glad Hand, Inspire Theater Company (2015)
Spamalot, as a hybrid character of Sir Robin and a dirty peasant, Parker Arts (2016)
Footloose as Cowboy Bob, Ponderosa High School (2018)
Sister Act, as Monsignor O'Hara, Inspire Theater Company  (2018)
Newsies as Roosevelt and Nunzio the Barber, Inspire Theater Company (2019)
The Full Monty, as Tony the club owner, Sasquatch Productions (2019)
The Nutcracker of Parker, as Herr Stahlbaum, Parker Arts (2015-19)
The Nutcracker of Parker/Ticket information
What: Tchaikovsky's holiday classic
Presented by: Parker Arts and the Colorado School of Dance
When: Through December 21
Where: 20000 Pikes Peak Avenue, Parker
Tickets: 303-805-6800 or parkerarts.org
About The True West Awards: '30 Days, 30 Bouquets'
The True West Awards, now in their 19th year, began as the Denver Post Ovation Awards in 2001. DCPA Senior Arts Journalist John Moore — along with additional voices from around the state — celebrate the entire local theatre community by recognizing 30 achievements from 2019 over 30 days, without categories or nominations. Moore was named one of the 12 most influential theater critics in the U.S. by American Theatre magazine in 2011. His daily coverage of the DCPA and the Colorado theatre community can be found at MyDenverCenter.Org
https://www.denvercenter.org/wp-content/uploads/2019/12/Day-18-Mayor-Mike-featured.jpg
531
1000
John Moore
John Moore
2019-12-15 21:37:29
2019-12-30 01:13:46
2019 True West Award: Mayor Mike