5 Influential Women Taking Over DCPA Stages in the 2023/24 Season
This season is packed with trailblazing women and their acts of triumph, perseverance, and beating the odds in a male-dominated society. Learn more about these women and visit the Denver Center for the Performing Arts to see their stories come alive on stage.
TINA TURNER
TINA — The Tina Turner Musical details the life of performer and Queen of Rock 'n' Roll Tina Turner.
During her life, she shattered barriers, dared to dream fiercely and conquered the world—against all odds. Tina was inducted in the Rock & Roll Hall of Fame twice, became the first solo artist to gross more than $100 million from ticket sales on her 1995 Twenty-Four Seven World Tour, and won three Grammy Awards for her hit, "What's Love Got To Do With It."
Turner and second husband Erwin Bach executively produced TINA — The Tina Turner Musical, which premiered in London in April 2018 and launched on Broadway in November 2019. This show earned 12 Tony Award nominations and Adrienne Warren, who portrayed Ms. Turner, scored a Tony for Best Actress in a Leading Role. The tour cast is led by Ari Groover and Parris Lewis who evenly share the role of Tina Turner, each playing four (of eight) performances a week.
DETAILS
TINA — The Tina Turner Musical
Now – Oct 29, 2023 • Buell Theatre
Tickets
---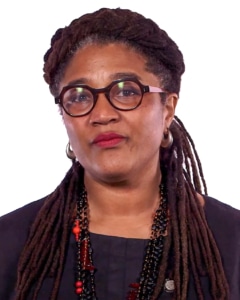 Lynn Nottage is a two-time Drama Pulitzer Prize winner and the most-produced playwright in America this season. Clyde's and MJ both take the DCPA stage this season.
Clyde's showcases the story of formerly incarcerated individuals who cook up meals ranging from sublime to soul-crushing. Montrellous guides these chefs on a journey to create the perfect sandwich and reclaim their lives. This production toggles between searing pain and outrageous humor. The cast includes Brianna Buckley, Quinn M. Johnson, Katherine George, and more.
Created by Nottage and Tony Award-winning Director/Choreographer Christopher Wheeldon, MJ focuses on the making of Michael Jackson's 1992 Dangerous Tour. This musical offers a rare look at the creative mind and collaborative spirit of the King of Pop that launched him into legendary status.
DETAILS
Clyde's
Oct 27 – Nov 26, 2023 • Kilstrom Theatre
Tickets
DETAILS
MJ
Apr 10 – 28, 2024 • Buell Theatre
Tickets
---
ELIZABETH "BETTY" PACK
Rubicon details the true story and life of World War II wife, mother, and spy Elizabeth "Betty" Pack, who used sex, beauty, and intellect as espionage tools to influence global affairs. Her missions included travels to Madrid, Warsaw, and Washington.
Kirsten Potter's portrait of this unsung heroine was an audience favorite at the 2022 Colorado New Play Summit. The world premiere is at DCPA's Kilstrom Theatre playing February 9 through March 10, 2024.
Rubicon is intended for a mature audience for adult romantic relationships, adult language, smoking, staged sex, and staged violence.
DETAILS
Rubicon
Feb 3 – Mar 10, 2024 • Kilstrom Theatre
Tickets 
---
Jane Austen is a prolific writer from England whose novels stands the test of time with numerous plays and movie adaptations. Her portfolio includes Emma, Pride and Prejudice, Sense and Sensibility, Mansfield Park and more. She grew up among one sister and six brothers, a scholar father, and witty mother.
Emma, Austen's fourth novel, centers on Emma Woodhouse who deems herself the best matchmaker of all time and sets out to find a suitor for Harriet Smith with plenty of twists and turns along the way.
Kate Hamill and Meredith McDonough's adaptation infuses contemporary language, perspectives, and comedy with Austen's characters for a new, zany twist on this classic story.
DETAILS
Emma
Apr 5 – May 5, 2024 • Wolf Theatre
Tickets
---
CHER
Born Cherilyn Sarkisian in 1946, Cher launched an impressive run as a recording artist, concert performer, and actor.
She originally sang with and married Salvatore "Sonny" Bono in 1964, and launched the "Sonny and Cher Comedy Hour" from 1971 to 1974. Hits include "I Got You Babe" and "The Beat Goes On."
After their divorce in 1975, Cher led a solo career in music and movies. Her 1998 hit, "Believe" scored a Grammy for Best Dance Recording and smashed multiple chart records. She played in numerous film roles, such as Silkwood, Moonstruck, Mask, Suspect, Tea with Mussolini, Burlesque with Christina Aguilera, Disney's Zookeeper, and Mamma Mia! Here We Go Again.
The Cher Show is a Tony Award-winning musical that portrays Cher's life in three stages with three different actors: the kid starting out, the glam pop star, and the icon.
DETAILS
The Cher Show
May 3 – 5, 2024 • Buell Theatre
Tickets
https://www.denvercenter.org/wp-content/uploads/2021/09/6N8A4485-Wolf-Pano-2.jpg
1200
2648
Khaleel Hayes
Khaleel Hayes
2023-10-25 09:36:02
2023-10-25 09:44:37
5 Influential Women Taking Over DCPA Stages in the 2023/24 Season