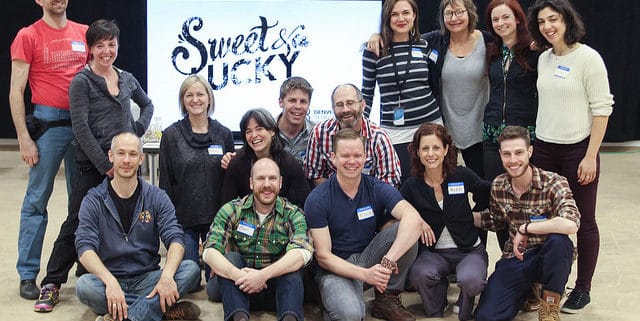 5 things we learned at Sweet & Lucky's first rehearsal
Photos from the first rehearsal for 'Sweet & Lucky.' To see more, just hit the forward arrow on the image above. Click on any photo to download. Photos by John Moore for the DCPA NewsCenter.
Much of what the audience is in for when they come to Sweet & Lucky next month is being kept from them. And that is entirely intentional.
Denver native Zach Morris, co-Artistic Director of New York's Third Rail Projects, has come home to oversee the Denver Center's first massive foray into producing off-site, immersive theatre. And he says withholding advance information about the experience is the company's way of paying audience members the highest respect. If they come with few preconceived notions, then their visceral response to what they see, hear and feel is more likely to be emotionally true.
"You are coming to an experience that is beyond the scope of what you might normally expect as a theatregoer," Morris said at Thursday's opening rehearsal. "If Chekhov is a novel, then Third Rail is like a Neruda poem. Our work isn't about presenting a traditional narrative. In fact, one of the things that is most important to us is that every audience member who comes is able to take away their own story."
So what can we tell you about Sweet & Lucky, which is being created in collaboration with the DCPA's adventurous Off-Center programming wing? Here are five things we learned as the cast gathered for the first time:
Morris calls Sweet & Lucky "a treatise on memory set in a speakeasy antique shop that opens up into a labyrinth of dreamlike worlds and fragments of time." Oh – and it is a love song.
​
Sweet & Lucky will be the largest physical undertaking in the Denver Center's nearly 40-year history. It will take place in a 16,000-square-foot converted warehouse on Brighton Boulevard. How big is that? "It's big enough to hold five Space Theatres," said Scenic Designer Lisa Orzolek (pictured above). Now consider this: You can put 2,750 people in five Space Theatres. Sweet & Lucky will be limited to 72 people per performance, so you can imagine just how individualized each person's experience will be. Likewise, Lighting Designer Charles MacLeod describes his task as "unlike anything we have ever attempted here before at the DCPA. It will be reactive. It will be recurring. And it will be reflective," he said.
"This is a massive undertaking for our team," added DCPA Managing Director Charles Varin. "But for the 10 years I have been here, the DCPA has never shied away from anything. The attitude here is always, 'Let's do it.' "
All but one of the dozen cast members have strong Denver ties. It is a mostly young and accomplished group, including past or present DCPA Education Teaching Artists Diana Dresser, Justin Walvoord and Mackenzie Sherburne; DCPA National Theatre Conservatory masters graduate Leigh Miller; The Catamounts Artistic Director Amanda Berg Wilson and company member Meridith C. Grundei; and noted local director and playwright Edith Weiss. Coincidentally, Sweet & Lucky reunites four actors from the DCPA Theatre Company's 2013 baseball play, Jackie & Me: Dresser, Walvoord, Miller and Ryan Wuestewald. Morris graduated from George Washington High School and was a student intern in the DCPA's costume shop. FULL CAST STORY
Sweet & Lucky will be a 360-degree, mobile experience, so the audience is encouraged to wear comfortable clothes and shoes. As your journey continues, you may recognize set pieces from recent DCPA Theatre Company productions, including the bar from The Nest, and dozens of props and pieces of furniture from past DCPA productions.
Speaking of the bar, it's not giving anything away anything to say that audiences will enter through a storefront and into something of a speakeasy vibe. At the end of the experience, audiences will be treated to a cocktail from nationally recognized Williams & Graham mixologist Sean Kenyon.
Extra: Sweet & Lucky has its own web site. You should check it out here.
Sweet & Lucky opens May 20. Tickets are now available. BUY ONLINE
​
'Sweet & Lucky' cast photo by John Moore for the DCPA NewsCenter.

Previous NewsCenter coverage of Sweet & Lucky:
Zach Morris is home to seize the cultural moment
Casting announced; tickets onsale
DCPA to create new immersive theatre piece with Third Rail Projects
Kickstarter campaign allows audience to dive deeper
Kickstarter home page
https://www.denvercenter.org/wp-content/uploads/2018/04/featured-image-3408.jpg
416
640
John Moore
John Moore
2016-04-25 17:42:00
2016-04-25 17:42:00
5 things we learned at Sweet & Lucky's first rehearsal