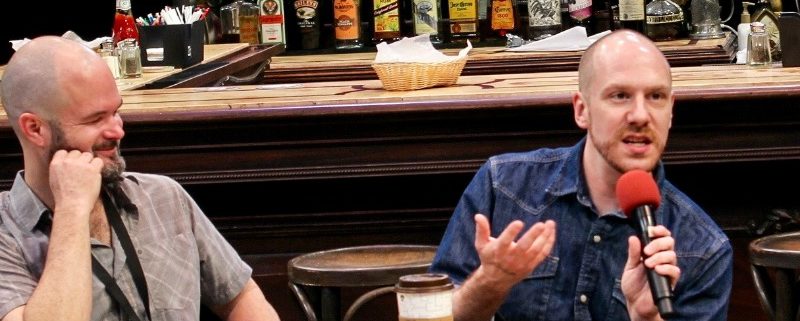 'Sweet & Lucky': Morris is home to seize the cultural moment

Third Rail Projects co-Artistic Director Zach Morris is a graduate of Denver's George Washington High School. He recently attended the DCPA Theatre Company's Colorado New Play Summit. Photo by John Moore for the DCPA NewsCenter.
"Immersive theatre" sounds like such a New York thing. Perhaps you heard about Sleep No More, a Big Apple sensation that told a dreamlike variation of the Macbeth story in a meatpacking warehouse that had been converted into 90 evocative, seductive and creepy spaces ranging from a speakeasy to a cemetery.
Immersive theater breaks down the barriers between actors and spectators, letting theatregoers follow new storytelling paths in highly unconventional spaces. As Saturday Night Live's Stefon might say: Sleep No More was New York's hottest nightclub, attracting hardcore theatre fans, partying millennials and glitterati from the fashion world who would pull up in limousines for midnight performances. All so very New York.
But one of the nation's leading practitioners of this emerging performance art form is a New Yorker who grew up right here in Denver. And Zach Morris thinks audiences in his hometown are no different from those in New York.
"There is something about where we are at in this cultural moment because people are really craving this type of experience," he said.
Morris, who graduated from George Washington High School and was a student intern in the Denver Center's costume shop, is one of three core artistic directors for Brooklyn's Third Rail Projects, one of the foremost companies in creating site-specific, immersive and experiential dance-theater in the United States. "We make work in unexpected spaces and in unexpected contexts," said Morris.
Third Rail's Then She Fell, named one of the Top 10 Shows of 2012 by The New York Times, explored the writings of Lewis Carroll in a cramped hospital ward that could accommodate only 15 audience members at a time.
"For us, experiential theatre is an opportunity for us to blow the doors off the ways that folks traditionally engage with theatre," Morris said.
That's the innovative spirit he's taking into his newest collaboration with Off-Center, the DCPA's more adventurous programming wing. Sweet & Lucky, opening May 20, will be the largest physical undertaking in the Denver Center's nearly 40-year history, taking place in a 16,000-square-foot converted warehouse on Brighton Boulevard. The 360-degree audience experience is being kept as something of an intentional mystery – but a ticket includes a cocktail from nationally recognized Williams & Graham mixologist Sean Kenyon.
Morris can say Sweet & Lucky is a treatise on memory set in a speakeasy antique shop that opens up into a labyrinth of dreamlike worlds and fragments of time.
"I think one of the reasons that Denver felt like such a fantastic match for us is the incredibly vibrant art scene here," Morris said. "There is a real thirst for these types of experiences. Coloradans are inherently adventure-seekers, and there is something about this type of performance that feels very adventurous."
We spoke to Morris about his Denver past, his Brooklyn present and what he has in store for Denver audience:
John Moore: How did this partnership with the Denver Center happen?
Zach Morris: After high school, I went to Carnegie Mellon University in Pittsburgh. Then I moved to New York and I eventually became really interested in making site-specific, public, experiential work. A couple of Denver Center staff members came to see our work Then She Fell in Brooklyn and were really excited about it. They knew Denver was primed for this type of work. They knew there are experience-seekers and adventure-seekers who are primed for this type of work. And the Denver Center has the capacity to take it to the next level. It turned out that what we are interested in as a company is a really good fit with the Denver Center's mission.
Sweet & Lucky tickets on-sale April 13

John Moore: How is Third Rail's mission different from other companies?
Zach Morris: We've always been interested in large-scale installations, and in recent years we've become really interested in experiential theatre. Our work often involves animating an unexpected space. So that can be a disused opera house in Hudson, N.Y. Then She Fell started in the former outpatient wing of an old hospital and then moved to a three-story institutional space. We're interested in crafting an experience that is unique for each audience member. The audience finds themselves in a 360-degree world where they can't really see the edges. Where movement might be the primary language. They find themselves having unique and intimate encounters with performers.
John Moore: What makes the right kind of location?
Zach Morris: The location has to have the physical capacity to help us tell the story, but also the space itself has to have some character. I'm excited to say the space where we will be performing in Denver is really inspiring.
John Moore: You mentioned 'experiential' theatre. What is the difference between 'experiential' and 'environmental' theatre?
Zach Morris: There is so much buzz about all of these different forms right now, whether it's 'experiential' or 'immersive' or 'site-specific' or 'environmental' theatre. I think they all mean slightly different things. An 'environmental' piece might be set in a diner, so it is actually happening in a diner. A 'site-specific' piece is a work that can only exist in the site it was created for. For us, that entails doing a lot of research on the site itself, the history, the folks who inhabit it – the whole cultural, social, historical matrix that makes up that site. We then pull inspiration out of those stories, and from the history and from the architecture itself. So when we say we are creating a work that is specifically for that space, we mean it.
John Moore: You had only 15 audience members at a time for Then She Fell. You will have 72 for each performance of Sweet & Lucky. How do you make that work economically?
More Colorado theatre coverage on the DCPA NewsCenter

Zach Morris: Well, in New York, space is at such a premium that operating in traditional theatre venues is often prohibitive. As a company, we have found that our interest in working in these non-traditional spaces has mirrored the public's growing interest in gaining access to unexpected or prohibited spaces. With only 15 people in the audience, Then She Fell was an incredibly intimate experience. So we had a fairly high-ticket price, but there is really an appetite for this.
John Moore: What's propelling the evolution of this type of theatre?
Zach Morris: In many ways – and in maybe every way – it has to do with where we are at with technology and the internet right now. The way we are getting media, getting news, getting content of all kinds, is radically different than it was a few years ago. We are now able to navigate our personal content in ways we've never been able to before. There is an appetite for stories that can be navigated; there is an appetite for stories that are not linear. There is an appetite for stories that afford agency to the audience so they can explore these various kinds of threads that might be happening simultaneously. I also think that because of all of the amazing advances in our technology, we're craving human-to-human interaction. We long for an authentic experience, whatever that means. We deeply want to be in the same room with the musician and feel the vibrations coming off the guitar and hitting our skin. It's great that I can get my music on iTunes, but there is nothing that matches that embodied experience. I think that's what we're looking for right now.
John Moore: How do you describe what people are in for in Denver?
Zach Morris: We're excited about bringing Third Rail's brand of experiential theatre to Denver, where audience members are able to sit millimeters away from a performer and have that human-to-human interaction within the context of unfolding and unraveling both narrative and aesthetic art that is linear and nonlinear and fragmented and simultaneous and has myriad layers of meaning.
John Moore: Most of your audience in Denver will probably be experiencing this kind of live experience for the first time.
Zach Morris: Yeah, and that's what's really exciting about what the Denver Center is doing. The Denver Center is in the vanguard of those institutions that are redefining the ways they can support artists who are making this type of work. They are literally thinking outside the box of their theatre. They are asking: 'What are the stories we need to tell right now?' And perhaps most important right now, 'How do we need to tell those stories?' That's what's really exciting to me as an artist who's coming home to partner with the Denver Center.
John Moore was named one of the 12 most influential theater critics in the U.S by American Theatre Magazine in 2011. He has since taken a groundbreaking position as the Denver Center's Senior Arts Journalist.
Previous NewsCenter coverage of Sweet & Lucky:
DCPA to create new immersive theatre piece with Third Rail Projects
Kickstarter campaign allows audience to dive deeper
Kickstarter home page
https://www.denvercenter.org/wp-content/uploads/2018/04/featured-image-3444.jpg
533
800
John Moore
John Moore
2016-04-07 15:58:00
2016-04-07 15:58:00
'Sweet & Lucky': Morris is home to seize the cultural moment