5 Tips for Conquering the Dance Audition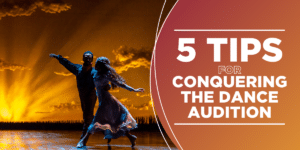 Spring is upon us, which also means it's audition season for the musical theatre actor!  
You've found the perfect 16-32 bars for your vocal audition, dressed yourself in your bespoke, character-appropriate attire, brushed up on your killer monologue, and meticulously studied your sides. Everything is going according to plan until you remember the dreaded dance call. But don't worry! The DCPA has got you covered. 
Whether you consider yourself a strong mover, a dancer, or strictly a singer and actor, we know that dance auditions can be anxiety-inducing and nerve-wracking. So, we sat down with Piper Lindsay Arpan, director, choreographer, performer, and one of the Denver Center for the Performing Arts' teaching artists to talk about how you can nail your next dance audition. You may have seen Piper in the Broadway company and first National Tour of Monty Python's SPAMALOT, The Producers movie musical, or even as a Radio City Rockette!  
Here are her tips for conquering that dance audition.  
– 
Know The Show You're Auditioning For
If you want to prepare for the audition or callback, you'll have learned your song(s), memorized your monologue or sides, and prepared your character work. But there is only so much you can prepare for a dance audition, as you will be learning the combination there. So, what can you do?  
According to Piper, it's critical to know the show you are auditioning for. Do your research because "this can affect everything into how you dress for the audition, how you present yourself, what sort of style or knowledge of the show you can bring to the storytelling in the movement. I think it makes a tremendous difference."  
Auditioning for the world of Chicago will be completely different than for the world of Guys and Dolls. Doing this for yourself will not only help you show the creative team that you understand where and how you fit into the show but will also encourage them to see you as a performer who is more likely to fit into their vision for the show!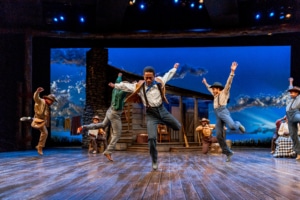 Bring ALL Your Dance Shoes
This might seem like a no brainer, but sometimes it's just easier to only bring your favorite pair of dance shoes. After all, the dance call only said character shoes, right? Piper shared with us, "I always have a bag of different shoes that I bring to auditions because you never know what the floor is going to be like!" You could be dancing on a high-sprung marley floor that has more traction or on slick and polished wood floors.  
Being overly prepared not only helps you be ready to succeed at any moment, but it also eases your dance audition nerves. Remember, "We're not always dancing on a beautiful sprung studio. Sometimes we're on a rake, sometimes we're on the grass, so be ready to adapt at the moment of the audition with different footwear that will help you succeed based on all the different environments where theatre takes place." 
Don't Just Follow
When you're learning a dance audition, it's human nature to watch and follow the choreographer's every move because you want to retain the choreography. But Piper warned, "Do NOT follow. DO have something going on in your head, either saying steps or counting." The choreographer will eventually step aside and watch you dance the combination by yourself (or in small groups). Whether it's saying the name of steps in your head, repeating the counts, or even using silly names and sounds, do whatever works for you so that you don't have to rely on the choreographer and end up forgetting the combination once they step away to watch. 
Stay Present and In The Moment
We can all agree that dance auditions are a case of information overload. There is so much happening from the moment you enter the room to the moment you leave. You're worried about finding space in the crowded room, if the choreographer is visible to you, whether you can live up to that dancer who consistently lands their pirouettes, or if the creative team will like you. On top of all of that, you're worried that you'll even retain the audition combination! So how do you balance these thoughts to ensure a successful dance audition?  
Piper recommends that you "Stay in the moment, try to stay focused, and try to stay mentally focused for as long as you can instead of overthinking." Don't let distracting thoughts hinder you from staying grounded, learning as much of the combination as you can, and showing off your best self!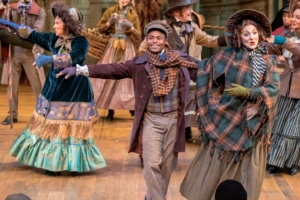 Take a Class!
Piper always says, "If you're not learning, you're dying. I am still taking classes in everything – as a director, choreographer, dancer, performer — I still study everything!" You can never stop learning. In fact, the most successful auditions happen with practice.  
And what better way to practice than to take a class? Did we mention that the seriously cool Piper Lindsay Arpan will be teaching her Conquering the Dance Audition class here at the DCPA? After sharing her tips for how you can conquer your dance audition, she gave us some insight into what to expect from her class.  
Aside from learning every secret Piper trick in the book, expect full throttle two-hour dance classes split between an hour of technical dance warmups and an hour of progressions and picking up combinations. In your last class, an invited guest artist will be in attendance to watch and give you feedback, mimicking a less stressful dance audition to prepare you for your future dance auditions. 
– 
As a bonus tip, we'd like to add something that Piper shared with us that she'd like for you to always remember – we are ALL coming out of a pandemic, so be kind to yourself and know that the creative team is always on your side, not judging you, but cheering you on! 
https://www.denvercenter.org/wp-content/uploads/2022/03/5-Tips-NEW.png
600
1200
Kong Vang
Kong Vang
2022-03-31 09:58:04
2022-03-31 12:47:33
5 Tips for Conquering the Dance Audition