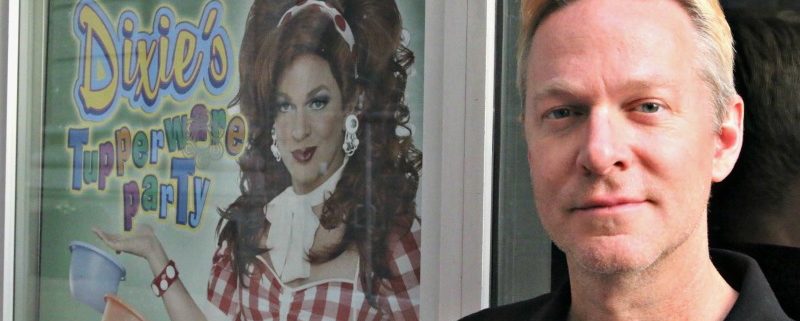 After 16 years, meet Dixie's maker: Kris Andersson

Playwright Kris Andersson, creator of fast-talking Tupperware saleswoman Dixie Longate, has now sold 170,000 tickets around the world and grossed $6 million in revenue. Photo by John Moore for the DCPA NewsCenter.
How a playwright turned a Tupperware Party into an enduring and cathartic theatrical franchise
By John Moore
Senior Arts Journalist
When Dixie Longate first encouraged an 85-year-old woman named Dolly to shout out the words "F Off," she blushed. This genteel older lady from Huntsville, Ala., had never said those words out loud in her life, she told Dixie, and she wasn't about to start now, in front of 300 people.
But something changed as that evening's performance of Dixie's Tupperware Party progressed. Dixie, the creation of playwright Kris Andersson, wasn't trying to goad this proper lady into saying a dirty word.
"Dixie was trying to get her to revel in her own strength," he says.
Dixie is a fictional stage character, but a very real Tupperware salesperson. In fact, Dixie has sold $1.5 million of the durable plastic wares over the past 16 years, twice ranking as the nation's leading Tupperware seller.
But the party is also a wildly successful play that has drawn capacity crowds in small towns and major cities alike ranging from New York, Los Angeles, Des Moines, Edinburgh, Nashville, Sydney, Fort Worth, and right now Denver, where Dixie's record sixth engagement at the Garner Galleria Theatre continues through Sunday (Aug. 6).
Dixie Longate is a hot Hazard County incarnation of Australia's Dame Edna. Part Mary Poppins and part Oprah Winfrey. She's a tall drink of water with fiery red hair and a tasteful polyester rodeo dress adorned with half-naked cowboys. As the story goes, Dixie packed up her catalogues, left her three children back in an Alabama trailer park and is now traveling the country gathering all of you lovely ladies and handsome gents together to talk all about your food storage options. And if you're lucky, she might take you out back behind the dumpster and, you know … do some stuff.
Dixie's Tupperware Party, Andersson is first to say, isn't changing the world. But since 2001, it has changed the lives of countless women who have seen it.
Women like Dolly in Hunstville, Ala.
In the show, Dixie draws upon the example of Brownie Wise (pictured at right), a pioneering Georgia divorcee who was largely responsible for the success of Tupperware through her ingenious idea to sell plastic bowls and cups at home parties. In 1954, Wise became the first woman to appear on the cover of Business Week magazine – and a role model for generations of women to come.
"Brownie was told her idea was dumb and that she had no business being in a male-dominated world," Andersson said. "And do you know what she said? 'F You.' "
Only she spelled out the F.
Dixie tells that story in her play, which has now sold 170,000 tickets around the world and grossed $6 million in revenue. Andersson has now surpassed 1,100 performances – "a milestone that any show would be proud to have reached," he said. Women come in groups to giggle at Dixie's obliviously sweet style of naughty humor with no idea how unexpectedly cathartic the story can be.


Dixie to perform standup benefit for Denver Actors Fund on Aug. 6

"Dixie is not far off from the Brownie Wise model," Andersson says. "She's been talked down to by society. She's been told she's good for nothing. She has been on the losing end of a lot of moments in her life. Just like a lot of women who come to see our show."
The message they hear from Dixie, Andersson says, "is that you are not beholden to anyone else's idea of who you are supposed to be. You, too, can pick yourself up by the bootstraps and make a better life for yourself. People want Dixie in their lives because she represents a kind of strength they maybe don't have or see in themselves."
Later in that Alabama performance of Dixie's Tupperware Party, that message had become clear. Dixie again approached Dolly and asked if she would like to say the words "F You" out loud.
Dolly not only said it, loud and proud, she got a raucous standing ovation for it.
And then Dolly asked with released glee: "Can I say it again?"

Photo of Dixie Longate by John Moore for the DCPA NewsCenter.

The man behind the C (and Sippy) Cups
While you can't miss Dixie in her high heels and big hair, you'd never know Kris Andersson walking past you on the street. Seeing Dixie onstage in no way prepares you to encounter this surprisingly slight and soft-spoken playwright with the short-cropped blonde hair who gets immersed each night in the persona of Dixie.
But after 16 years, Andersson has decided this is the right time to step out from behind Dixie's shadow and give the world a small peek at the man behind the woman. Or more accurately, the playwright behind the play.
He thinks.
"I do feel a little skittish about that, I will admit," he said, "because people love to play in the world of Dixie. And that is a great world. I mean, she's kind of a fun broad. But this show is also a real call to action that if you want a different life or to be a different person, you can do it. And we think now after the success we have had, that maybe now is the perfect time to take that message to a larger platform."
So, who is this Kris Andersson? Just an average kid from Pittsburgh, of all places, who got his degree in acting at the University of Southern California. He was a film and TV actor living in L.A. in 2001 when his roommate hosted an actual Tupperware party, only to discover that Tupperware pays better than waiting tables. The idea for Dixie was born out of that party.
"At first, I created her as this 1950s Donna Reed housewife who pops too many pills," Andersson said. Dixie started with "a completely horrible, haphazard look." He compares Dixie's initial hairstyle to roadkill.
"But I refined her over time," he added with a laugh, eventually deciding that Dixie would get a better response if she were more a contemporary redneck American woman.
Andersson created Dixie as a kind of performance art – she started hosting real Tupperware parties that were held in people's homes in Southern California. And when The Orange County Register covered one such party in 2003, interest in Dixie exploded. Soon she was hosting 25 parties a month. Still, there were no plans for the stunt to become anything bigger until a friend suggested he develop his material into a live theatre piece.
Andersson entered Dixie's Tupperware Party in the 2004 New York International Fringe Festival on a lark … and got in. Problem was, he had not yet written a word of the play.
"I remember getting a thick envelope in the mail a couple of months later, and I was like, 'Oh, crap. That's an acceptance letter – and we don't have a show."
But by the time the festival closed, Andersson not only had a show, he had an instant and sustainable hit. Andersson further honed his script over the next three years before finally debuting Dixie's Tupperware Party off-Broadway in 2007 under the direction of Alex Timbers, who later came into fame for creating Bloody Bloody Andrew Jackson and Peter and the Starcatcher. Andersson reworked the show a bit further with director Patrick Richwood, took the show on the road the next year and hasn't stopped touring since.
The secret to Dixie's success
Andersson discovered almost immediately the uncanny resonance his character was having on his audiences. A half hour before any show is to start, Dixie comes out to the theatre lobby and mingles with arriving theatregoers. She also lingers with them for up to an hour after the show because, Andersson said, "people just want more Dixie." And that is when the connection becomes an unshakeable bond.
"You don't have Idina Menzel coming out after Wicked and hanging out with people as the witch," Andersson said. "There is something unique about this that really connects with the fan base."

Audience members, especially women, love to sit down with Dixie and chat with her one-on-one about her ridiculous fictional Alabama trailer-park world and her latch-key children Wynonna, Dwayne and 3-year-old Absorbine Jr. He's got the shakes, that poor kid – but he smells good. Wynona is 16 and works nights at the local Hooters. The place closes at midnight, but the weird thing, Dixie tells us, is that she's always getting home at 5 a.m., and her hair's all screwed up.
Dixie can fire off an improvised quip about as easily as setting a match to a sparkler. Mothers snicker, but they relate to Dixie's tall family tales in profound ways. And she always makes a point to ask these women to tell her their stories, too. One thing Andersson quickly picked up on when creating the show is that women – and especially mothers – almost always talk about themselves through the other people in their lives. They identify themselves through their husband's profession, or their kids' school activities.
"They never talk about themselves," Andersson said. "Their lives don't seem to be framed through their own eyes. It's as if their self-worth is being completely determined by the things around them."
People tend to trust Dixie with personal information she should really never have. "In the past, people have told her they are very unhappy, or that they are trying to figure out how to get out of a bad marriage situation," Andersson said. "They turn to Dixie as though she were a therapist. They feel safe with her, and she feels honored and privileged to have their trust. I think they recognize in Dixie this garish, outlandish, strong character, and she's got something in her that they want to find in themselves. They want to figure out how to be as strong as Dixie."
But while the show is ultimately an empowering tale of self-worth, it's also funny. Often extraordinarily, inappropriately funny.
At one party, Dixie produced a Barbie kid set complete with four mini-Tupperware cups, plates and a pitcher. Dixie called it her "Mini-Alcoholic Starter Kit," and an elderly woman immediately bent over and started choking. The show stopped. "I thought, 'Oh my God, she is having a heart attack,' and everybody rushed to her side," he said. Turns out, the woman laughed so hard she coughed her fake teeth out of her mouth and into her hand. "When she recovered herself and saw that she no teeth, she just shoved them back in," Andersson said.
The thing that makes Dixie such a refreshingly original character for the American theatre, Andersson says, is that she's no better than you, and she knows it. "She is broken, damaged, and shattered," he said. "So when she says things that are so ridiculous and inappropriate and she tells people they are stupid to their face, there is no malice in it. That's what makes it so funny. This is not some weird, subversive off-the-beaten path piece. This is a mainstream piece in a non-mainstream package."

Kris Andersson has now performed as Dixie Longate at the Denver Center's Galleria Theatre for more than 40 weeks over six stops. Photo by John Moore for the DCPA NewsCenter.


Dixie does Denver, again and again
Despite the ongoing success of Dixie's Tupperware Party across the United States and in five countries, Dixie has made a home in Denver like no other place. Three years ago, the Denver Center commissioned Andersson to write and perform his exhaustively titled sequel,Dixie's Never Wear a Tube Top While Riding a Mechanical Bull (And 16 Other Things I Learned While I Was Drinking Last Thursday). Combined, Andersson has now played Dixie for more than 40 weeks at the Denver Center's Garner Galleria Theatre.
"There are people in Denver who are giddy whenever we come back," he said. "People leave the show and say, 'See you next year,' and that gives me great pride." There are returning audiences who see Dixie so often, he said, they think she actually lives in Denver.
"There is a buzz whenever Dixie Longate comes back to the Denver Center," said DCPA CEO Janice Sinden. "This character and this playwright are part of the DNA of this place, and we are proud to have played our small part in helping to establish Dixie and Kris as the authentic artists they are."

More Colorado theatre coverage on the DCPA NewsCenter

But now having toured as Dixie nonstop for more than a decade, Andersson is taking stock of the franchise he has built from scratch as a writer, actor and self-producer, as well as the best way to take Dixie into the future. The one thing he knows is that he is in no way done with Dixie.
"The opportunity to work with one character and get to know one soul so well is such a unique opportunity that few people ever get," he said. "So I don't know when the heels will come off for the last time. I want her to be remembered as this great cougar you want to have sex with and go to the bar with for as long as I can make that happen, hopefully on bigger and bigger platforms. I don't think she has an expiration date yet. I think there are a lot more milestones to reach."
One of those milestones, of course, would be television. Andersson could continue to bring Dixie before live audiences that range from a few hundred to several thousand at any given performance. But if Dixie were to land a sit-com platform, several million people could potentially see her in one night. That's a lot of new lives that could be touched.
"I feel incredible joy and pride in what I have been able to accomplish personally as a writer, actor and as a producer," Andersson said. "This show has moved people. It has inspired people to change things in their own lives. That's why I want to bring it to more people. We have only scratched the surface."
TV is a big dream, he admits. But then again, so was Brownie Wise's. "To me, that is the universal message of our show – that you can still be positive and happy having achieved close to your goal," he said. "But never lose sight of the big prize – because that prize is what keeps you getting out of that bed in the morning."

John Moore was named one of the 12 most influential theater critics in the U.S by American Theatre Magazine in 2011. He has since taken a groundbreaking position as the Denver Center's Senior Arts Journalist.

Video bonus: Dixie's Denver Dialogues




Dixie's Tupperware Party: Ticket information

At a glance: Dixie Longate, the fast-talking Tupperware Lady, packed up her catalogues, left her children in an Alabama trailer park and took Off-Broadway by storm. Now, join Dixie as she travels the country throwing good ol' fashioned Tupperware parties filled with outrageously funny tales, heartfelt accounts, giveaways, audience participation and the most fabulous assortment of Tupperware ever sold on a stage.
Presented by the Denver Center for the Performing Arts
Through Aug. 6
At the Garner Galleria Theatre
Tickets start at $39
Call 303-893-4100 or
BUY ONLINE
No Instructions: A Denver Actors Fund benefit
Dixie Longate is also presenting No Instructions, a one-night-only standup benefit for The Denver Actors Fund, at the Galleria on the evening of Aug. 6. INFO
https://www.denvercenter.org/wp-content/uploads/2018/04/featured-image-5300.jpg
533
800
John Moore
John Moore
2017-08-02 15:01:00
2018-06-14 15:59:21
After 16 years, meet Dixie's maker: Kris Andersson