Arts Exposure = Academic Excellence
Students involved in the arts are 4x more likely to be recognized for academic achievement and 3 more likely to win an award for attendance.
Children need a solid foundation to thrive, but not every child has the same building blocks. Whether it's poverty or access or cost or simply a parent who is stretched too thin, if children don't learn to read at an early age, they may never catch up.
That's when the Denver Center for the Performing Arts steps in.
The mission is simple: to engage and inspire through the transformative power of live theatre.
While best known for its plays and Broadway musicals, the DCPA has had a commitment to arts education since its inception in 1979. In fact, its on-site classes, student matinees and in-school workshops have ultimately served more than 2.5 million students.
These programs are designed to serve the whole child from PreK through adult and start with an emphasis on literacy.
BOOK STARS (PreK-K)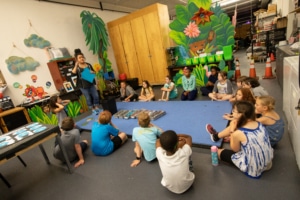 Designed for PreK through Kindergarten, DCPA Teaching Artists use drama-based activities to explore literacy through fun, interactive play.
"We go in and address the students as actors," said Program Manager Rachel Taylor. "We begin with a warmup. Then, each activity has a physical and emotional 'activation'. Using our imagination, we visit the places in the book and become participants in the story.
"For instance, in Goodnight Moon, first, the children will lay the book on the floor and 'jump' into the story. Then we use Frank Sinatra's song, 'Fly Me to the Moon,' and they become the objects we pass on our journey to the moon — nebulas, comets, shooting stars, etc. Finally, they wiggle back out at the end to return to earth."
Not only do the students have fun while learning the basics of literacy, but they also gain lifelong skills that will lead to their future success — perseverance, adaptability, empathy and confidence.
"The Teaching Artists are SO good!" exclaimed one Denver Public Schools Teacher. "These are some of the best interactions I have witnessed with my class."
The program has grown rapidly in recent years and now enlists 15 Teaching Artists, including Teaching Artists who are bilingual in Spanish. With as many as four workshops each day, it's anticipated that more than 13,000 students will participate in Book Stars representing 500 individual classrooms in over 50 schools this year, of which 32 are designated as Title I.
THEATRE FOR YOUNG AUDIENCES (K-3rd grade)
Theatre for Young Audiences is an annual production specially designed for youth. With popular titles such as Goodnight Moon, Corduroy and The Snowy Day, students see their favorite childhood storybooks come to life before their very eyes.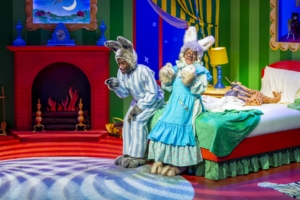 "Theatre for Young Audiences provides opportunities for our youngest audience members to experience live theatre for the first time," said Allison Watrous, Executive Director of DCPA Education & Community Engagement. "Arts education allows children to connect their experiences to stories on stage and participate in activities designed to engage their imagination, critical thinking and socio-emotional intelligence. It is vital for young students to see themselves represented in stories and on stage to inspire their confidence, voice and place in the world."
Prior to a pause necessitated by COVID, nearly 40,600 children, parents and teachers attended each year representing more than 250 schools from 14 Colorado counties.
DRAMATIC LEARNING (PreK-12th grade)
Much is asked of our teachers, especially today. In caring for students' academic needs, they often support emotional and mental health as well, leaving teachers depleted.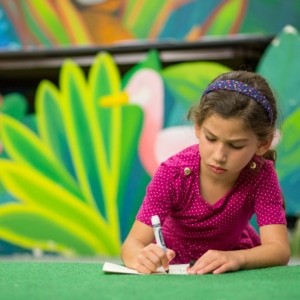 Enter Dramatic Learning, a versatile arts in education program that supports teachers and students. It doesn't replace teachers; instead, it bolsters educators and current curriculum.
This customized approach isn't limited to the dramatic arts. Instead, it could be any subject — Ellis Island, Ancient Civilizations, Civil Rights, Landforms, Body Systems, the Periodic Table, Plants, Movie Math and more.
"DCPA's Dramatic Learning program is an exciting and dynamic program for all grade levels!" said Jannett Matusiak, Director of The Collaborative of the SCFD. "I've seen teachers and students delighted year after year by its highly interactive methods. Whether the subject is Character Building, the American Revolution, Water Cycles or supporting an economics unit through the Coffee Bean Workshop, teachers have found new ways to make subject matter fun and memorable for their students. What's great is that the programs are customized so teachers can really hone in on covering specific vocabulary, fundamentals of the unit and their general student needs."
In the 2020/21 school year, Dramatic Learning educators virtually engaged with nearly 12,000 students statewide. In 2021/22, the program has returned to largely in-person instruction and is on target engage nearly 15,000 students.
The learning activities align with state standards and are designed to ignite curiosity, encourage active participation, and engage students in new ways. This collaboration between educator and DCPA Teaching Artist can boost morale, ease stress and present new, invigorating ways to connect with students of all ages.
MIDDLE & HIGH SCHOOL PLAYWRITING (6th-12th grade)
In 2013, DCPA Education set out to meet a growing need. High schools were asking for support for aspiring young writers, so the team offered in-school playwriting workshops and an annual one-act competition.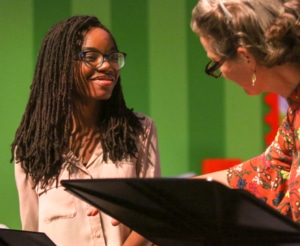 Once the program took off, it was no surprise that middle schools expressed interest, so in 2021, the program expanded to encompass grades 6-8. To date, more than 25,000 students have participated.
"It is so exciting to see the enthusiasm, creativity and talent of these young playwrights," said Claudia Carson, DCPA Education Playwriting Coordinator. "Whether inspired by personal accounts, social issues or science fiction, the submissions are always highly entertaining, well written and engaging."
All submissions are reviewed by DCPA artistic, literary and education professionals who select three high school and three middle school students to receive top honors. The winning High School scripts receive a professional staged reading during the annual Colorado New Play Summit and at the students' schools.
This year, DCPA Teaching Artists offered 86 workshops to 1,680 students in 21 schools. Of those participants, the DCPA received 14 middle school and 121 high school submissions to its annual playwriting competition.
BOBBY G HIGH SCHOOL MUSICAL THEATRE AWARDS (9th-12th grade)
Much like the Oscars — or in the theatre world, the Tony Awards — each year the Denver Center hosts the Bobby G High School Musical Theatre Awards.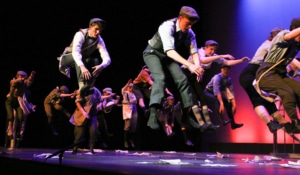 What began in 2013 and included 15 schools, has grown to over 40 schools and engages nearly 6,000 students who represent communities as far reaching as Grand Junction to Limon and Steamboat Springs to Durango.  This program honors and power of arts education and the transformative power of theatre teachers.  Teachers are making these incredibly robust opportunities to participate in musicals possible for their students.
"Athletics are traditionally honored in every high school," said Randy Weeks, Bobby G founder and the DCPA's late President. "I consider the Bobby G program to be the same kind of opportunity for students in the arts. We think of these awards as our version of letter-sweaters. The Bobby G program gives them an opportunity to participate in a statewide competition. It's like going to the state championship in football."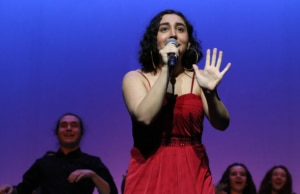 The Bobby G Awards include three elements: in-school master classes led by DCPA Teaching Artists for each self-nominated school, a team of professional adjudicators who evaluate each school's production, and the full-fledged awards ceremony complete with musical numbers, award presentations and acceptance speeches.
Schools and performers are scored on a variety of elements and those collective results determine the nominees in 16 categories including Outstanding Actress and Outstanding Actress, who represent Colorado at The Jimmy® Awards/The National High School Musical Theatre Awards™ in New York City.
The stakes are high, the enthusiasm is palpable, and the talent is on par with a professional production. Whether it is a small high school from Grand Junction on the Western slope, a private school with unlimited resources or Denver's very own School of the Arts, the competition is on a level playing field — or theatrical stage — and the roar of the crowd is electrifying.
SHAKESPEARE IN THE PARKING LOT (6th-12th grade)
Shakespeare in the Parking Lot started as a performance and workshop series for middle and high school students featuring Romeo and Juliet. Now, it has not only expanded into community centers, parks and libraries, but its repertoire also includes A Midsummer Night's Dream and Macbeth.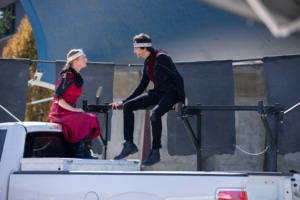 This expansion in reach and repertoire has been made possible thanks in large part to the Morgridge Family Foundation, which underwrites the program…not to mention the truck and trailer to literally take the show on the road. Now, each Spring and Fall, eight actors load up a pickup truck and head across the state offering abridged versions of some of Shakespeare's most iconic plays. In an average year, more than 15,000 students and community members can experience an engaging, relatable version of the Bard.
Additionally, the troupe facilitates in-class workshops that use elements of the plays to connect the students to situations they face each day — peer pressure, privacy, parental responsibility, friendship and loyalty.
"My ninth graders were talking about it all the way back from the parking lot," said Allison Body, Strive Prep Excel Teacher. "I think it was really engaging for them to see [Shakespeare] in a very quick, fast-paced way. And to have the follow-up to discuss the themes, for them to be up and moving and engaged, was really great."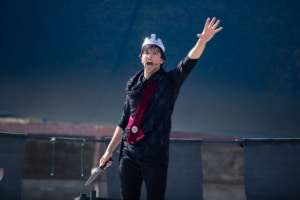 In addition to these programs, the DCPA also offers field trips to deeply subsidized Student Matinees, preparatory workshops before the Denver Public Schools Shakespeare Festival, and year-round acting classes for students of all ages. Collectively, the DCPA connected with nearly 142,000 students in its 2019/20 season.
"Study after study tells us that early exposure to the arts helps students excel in school and in life," said Watrous.
"What the data doesn't show is what we are privileged to see every day — the boost of confidence, the rapt attention, the empathy for a character — all of which plant a firm foundation for the student, the co-worker and the person that is yet to be."
For more information on DCPA Education, visit denvercenter.org/education.
https://www.denvercenter.org/wp-content/uploads/2022/03/Dramatic-Learning.jpg
3550
3550
DCPA Press
DCPA Press
2022-03-01 10:52:15
2022-03-01 11:30:47
Arts Exposure = Academic Excellence