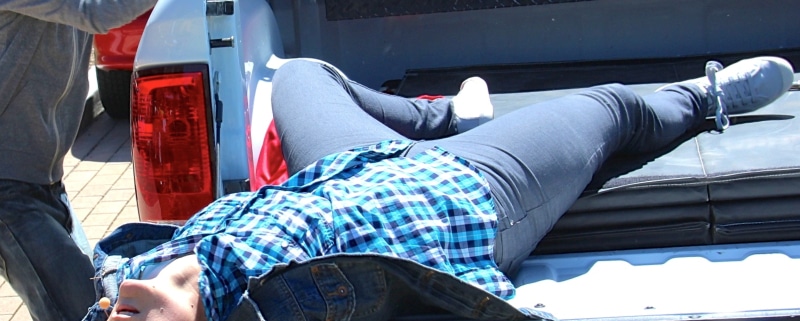 Dear Les Misérables: You should cast me as Gavroche
From the archives: this post was originally published on July 27, 2018
An urchin-like, thirtysomething Denver actor makes her pitch to play the boy who dies at the barricade in the 'Les Misérables'  tour.

Dear Les Misérables National Tour,
You should probably cast me as Gavroche.
Hold on, hear me out on this. Look, I know that I'm a thirtysomething lady and the character is a young boy. And I know you already have two adorable child performers cast as the plucky little street-urchin, but you'll be in Denver through Aug. 5. It's summertime! Give the kiddos a break from their tutors and let them go to water parks, or get out in the sun and play sportsball, or whatever it is that kids do in the summer. Let them enjoy their vacation!
Don't worry, I've got this.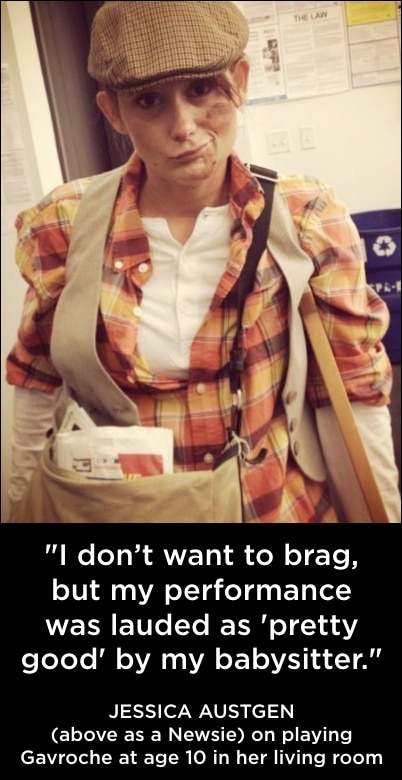 First of all, I've literally been training for this moment since 1988. While most of the other kids my age were watching Jem and the Holograms or mastering Super Mario Bros. 2 on their Nintendos, I was learning how to play the role of Gavroche. I grew up in southern California and my childhood babysitter just so happened to be the head usher at the Shubert Theater in Los Angeles, the original home of the second national tour of Les Miserables. Instead of helping me with math homework or making me finish reading Johnny Tremain for a fifth-grade book report, this artistically minded lady taught me all the child roles in Les Miz, including my favorite bit: The death of Gavroche.
Using couch cushions to represent the bodies of dead French National Guardsmen, she taught tiny, 10-year old Jessica how to army-crawl from corpse to corpse, rifling through ammunition bags until finally getting pierced by a musket ball and singing my final moments. I don't want to brag, but my performance was lauded as "pretty good," by my babysitter, and my mother praised it as, "The reason I got a C- in math."
So, Les Misérables national tour, don't be nervous about putting a new actor in the role: I've been doing this for ages. I mean, I assume some of the staging has changed since 1988 but, after spending more than 10 years as a working theater actor, I think I can handle some new blocking. I'm a pro.
And yes, I know the role is for a pre-teen boy, but can I even tell you how many times in the last year I've been mistaken for a male middle-school student? Answer: more than five, less than 10. Seriously, as a skinny lady with a pixie cut who frequently does guest-artist work in public schools, I've been told to "get to class, sir," asked for my hall pass and had a suspicious security guard give me the side-eye and inquire, "Do you even go here?"
See? See, Les Misérables national tour?! If I can inadvertently bamboozle a series of school security guards, I should have no problem convincing audiences that I'm a saucy street urchin and not a grown adult woman with a master's degree and a 401(k)! Also, let's not forget that The Buell is a really big theater. I'm pretty sure that, once you get past the first 10 or 15 rows, no one will be able to tell that I'm not a French boy.
And finally, two words: Mary. Martin.
There's totally precedent for this sort of thing! If that prolific little pixie could play Peter Pan well into her 40s, I don't see any reason why I can't step into Gavroche's tattered little boots for a few weeks this summer.
(Speaking of Peter Pan, I feel like most productions of Les Miz have really dropped the ball when it comes to wire-work for the death of Gavroche. I think we could make some great changes to this scene and incorporate way more flying! Let's talk.)
So I hope this has assuaged any fears that you might have had. I know the part like the back of my hand, I look like a pre-pubescent boy, and women playing young boys is already a thing. Please, please find it deep within your hearts to give this actress the thing she's been dreaming of her entire career: The chance to die horribly on a barricade while pretending to be an 11-year-old boy.
Thanks so much for your time and consideration,

(Grown Adult Lady)
P.S.: Oh, and even though you're giving the kids a few weeks off in Denver, you should probably keep their tutor around. I never did finish that fifth-grade book report on Johnny Tremain.
Jessica Austgen is a Denver-based actor, playwright and improviser with no hopes of a musical theater career. Instead, she's turned to writing stuff, including Off-Center's 'DragOn' (a Comic Con-themed drag adventure) and 'Sin Street Social Club,' a commissioned adaptation of Aphra Behn's 'The Rover,' which will have its world premiere at the Arvada Center in March 2019. Jessica is the Artistic Director of the Denver Improv Festival and co-hosts the literature/comedy podcast 'Required Readcast.'
Gavroche: At a glance
Gavroche is a fictional character in the 1862 novel Les Misérables by Victor Hugo. He is a boy who lives on the streets of Paris. His name has become a synonym for an urchin or street child. Gavroche plays a short yet significant role in the many musical adaptions of Les Misérables, sharing the populist ideology of the Friends of the ABC and joining the revolutionaries in the June 1832 rebellion.
DETAILS
Les Misérables
May 10 -21 • Buell Theatre
Tickets
https://www.denvercenter.org/wp-content/uploads/2018/07/Jessica-Austgen-800-Barricade.jpg
627
800
Jessica Austgen
Jessica Austgen
2023-02-22 12:01:43
2023-02-22 12:59:02
Dear Les Misérables: You should cast me as Gavroche