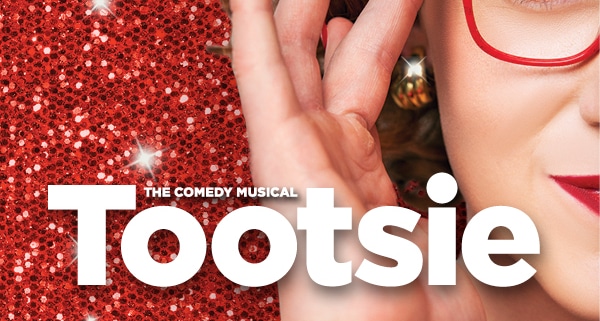 "No one here is boring:" Actor Profiles from Tootsie
By: Madison Stout
Think you know the kooky characters from Tootsie? How about the actors behind the names? The national tour's cast of Tootsie shared some of their interesting audition experiences and how they relate to the characters they play on stage. See their responses here!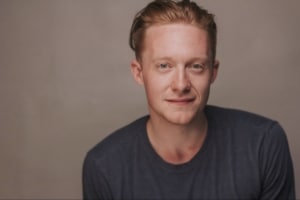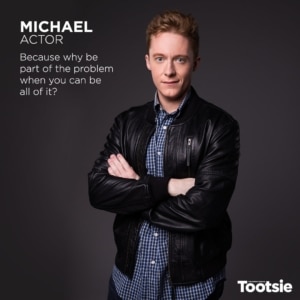 Michael Dorsey's egotistical, stubborn caricature is a stark contrast to the lead actor Drew Becker who is portraying him, but the two share the same drive and ambition to achieve their dreams.
"He has such a passion and love for his craft that I relate to on an immensely personal level," Becker commented.
DCPA: What is the craziest thing you've done to get a job?
Becker: I would have to say the craziest thing I've ever done would be doing a call-back/audition process that was mostly over Zoom! Due to COVID-19 soaring during the duration of auditions for this production, we had to hold all auditions virtually. I have never in my life gone through an audition process like that! However, I did have a lot of fun with it!
---
Ashley Alexandra, playing Julie Nichols, lived in New Jersey when she first began auditioning in New York. The craziest thing she's done to snag a role included waking up at 4am, taking trains into New York City, and standing in line for hours to sign up for audition slots.
"I'd wait outside in line with the rest of the musical theater hopefuls for the building to open so we could sign up for a slot," Alexandra said. "Eventually, my friends and I made up a buddy system so if someone overslept, the other person could sign them up. I definitely don't miss those days."
DCPA: How do you relate to or empathize with your character?
Alexandra: Julie is such a go-getter. She sees what she wants and goes for it no matter what may stand in her way. It's really quite admirable to be so sure and something I'm certainly trying to work on myself.
---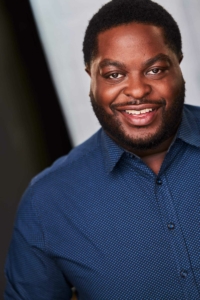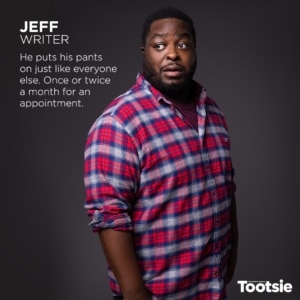 Jeff Slater, played by Jared David Michael Grant, is the unsuccessful playwright and best friend of lead character Michael Dorsey. He's upfront with everyone he interacts with. Grant says that, like his character, he also sometimes speaks before he thinks.
"It's a gift and a curse, but I constantly think I'm dropping knowledge on folks," Grant explains.
DCPA: What's the craziest thing you've done to get a job?
Grant: Honestly, I haven't done anything too crazy to get a job. I'm very by the book. I come in as prepared as I can be and try not to have multiple panic attacks. I pretend to be normal. Haha. so I guess that would be the craziest thing I've done to get a job. Pretend to be normal!
---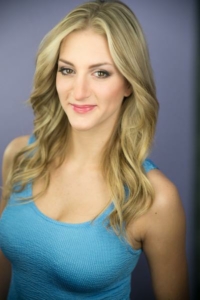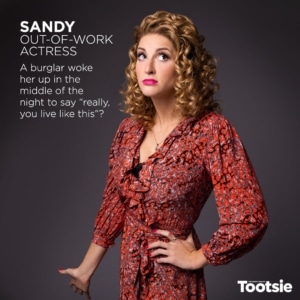 Payton Reilly relates to the self-doubt that comes from being an out-of-work actress that her character, Sandy Lester, finds herself in.
"It's extremely disheartening to keep putting yourself out there and constantly be rejected," Reilly mentioned. "What's special about Sandy is that everyone who sees the show can relate to her in some way. Everyone has doubted themselves – Sandy reminds us to never give up!"
DCPA: What's the most unique audition you've ever attended?
Reilly: Probably my audition for Tootsie! The entire process was done via videos and zoom calls due to the pandemic. I will never forget doing chemistry reads with different partners through a computer screen. It was wild!
---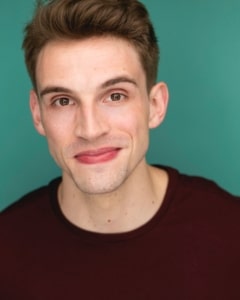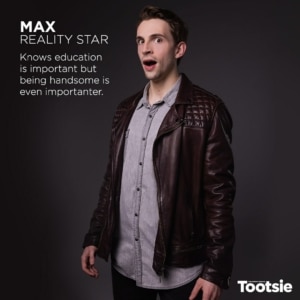 Lukas James Miller, playing Max Van Horn, has had his fair share of odd auditions. "A unique audition I quite enjoyed consisted of coming in with a prepared classical monologue, but before beginning the director had me start telling a story about my own day then transitioning into the text without stopping the story," Miller explained. "It ended up being an exercise I really enjoyed and something I still practice."
DCPA: How do you relate to or empathize with your character?
Miller: Luckily, I would say I don't empathize with the character of Max Van Horn on an intellectual level! One thing I really do connect with and hope to bring out in my portrayal of this character is his desire to please those around him and do the best he can with any task he is given. Max is very used to the spotlight but has a desperate innocence about him that I find accessible and endearing.
Come see the entire cast and their portrayals of the hilarious characters in the musical comedy Tootsie.
DETAILS
Tootsie
March 29 – April 10 • Buell Theatre
Tickets
https://www.denvercenter.org/wp-content/uploads/2022/02/BW22-Tootsie-web-sliders2.jpg
600
600
Madison Stout
Madison Stout
2022-03-02 11:53:31
2022-04-22 10:56:29
"No one here is boring:" Actor Profiles from Tootsie