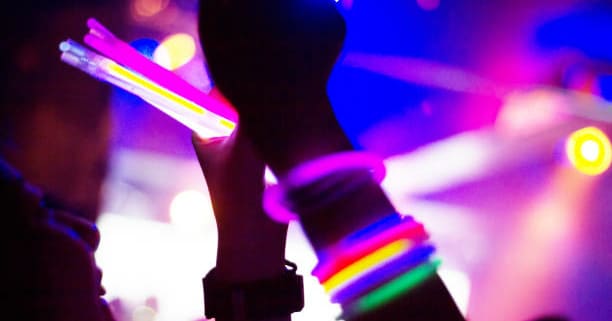 Find Alternatives to Fireworks This Summer
Dixie Longate doesn't need real fireworks to light up the stage, and neither do you. In fact, there are plenty of ways to dazzle this summer without fire and have just as much fun as the host of Dixie's Cherry Bombs & Bottle Rockets, playing at the Ellie Caulkins Opera House on July 8. While Dixie, creator of Dixie's Tupperware Party, fires off jokes in between her explosive storytelling, think about how you too can entertain without literal fireworks.
SKIP THE SPARKLERS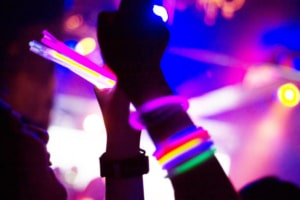 Instead of small fire hazards in the hand of every sugar-hyped-up child, offer a bucket of glow sticks. These glowing plastic tubes can be found all over the city at Target, Walmart, party stores and more, or you can easily order a cache online. Choose from thick sticks to swing around in an array of bright colors, and thin glow ropes to be worn like jewelry. Once the sun goes down, dazzle your body, juggle, or use in a game of fetch for those energetic children.
EXPLODE PAINT BALLOONS
In case you miss the fierce explosion of colors associated with the 4th of July, worry not. It's easy to fill up water balloons with red, white, blue, and any other colors you want, and let them detonate into an array of brightness right in front of your eyes. Unless you have a space you don't mind covering in paint, it's best to let these little bombs go off on a tarp, or against a wall of cardboard (see, those shipping boxes have a use). Just make sure to use washable paint and wear clothes that can take some festive pizzazz.
EDIBLE FIREWORKS
Have your fireworks and eat them too with everyone's favorite nostalgic candy, Pop Rocks. Yes, these fruity, crackle-in-your-mouth treats are still made and easy to find in most places that sell sweet things. Pass out packs to all your guests so they can feel the explosion on their tongue. Or, bake the candy into cupcakes or cookies. The spark won't be as strong as the pure Pop Rocks but will give eaters a little tingle. For adult party guests, line a cocktail with Pop Rocks; not only does it give the drink a fun twist, but a bit of sweet fruitiness too. You could to the same for kids, only sub booze for lemonade.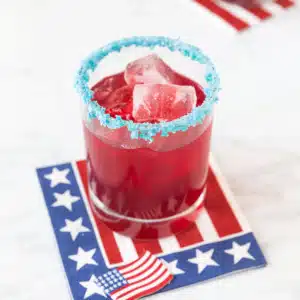 MAKE A BANG WITH ROCKETS
Don't worry, these little rockets aren't nearly as explosive as real fireworks, and they're good for kids of all ages. All you need are Alka Seltzer tablets, water and small containers with lids, like old school film canisters. Break up the tablets in half or quarter pieces. Fill containers two-thirds full of water. Place the tablet piece in the container and place the lid on. Flip it lid side down on the ground, step back and wait for the "fireworks" to start. You can do this one at a time or have a bunch go off together. And, while the rockets can be done anywhere, it's best to do outside where you don't mind a bit of watery mess.
BLOW UP GLOW BUBBLES
Have fun after the sun goes down with glow-in-the-dark bubbles. The best part, you can do them in different colors for a gentle take on the more violent fireworks, and the bubbles will even silently explode. Making the bubbles proves simple too, just combine one cup distilled water with one tablespoon Dawn dish soap, one teaspoon of glycerin and two tablespoons of a water-based glow-in-the-dark paint in a mason jar. Mix and then use a straw or bubble wand to blow your bubbles. You will also need blacklight flashlights to shine on the orbs, which can be bought online or at most big shopping stores. Start blowing and let the show begin.
MAKE YOUR OWN SPARKLERS
Skip the fire and make sparklers out of tin foil and colored cellophane instead. For each sparkler layer the foil and cellophane, using three or four pieces. Next, fold the pile two-thirds of the way up, so you can see the layers. Gently cut the folded paper into strips, making sure to leave about two inches of the folded end untouched. Finally, using a straw or wooden chopstick, wrap the folded bundle with the short end sticking out; this gives the sparkler its tassels. Use clear tape to secure the cellophane to the stick, and fluff out the shredded pieces for a colorful and not-too-noisy sparkler. Bonus, these easy-to-do wands last as long as you want them too.
BURST A PIÑATA
In Denver there are plenty of places to buy piñata and most will make it look like whatever you wish. Perhaps that's a festive American flag, visage of your least-favorite politician, or even a red-white-and-blue donkey. The choices are endless…so is what you can put inside the container. For kids this could mean small toys and candy, and for adults maybe some small plastic shooters of booze. No matter how you do it, a piñata adds a fun layer to any party that's skipping the fireworks.
Though not as common as say, fireworks all summer long in neighborhoods across Denver, a drone show is a quieter, safe and environmentally sound way to see the night sky lit up. A handful of companies provide drone shows. In fact, last year the town of Vail swapped out their usual fireworks for a customized drone show due to drought and all the fires plaguing Colorado. Plus, a drone show doesn't upset dogs or people with sensitivity to noise.
https://www.denvercenter.org/wp-content/uploads/2023/06/istockphoto-949383448-612x612-1.jpg
408
612
Linnea Covington
Linnea Covington
2023-06-14 11:18:51
2023-06-14 11:19:19
Find Alternatives to Fireworks This Summer