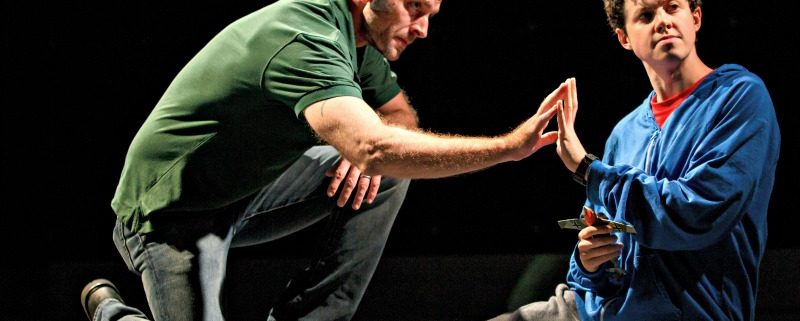 For Colorado's Gene Gillette, it is morning in America
EDITOR'S note: It was announced on October 3, 2019, that Gene Gillette will make his Broadway debut starting on November 3 when he joins the cast of To Kill a Mockingbird.
He lost his mother at 5, beat cancer at 40, and now returns home in The Curious Incident of the Dog in the Night-Time
It was the culminating day of his acting career. It was last August, and Denver actor Gene Gillette was sitting at a table in New York reading The Curious Incident of the Dog in the Night-Time at the opening rehearsal for the first national touring production of the National Theatre of Britain's acclaimed, Tony Award-winning play. And as the actors came to the end of the story … Gillette broke into tears.
"Something about this troubled kid who has lost his mother," Gillette said, his voice trailing off. "I just started bawling."
Probably because he can so easily relate.
Gillette plays Ed, the father of a 15-year-old boy named Christopher who lost his mother two years earlier. Gillette's mother died of breast cancer when he was 5.
"When you lose your mother, you have no emotional anchor in your life," Gillette said in advance of his return to Denver in The Curious Incident, which opens May 30 at the Ellie Caulkins Opera House. "My father always tried to be there for me. But a father is just a different kind of anchor than a mother."
In the stage story, Christopher is an exceptionally intelligent boy, but his overactive mind is ill-equipped to interpret everyday life normally. Gillette can palpably understand a boy who is exploding to get out of his own head.
To say an adolescent Gillette was a bit of a trouble-maker is grossly inadequate. To say he had trouble in school, to say he had run-ins with the law, to say was a bit of a hothead – it's all grossly inadequate. A young Gene Gillette could have ended up dead or in jail, several times over. But somehow he made it through, he said, largely through the interjection of protectors ranging from teachers to his father to his future wife. That and the safe haven he found in Denver theatre community.
But it has been a very long road from Denver's Curious Theatre to the national touring production of The Curious Incident of the Dog in the Night-Time. One that recently included three weeks in a life-threatening coma.
An incomprehensible loss
Gillette was born in Evergreen in 1974 and moved with his father and sister to Franktown after his mother died. His father, then a paper salesman, struggled with how to help his children cope. In eighth grade, Gene was sent to a school for kids with special problems. There were stints in both rehab and a mental hospital. Doctors believe it was all a natural response to the boy losing his mother.
Gillette attended three area high schools, but never fit in at any of them. "I actually did really well in school," he said, "but there were a myriad of ways I found to get into trouble back then." At Denver Academy, at just 15, he was jumped by three older students on the football team at prom. He dropped out of Douglas County High School during his junior year but, after several years adrift, he earned his high-school G.E.D.
His life started to turn around when he made his way to Denver to explore the local theatre community. "There were times I didn't have an address, but I always had a roof over my head," he said, "usually crashing on people's couches."
People say that theatre saves lives … and sometimes they are being overdramatic when they say it. Gillette is not.
"I absolutely believe that theatre saved my life," he said. "It's so stupid and cliché to say it, but the way I was going, I didn't think there was any way I would make it to 30."
Theatre was his lifeline, starting back in the fourth grade when he played the troll in Billy Goat's Gruff. Later, as his life was imploding at Ponderosa High School, Gillette remembers a teacher named Mrs. Smith showing him the movie version of A Streetcar Named Desire, starring Marlon Brando. "That's when I really, really got into theatre," he said. "Everything about that guy, man: Stanley Kowalski. On the Waterfront. The Godfather. Apocalypse Now. Those are monumental transformations. That's the kind of acting I dream about doing – the stuff that touches your soul."
Fitting, because critics have observed a young Brando quality to Gillette's work from the start – the good, the sexy, and the scorching. One of his first roles in Denver was in Separate Tables at the South Suburban Theatre in Littleton. "I was actually surprised to learn that he was under 21, because his height and carriage at his audition were so mature and elegant," said his director, Jeremy Cole. That was followed by a production of Macbeth, again directed by Cole. "Gene had multiple roles," Cole said, "including – notably – a murderer."
Like Brando, a young Gillette was wild, untrained and had a short fuse. During intermission of the final performance, Cole went backstage and criticized him for the way he was grabbing the woman playing Banquo. After the show, there was a confrontation, "and I had to be dragged off of him," Gillette said.
"Gene and I both learned lessons from that, I think," said Cole, who remains friends with Gillette and will be seeing The Curious Incident in Denver.
But the raw performance was riveting. Future Curious Theatre founder Chip Walton, then a PhD student at the University of Colorado, saw Macbeth and quickly cast Gillette in his first leading role, in Saved at the LIDA Project warehouse. Walton then convinced theatre professor Sean Kelley to help Gillette enroll at CU-Boulder to study theatre.
Gillette then headed for New York, but a violent confrontation during a holiday trip home changed the course of his life. Gillette was ordered to return to Colorado to serve a house arrest. Here, he was cast as the lead in Hamlet at the Denver Civic Theatre (now Su Teatro), followed by the play that landed him on the Denver theatre map – Curious Theatre's Coyote on a Fence. Gillette chillingly portrayed Bobby Reyburn, an uneducated hick awaiting the death penalty for killing three African-American girls in a church fire. The play opened three days after the 9/11 attacks. Gillette won the Denver Post Ovation Award for Best Actor.
"That was a life-changing event for me," Gillette said. "That play was all about revenge. An eye for an eye: Is that the path that you want to take in life, either as a community or as an individual? Those are subjects we were dealing with a lot back then – and we still are now."
Gillette credits two people for turning his life around: One is his wife, Laura Tesman, a theatre professor at Brooklyn College who has been by Gillette's side for 19 years. "She's a huge rock in my life," Gillette said. "She knows who I am and where I come from. She's everything to me, man."
The other is Walton, who most recently cast Gillette at Curious in The Lieutenant of Inishmore in 2008. Westword's Juliet Wittman called that black Irish comedy "a crazed, cathartic bloodbath of a play dominated by scenes of torture, murder and dismemberment." She called Gillette's performance as a psychopathic soldier "mesmerizing, steely and scary."
"Curious is my home," Gillette said. "Chip's like my older brother. He's my mentor. He's the guy I look up to most of all."
Gillette went on to seminal roles in Denver and around the country, notably as John Proctor in the Arvada Center's The Crucible. His life, through the benevolence of passing time, has normalized. He was happily married in 2014 when he was asked to join the national touring production of War Horse, the National Theatre's epic story of another 15-year-old boy whose horse is sold into the military by his father (Gillette) to aid in Britain's World War I effort.
"Knowing that a place like the National Theatre of Great Britain believed in me enough to cast me in a play like that, in a principal role, just really validated my life choices," Gillette said. "It told me, 'You didn't totally screw up.' "
Cancer calls a cold timeout
But his biggest battle was just around the corner. The War Horse tour was on a brief break before a scheduled closing visit to Japan in the summer of 2015. But Gillette wasn't feeling right. After three weeks, he visited a doctor who diagnosed him with an aggressive form of testicular cancer.
"My mother died of cancer when she was 35 so, yeah, it's just terrifying, man. Just terrifying," said Gillette. "I found out I had cancer, turned 40 and lost the best job I ever had – all within two weeks."
(Story continues below the photo gallery.)
Photo gallery: Gene Gillette through the years:

To see more photos, click the forward arrow on the image above.
Rather than go to Japan, Gillette had surgery to remove the tumor and his lymph nodes. In true Gillette fashion, he said, "I guess that I was kind of fighting people when I came out of surgery – so they put me back under." Doctors put him on the drug propofol, which slows brain activity and the nervous system. But while he was under sedation, Gillette developed pneumonia and slipped into a coma. A pulmonary embolism formed in his lung, and blood clots in his legs. He credits his wife for saving his life – again – when she demanded that doctors take him off the propofol.
After three weeks in the coma, he came to. By then he had lost 45 pounds and was down to a rail-thin 137. When he woke up, the first person he called was his father.
"I think I've heard my dad cry maybe two times in my life, and one of them was when I called him after waking up from three weeks in a coma," Gillette said.
He said his curious, near-death incident had a profound effect on his outlook, his demeanor, and his relationship with loved ones.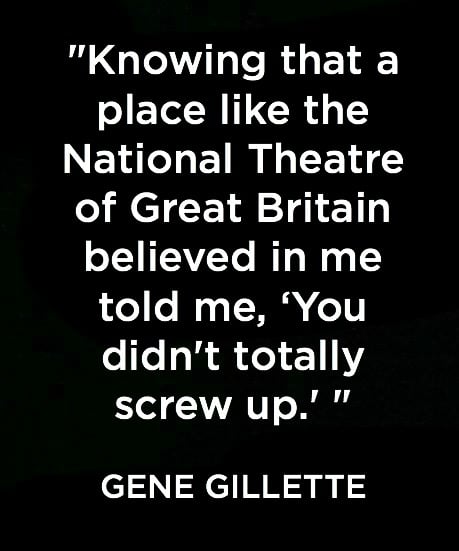 "I just don't let stuff get to me as much as I used to," Gillette said, before backtracking. "OK, I still let things get to me – because I am still me. But I just don't take things for granted. I really like the life I have. I love my wife. I love the career that I have. I don't want to die anytime soon, man. I really want to live life as much as possible."
Gillette does not think it is a coincidence that every audition he has gone after since the coma has resulted in either a callback – or a job. "This whole thing was a call to action," he said. "I'm done (bleeping) around. This is what I want to do with my life."
One of the jobs he went after – and landed – was in The Curious Incident of the Dog in the Night-Time. As Gillette was recovering from his cancer scare, he found out the play, written by Simon Stephens and adapted from Mark Haddon's best-selling 2003 novel, was forming a national tour.
The story begins with young Christopher falling under suspicion for killing his neighbor's dog. The boy then sets out to identify the true culprit, which leads to an earth-shattering discovery. Gillette auditioned for the role of the father, Ed, in New York City – and got it. Gillette says if Ed were a real person, the two would probably be good friends.
(Pictured at right: Gene Gillette with his father at the tour opening of 'The Curious Incident of the Dog in the Night-Time' at the Kennedy Center in Washington, D.C.)
"Ed is a guy you would want to watch a football game with," Gillette said. "He's a good dude. He runs his own company. He has a son with an extraordinary skill set and some special needs. He's got a lot of weight on his shoulders, but he's doing the best he can."
One of the hardest parts about playing Christopher's father, he said, is the fact that the boy doesn't like to be touched. "That is very difficult for a parent, not being able to touch your own son," he said. "Christopher doesn't have any friends at school. He talks a lot about enjoying being alone and how amazing it would be to be an astronaut and see the Milky Way. He just has a very bittersweet outlook on life."
And while Christopher's story and Gillette's own are very different, he recognizes commonalities: A difficulty conforming, living on the fringes, not behaving the way that society deems normal. But to play the role of Ed, Gillette looked more to his own father for inspiration.
"When I look at what my dad had to deal with from me as his son – it was a lot," Gillette said. "I think Ed loves his son as much as my dad loves me. I think they both were dealt a really hard hand with the mother dying so young, and his son having the special needs that he has."
You may recall Gillette saying he has only heard his dad cry twice. He thinks the third time might happen on May 30, when Gene takes the stage at the Ellie Caulkins Opera House in Denver.
"Our relationship is great now," he said. "I realize now how hard my dad had to work after my mom died, and I know that he did the best that he could to take care of us. I think it's going to mean a lot to him to be there on opening night in Denver."
He knows what it will mean to him.
"It's going to be a dream realized," he said. "I have never worked at the Denver Center. That's the crown jewel in my head. That's THE spot. It's going to be huge for me. I cannot wait."
John Moore was named one of the 12 most influential theater critics in the U.S by American Theatre Magazine in 2011. He has since taken a groundbreaking position as the Denver Center's Senior Arts Journalist.
Video: Gene Gillette on The Curious Incident of the Dog in the Night-Time
The Curious Incident of the Dog in the Night-Time: Ticket Information
• May 30-June 18
• The Ellie Caulkins Opera House
• Tickets: 303-893-4100 or BUY ONLINE
• Groups: Call 303-446-4829
• ASL, Audio-Described and Open-Captioned performance 2 p.m. June 11
Video bonus: Our 2011 interview with Laura Tesman and Gene Gillette:
Gillette and Tesman discuss 'Bound,' an adaptation of the Prometheus and Pandora myths (and more) which they co-wrote. He starred; she directed.
https://www.denvercenter.org/wp-content/uploads/2018/04/featured-image-5019.jpg
530
800
John Moore
John Moore
2017-05-15 13:53:00
2019-10-05 16:31:27
For Colorado's Gene Gillette, it is morning in America