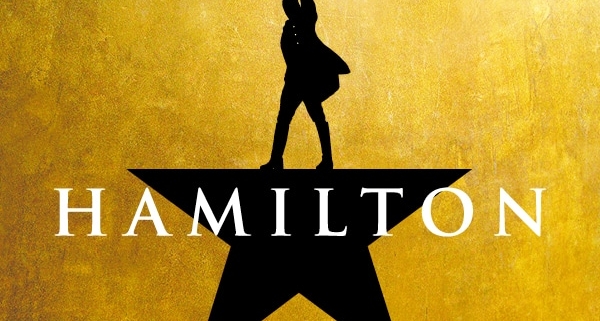 The Man Who First Brought Us Hamilton — Ron Chernow On Serving As Lin-Manuel Miranda's "Right Hand Man"
By: Janice C. Simpson
Before Miranda wrote the show, Chernow wrote the best-selling biography on the once-forgotten Founding Father. How involved was Chernow in the making of the musical? What does he think of Hamilton as hip-hop? And what would Hamilton, himself, think?
The story has already become Broadway lore: Lin-Manuel Miranda was on vacation from his Tony-winning musical In the Heights when he picked up a biography of Alexander Hamilton. Before Miranda finished the second chapter of the 800-page book, he began to think of Hamilton's life as a series of hip-hop songs, performed by people of color. Mutual friends introduced him to the book's author, Ron Chernow, and the rest, as they say, is history-making. Chernow reveals what it was like for him — a musical newbie — to collaborate on the show that is now a phenomenon.
What did you think when you first heard the idea of turning your book into a musical?
Ron Chernow: The book had been optioned for a movie in Hollywood three times and, as so often happens, disappeared into a black hole. Lin started by telling me that Hamilton's story was a classic hip-hop narrative. Needless to say, I had no idea what he was talking about. I know now. But I didn't know then. I'm a little more hip now than I was at that point.
I think Hamilton worked for hip-hop because there was something so driven about him. He's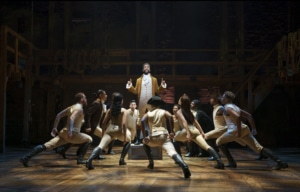 constantly talking and writing and reading and doing things, and so the pulsating hip-hop music and lyrics really match the tempo of his life. And [Lin] asked me on the spot to be the historical advisor. He said "I want the historians to take this seriously."
Can you explain your involvement as the advisor?
RC: First order of business was simply my pointing out errors. As time went on, I commented about the portraits of the different characters, motivations, the dynamics of the different relationships, the dramatic arc.
How often were you in touch?
RC: I kept reentering this process — I would say at about two- or three-month intervals, when there was a first rehearsal, a first workshop, a first theatre festival, a first sing-through of the whole show, the sitzprobe. And then earlier when it was still at the Public Theater, I was seeing the show about every third or fourth night because Lin was still making changes.
How did the two of you work?
RC: Lin was a strong enough personality with a sense of integrity that allowed him to really have the biographer deeply involved in this way. Whenever there was a new version of the show, I had the opportunity to sit down with Lin for an hour or two and give him my reactions and he would sit there with his laptop. If I said to him something that was ridiculous, he would just stare at me. If I said something that — to him — made sense, he wouldn't say anything, he would just start typing furiously. He was absolutely unerring in terms of knowing when to respond to what I had said and when not to respond.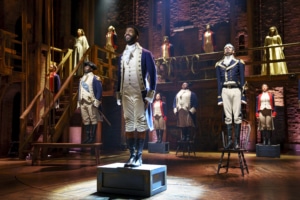 Do you remember how you felt the first time you saw the whole show?
RC: The first preview at the Public in January [2015] was indescribably emotional for me. I was just on the verge of tears through the whole performance. It was rather magical and dreamlike that these figures that I had written about were suddenly dancing and singing on this stage.
Had you been a fan of musicals before?
RC: I'd always preferred straight drama as opposed to musicals. But I must say, having been involved with this show has given me enormous respect for musicals and how difficult they are to do. I've actually spent the last few months listening to a lot of cast albums from earlier decades because I've just gotten interested in musicals.
What have you been listening to?
RC: Everything from Evita to Follies to A Chorus Line to Jesus Christ Superstar. It's been a very nice education for me.
No 1776 [the musical]?
RC: I think that the image of 1776 [a bunch of late middle-aged white males] was in the back of my mind the first time that Lin invited me to a rehearsal with actors. I opened the door of this studio and I peeked in … and my first thought was, "Oh my God, they're all black and Latino." I'm embarrassed to say, I hadn't thought about the casting at all, but I just assumed that the Founding Fathers, you know…. And I sat down and I said to myself, "Oh boy, I'd better talk to Lin about this when this rehearsal is over." Number one: Within seconds you forget what racial or ethnic group they belong to. But then I also felt within a matter of minutes…this is an inspired idea because these young black and Latino performers are not only bringing extraordinary talent, but freshness and passion and energy that I had never seen. Even in this early rehearsal, they were already getting closer to the spirit of the American Revolution than anything I had seen either on stage or screen.
Why do you think the show has become such a phenomenon?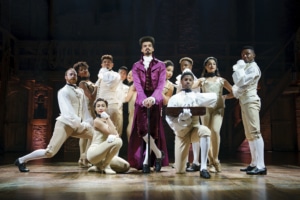 RC: There are a lot of different reasons. I think that it has revolutionized musical theatre by taking three things that had never been fused together — hip-hop, Broadway show tunes and American history — in this brilliant mix. I think the show really captures the changing demographics of the country. People go into the theatre and as they are watching 18th-century America, they're simultaneously seeing 21st-century America. Suddenly, the 18th century seems very immediate and very accessible in a way that it has never been before. The show is reacquainting Americans with their own origins.
What do you think Hamilton would think of all this?
RC: He would love it. You know Hamilton was not a bashful boy.
This article was originally published by Playbill on January 12, 2016 and has been reprinted by permission.
DETAILS
Hamilton
Feb 16 – Mar 27, 2022 • Buell Theatre
https://www.denvercenter.org/wp-content/uploads/2019/01/Hamilton_Web_Tile_600x600.jpg
600
600
DCPA Press
DCPA Press
2022-01-12 11:48:20
2022-01-13 12:06:50
The Man Who First Brought Us Hamilton — Ron Chernow On Serving As Lin-Manuel Miranda's "Right Hand Man"