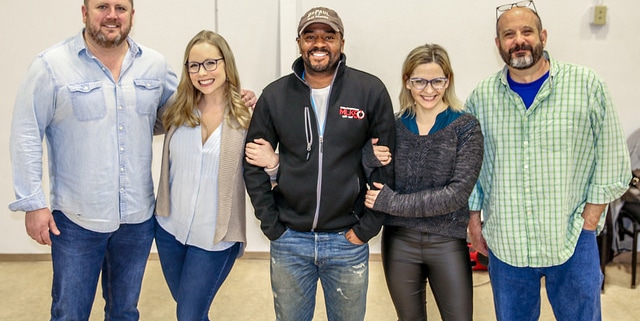 'Human Error': Comedy won't draw a red or blue line in the sand
Photos from the making of 'Human Error in Denver. Above, from left: Joe Coots, Marissa McGowan, Larry Bates, Kimberly Gilbert and Wayne Kennedy at the first day of rehearsal for 'Human Error,' which has its first performance on May 18. To see more, click on the image above to be taken to our full gallery of photos. Photos by John Moore for the DCPA NewsCenter.
Director promises the only harm that may come from watching this world-premiere comedy is a busted gut

By John Moore
Senor Arts Journalist
Rehearsals have begun for the DCPA Theatre Company's season-ending, world-premiere comedy Human Error, about what happens when you put two completely opposite young couples together with only one thing in common: A bumbling fertility doctor who has mistakenly implanted a fertilized embryo from one woman into the uterus of the other.
You know: "Another one of your standard-issue switched-fertilized-embryo farces," Ohio playwright Eric Pfeffinger said with a laugh.
One couple are NPR-listening, latte-sipping, blue-state liberal; the other NRA-card-holding, truck-driving, red-state conservatives. The conflict between them will be recognizable to anyone presently breathing in America. Keenan and Madelyn are mixed-race liberals. Jim and Heather are affluent Christians who love God, guns and having babies. Have them share an egg, and hilarity ensues. (If the response of those audiences who first saw the play as a reading at the 2017 Colorado New Play Summit are to be believed.)
But in this highly polarized time in America, Director Shelley Butler and her team are determined to keep the play from becoming no more injurious to anyone watching than perhaps a busted gut.
"You could approach this staging with a really obvious red-and-blue set design, and go hard on the red-and-blue lighting, but we really endeavored not to do that," Butler said.
"When Eric and I met three years ago, the political and cultural divide in our country had been building for decades — but I don't think either one of us knew that in 2018, his play would be more applicable than ever. Part of what I responded to in the play then is that Eric didn't approach any of these characters as caricatures. He really embraced the humanity in all of them. This play is unapologetically a comedy, but we are not setting any of these people up for ridicule."
Here are five more things we learned at first rehearsal:
Get thee to the Galleria. Human Error will be the first DCPA Theatre Company season offering ever presented in the Garner Galleria Theatre, more commonly home to ensemble musicals such as The Taffetas and First Date. This unlikely venue for a play will provide an intimate, cabaret-like atmosphere that will be new for many Theatre Company subscribers. "We put in in the Galleria Theatre because it has that inherent feel of being compact and very personal," Theatre Company Associate Producer Grady Soapes said. Added Butler: "It really feeds into our populist approach to this production."
Border war! The play is set in Sylvania, Ohio, a suburb of Toledo whose northern border is the southern border of Michigan. Keenan and Madelyn live in Michigan, while Jim and Heather live on Sylvania. Anyone who knows that part of the Midwest also knows the antagonism between those two states is real. A lot of it has to do with perhaps the greatest rivalry in all of college sports, between the Ohio State and the University of Michigan football teams, but tere is an ideological divide as well. Human Error Sound Designer Jason Ducat knows of this all too well, having grown up in the border town of Bowling Green, Ohio, which is probably what the coiner of the term "spitting distance" had in mind. "We don't feel too highly about that state to the north," said Ducat, who couldn't even bring himself to say "Michigan."
Kennedy is back. Local audiences will be quick to recognize Wayne Kennedy in the role of the bumbling fertility doctor. Kennedy, who was a featured performer in Off-Center's recent immersive staging of The Wild Party, has been a familiar face on the BDT Stage in Boulder for 27 years, and he won all the awards for his portrayal of Tateh in productions of Ragtime at the Arvada Center and BDT Stage. The actors playing the two couples are mostly new to Denver. Big Joe Coots, who was a meanie in the national touring production of Kinky Boots, participated in a five-part video series for the DCPA NewsCenter while he was here. It was called "Kinky Qs," and in it, Coots tackled meaningful questions like, "Have you ever been bullied?" (His answer may surprise you.) Marissa McGowan toured through Denver with Les Miserables. Kimberly Gilbert was not in the DCPA Theatre Company's world premiere staging of The Book of Will — however, she did play Elizabeth Condell in the Round House Theatre's recent production in Bethesda, Md. (Photo above by Kaley Etzkorn.) Larry Bates played Martin Luther King in South Coast Repertory's All the Way.
Director's roots. You may remember Director Shelley Butler from the Theatre Company's 2013 staging of Catherine Trieschmann's The Most Deserving, a world-premiere comedy about amateur art and amateur politics in a tiny West Kansas town. Butler already has her return trip to to Denver booked: She will be directing W. Somerset Maugham's The Constant Wife from Sept. 21-Oct. 21 in the Space Theatre.
We're only human-er: Pfeffinger has continued to hone his play in the 15 months since the Colorado New Play Summit, in close consultation with Butler and dramaturg Sarah Lunnie. But not with the intent of either making the play more overtly funny or politically relevant. "Tonally, structurally and thematically, the play is pretty much the same now it was at the Summit," he said. "It's more a matter of helping the play to become more of what it's already wanting to be. That includes making the funny stuff funnier and the human stuff, uh, human–er."
John Moore was named one of the 12 most influential theater critics in the U.S. by American Theatre Magazine in 2011. He has since taken a groundbreaking position as the Denver Center's Senior Arts Journalist.

From left: Kimberly Gilbert, Diretor Shelley Butler, Playwright Eric Pfeffinger, Joe Coots, and Marissa McGowan of 'Human Error,' at the opening of DCPA Theatre Company's 'The Who's Tommy' last Friday. Photo by John Moore for the DCPA NewsCenter.

Human Error: Cast:
Human Error: Creatives
Directed by Shelley Butler
Scenic Design by Lisa M. Orzolek
Costume Design by Sara Ryung Clement
Lighting Design by Charles R. MacLeod
Sound Design by Jason Ducat
Dramaturgy by Sarah Lunnie
Stage management by Christopher C. Ewing
Assistant Stage Management by D. Lynn Reiland
Casting by Elissa Myers Casting
Video: Our interview with Eric Pfeffinger at the Colorado New Play Summit:
Video by David Lenk and John Moore for the DCPA NewsCenter.


Human Error: Ticket information
After an unfortunate mix-up by their blundering fertility doctor, Heather is mistakenly impregnated with the wrong child. Now two very different couples face sharing an uproarious nine-month odyssey of culture shock, clashing values, changing attitudes and unlikely – but heartfelt – friendships.
Presented by DCPA Theatre Company
Performances May 18 through June 24
Garner Galleria Theatre, Denver Performing Arts Complex
Call 303-893-4100 or BUY ONLINE
https://www.denvercenter.org/wp-content/uploads/2018/05/featured-image-6962.jpg
393
640
John Moore
John Moore
2018-04-30 15:53:00
2018-06-13 16:04:27
'Human Error': Comedy won't draw a red or blue line in the sand