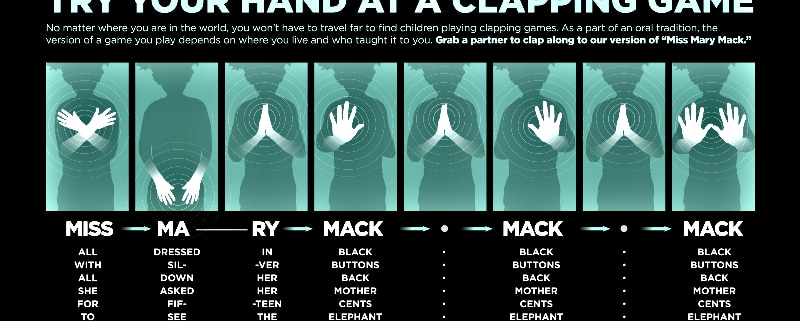 Lynde Rosario on the history of hand games
An essential part of the play Last Night and the Night Before was also a vital part of DCPA Literary Manager's childhood
Do you remember the games you played outside, on the street, with the other neighborhood kids?  I can vividly recall practicing my hand-game moves out on the stoop, just as Sam does in the DCPA Theatre Company's world premiere of Last Night and the Night Before by Donnetta Lavinia Grays. Hand games, or hand-clapping games, are upheld as an oral tradition with pop-culture additions. We learn the tame versions from our parents; then we learn the naughty versions from our peers on the playground. At the time no one questioned where they came from; we just knew that the object of the game was speed and precision.
The challenge of a hand game is chanting or singing while performing the clapping sequences and synchronizing movements with other people, especially at high speeds. The goal is to maintain the whole performance, from start to finish, without a slip-up. Performance is an essential and enjoyable part of hand-clapping. You learn the moves through observation and practice, only to show off those learned arrangements to your playmates. Repetition, coordination and duration give each hand game its challenge and charm. 
This form of play started as an African tradition. One of the major characteristics of various African musical cultures is the use of hand clapping and foot stomping as accompaniment. Rituals of call and response, body percussion and dance melded together with the expressions and conventions of the European culture. These morphed over time to form the modern games of today. The oldest hand games recorded in Europe are Pat-A-Cake, dated in 1698, and Pease Porridge Hot, also dated in the 17th century. The custom peaked between the late 19th and early 20th centuries, then receded until the 1960s when the practice became mainstream. The most common hand game in the English-speaking world is Miss Mary Mack, dating back to the American Civil War. 
The benefits of these games are not only enjoyment but education as well. Hand games improve motor and cognitive skills. Rhyming supports language growth and development and increases literacy skills. Pairing rhymes with movement helps young people see text as both informational and entertaining. Most education professionals will tout the value of kinesthetic learning in early education. Kinesthetic learning involves movement. Movement helps create participatory experiences by turning passive activities into active engagement.
Hand games are more prominent in urban environments where resources are limited. Gender disparity pulled this type of play toward girls because no equipment was required; whereas boys were often provided with a ball or some other kind of tool for play. These are seen as street games and are therefore subject to adaptation. Each hand game comes with a myriad of variations distinct to both the region they are being played in and which group of children are playing. 
The hand games your grandmother played as a child will never be the same as those your children play. Each generation adds their own nuance to the cultural memory of children's play, so hand games will continue to evolve within the eras and environments of those who play them. 
Discover examples of modern hand games in Last Night and the Night Before, premiering as part of our Colorado New Play Summit this winter.
Lynde Rosario is the Literary Manager for the DCPA Theatre Company. She has a B.A. in Drama from Hofstra University and an M.F.A. in Dramaturgy from The American Repertory Theatre/Moscow Art Theatre Institute for Advanced Theatre Training at Harvard University. She is a member of the Literary Managers and Dramaturgs of the Americas and an Associate Member of the National New Play Network.
Last Night and the Night Before
Written by: Donnetta Lavinia Grays
Director: Valerie Curtis-Newton

Dates: Jan. 18-Feb. 24 (Opens Jan. 25)
Where: Ricketson Theatre
Genre: Family drama/mystery
The play at a glance: When Monique and her 10-year-old daughter Samantha show up unexpectedly on her sister's Brooklyn doorstep, it shakes up Rachel and her partner Nadima's orderly New York lifestyle in this poetic, powerful and remarkably touching drama. Monique is on the run from deep trouble and brings their family's Southern roots with her, grabbing hold of Rachel's life more ferociously than she could have ever imagined. This 2017 Colorado New Play Summit featured play explores the struggle between the responsibilities that are expected of us and the choices we actually end up making.
Tickets: Call 303-894-4100 or
Photos from first rehearsal:
https://www.denvercenter.org/wp-content/uploads/2019/01/800-LastNight-HandGames-instrustions-board-HR.jpg
423
800
Lynde Rosario
Lynde Rosario
2019-01-14 14:00:39
2019-01-14 15:03:11
Lynde Rosario on the history of hand games