Meet 2019 Bobby G Awards Outstanding Actor nominee Joshua Cellar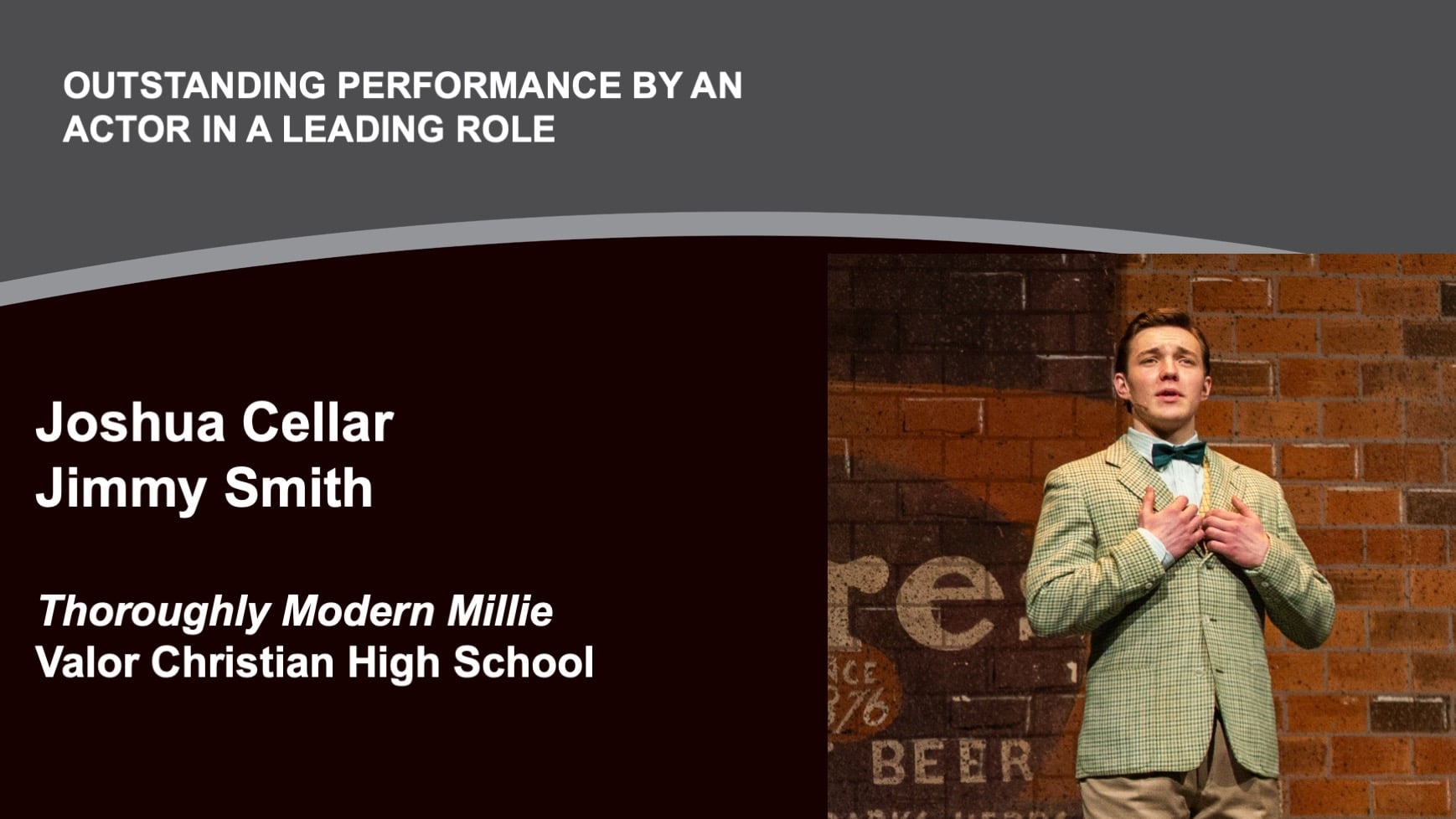 The Bobby G Awards celebrate outstanding achievement in Colorado high-school musical theatre. The seventh annual awards take place at 7 p.m. Thursday, May 23, at the Ellie Caulkins Opera House. (Reserve your seat here.) Today we continue our rollout of the five finalists for Outstanding Lead Actor. The winner will advance to represent Colorado at The Jimmy® Awards/The National High School Musical Theatre Awards™ (NHSMTA).
Joshua Cellar
Jimmy Smith in Thoroughly Modern Millie
Valor Christian High School
Class of 2019
Director: Kurt Muenstermann
Twitter bio: Cool guy that taps.

What's your handle? @joshlcell on Instagram
College plans: I will be pursuing a BFA in musical theatre at Montclair State University in New Jersey next fall.
First role: I played a Lollipop Guild Munchkin in The Wizard of Oz at the Springer Opera House in Columbus, Georgia, directed by Ron Anderson.

Why do you perform? To give back to the community. I was one of 13 teen actors from Denver who put on a production of Jason Robert Brown's 13 The Musical where all of the proceeds from the show went directly to The Denver Actors Fund. In just one day, we raised $13,000 for them. Performances provide so much more than entertainment. They have the potential to make a difference in someone's life. I have seen the impact that The Denver Actors Fund has made in the lives of those in my theatre community, and I look forward to seeing how I can get involved with something similar when I go away to college. Check them out at www.denveractorsfund.org

One time you saw greatness play out in front of you: It happened during Kinky Boots. Charlie Price, the main character, has the most incredible solo when he is battling between what he wants for his life and what would be a safer route. The song is called "Soul of a Man." As I headed into my senior year of high school, this song became my anthem as I decided that I would pursue musical theatre.
Ideal scene partner: Tom Holland.  My ultimate dream is to play a multi-verse Spiderman. I feel like we would be great counterparts due to our similar looks and parkour abilities.
What's playing on your Spotify right now? "Memories" by Panic! At The Disco. I am a huge Brendon Urie fan, especially for his short time in Kinky Boots on Broadway and his creative influence in The SpongeBob Musical.
Favorite moment from your show: Having the entire cast come over to my house after opening night for a "Thoroughly Modern Chili" party.
How does it feel to be nominated? I am honored and humbled to nominated alongside such incredible talent. I honestly never thought about being here during the rehearsal process, so it is certainly a surprise.
What does it mean to you that the Bobby G Awards exist? The Bobby G's are especially important in highlighting the countless hours that students and directors put into shows. I am incredibly grateful that the Bobby G Awards recognize and celebrate this effort.
What has this experience taught you about the value of arts education and extracurricular activities at your school? My childhood mentor, the late Ron Anderson, taught me that theatre teaches "life skills through stage skills." Theatre empowers students to be confident in themselves and yearn to make a difference in the world. The influence that theatre has had on my life is indelible and I hope that every kid experiences the same impact in their life.
https://www.denvercenter.org/wp-content/uploads/2019/05/Joshua-Cellar.jpeg
978
1738
John Moore
John Moore
2019-05-22 11:58:20
2019-05-22 16:12:34
Meet 2019 Bobby G Awards Outstanding Actor nominee Joshua Cellar