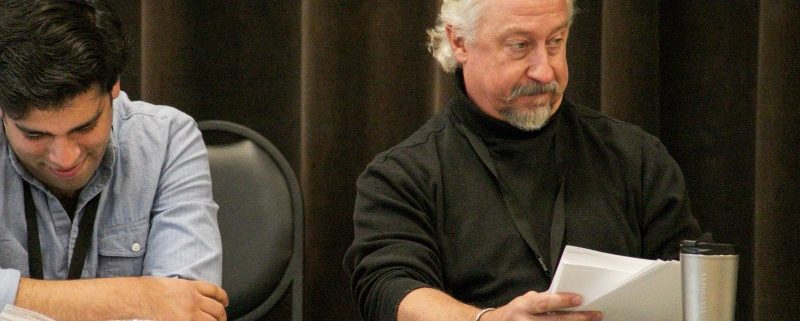 Meet the cast: Wesley Mann 'The Book of Will'
Wesley Mann, right, at the first rehearsal for 'The Book of Will.'
MEET WESLEY MANN
William Jaggard, Barman 2, and Sir Edward Dering in The Book of Will


At the Theatre Company: Debut. Other theatres: Ebenezer Scrooge at Portland Center Stage, 10 Seasons with Hudson Valley Shakespeare Festival appearing in 17 of Shakespeare's plays. World premiere of Lovers And Executioners (Arena Stage); Elephant Man (Arkansas Rep); three plays at The Arts Center Of Coastal Carolina; Feste in Twelfth Night, Larry in Burn This at American Conservatory Theatre). Multiple roles and plays at PCPA Theatrefest. Most recently: Polonius at Inner Circle Theatre LA, The Dock Brief (Pacific Resident Theatre), You Never Can Tell (A Noise Within in Pasadena). Film and TV: 47 credits so far including recent appearances on "2 Broke Girls" and "Liv and Maddie."



Hometown: Vallejo, California
Web site:
wesleymannactor.com
Training: Conservatory Training Program at PCPA Theatrefest in Santa Maria, Calif.
What was the role that changed your life? Playing Fagin in Oliver when I was 13.
Why are you an actor? Because I simply must be. It's what I'm on the planet to do.
What would you be doing if you weren't an actor: It certainly would be arts-related. I enjoy teaching and bringing the arts to the next generation. I'm pretty sure that is what I'd be doing full-time.
Ideal scene partner: I would've liked to have had the chance to work with Laurence Olivier in a Shakespeare scene.
Why does The Book of Will matter? I guess you could say this play matters because we have the First Folio. However, I think it is more than that. This play matters because of the unseen trials and tribulations and sheer guts and cooperation that resulted in the folio's initial printing and publishing in 1623. Beyond that, so many of us have a very strong connection to Shakespeare's plays. I've been in 17 of them so far, and the words become very personal when you spend time with them and share them with an audience. If these men hadn't screwed their courage to the sticking place, we never would have been swept away by so many stories, and the truly remarkable poetry. This play also matters because it moves you in a way that only live theatre can.
What do you hope the audience gets out of seeing it? A newfound respect for something we often take for granted. Also, as with any theatrical endeavor, a hope that they come away thinking in new ways.
Finish this sentence: "All I want is …"
" … for the Arts to thrive in a climate where they will be under attack in this country for the next four years."
The Book of Will: Ticket information

Without William Shakespeare, we wouldn't have masterpieces like Romeo and Juliet. But without two of his friends, we would have lost Shakespeare's plays forever. A comic and heartfelt story of the characters behind the stories we know so well.
Through Feb. 26
Ricketson Theatre
ASL and Audio-Described Matinee 1:30 p.m. Feb. 4
303-893-4100 or BUY ONLINE
Selected previous NewsCenter coverage of The Book of Will:
Perspectives: Why is there a bobble-head on that set?
Guest columnist Lauren Gunderson: How one word can change a play
Five things we learned at 'The Book of Will' opening rehearsal
'The Year of Gunderson' has begun in Colorado
Shakespeare in a season with no Shakespeare
First Folio: The world's second-most important book heads to Boulder
Video: Our look back at the 2016 Colorado New Play Summit
Summit Spotlight: Playwright Lauren Gunderson
Lauren Gunderson wins Lanford Wilson Award from Dramatists Guild of America
Just who were all the king's men, anyway?
2016-17 season: Nine shows, two world premieres, return to classics


More 2016-17 'Meet the Cast' profiles:
Michael Bouchard, The SantaLand Diaries
Steven J. Burge, An Act of God
Aubrey Deeker, The Glass Menagerie
Thaddeus Fitzpatrick, Frankenstein
Meridith C. Grundei, Frankenstein
Steven Cole Hughes, An Act of God
Sullivan Jones, Frankenstein
Mark Junek, Frankenstein
Charlie Korman, Frankenstein
Rodney Lizcano, The Book of Will
Amelia Pedlow, The Glass Menagerie
Jessica Robblee, Frankenstein and Siren Song
Erik Sandvold, An Act of God
John Skelley, The Glass Menagerie
Wesley Taylor, An Act of God
https://www.denvercenter.org/wp-content/uploads/2018/04/featured-image-4655.jpg
503
800
John Moore
John Moore
2017-01-18 14:24:00
2018-06-15 09:56:23
Meet the cast: Wesley Mann 'The Book of Will'