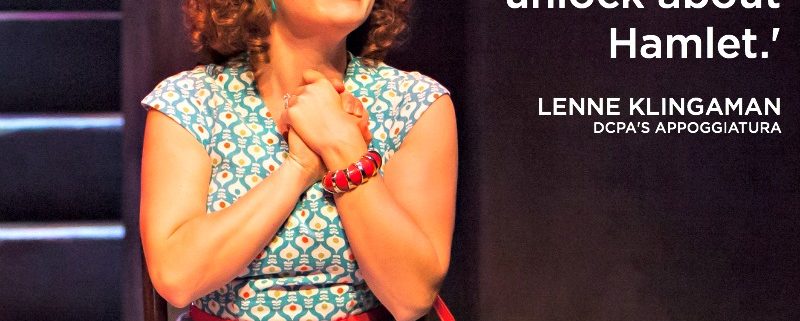 Lenne Klingaman to explore Hamlet's feminine side for Colorado Shakes
The Colorado Shakespeare Festival has announced casting for its 60th anniversary season in the summer of 2017, and it includes not only a female Hamlet, but one familiar to DCPA Theatre Company audiences. Lenne Kingaman, who played Juliet in Romeo and Juliet and two roles in Appoggiatura, will be mulling the meaning of her existence on the University of Colorado's intimate indoor stage.
And DCPA veteran Robert Sicular will be playing Julius Caesar. He's performed in 11 Theatre Company productions from 1994-2012, most recently Heartbreak House, The Liar and The Taming of the Shrew. Anthony Powell (All the Way) directs.
"I'm super excited about the cast we've put together," Producing Artistic Director Timothy Orr. "We worked really hard to assemble a group of local favorites — some of the best in Colorado — as well as actors from California and New York who we've been trying to get out here for several years."
Carolyn Howarth is directing a contemporary version of Hamlet in a fresh way that should unlock more of the enduring mysteries of the play, Klingaman said.
"To be a woman sinking my teeth into a role that is so iconic, but from a female perspective, is going to allow us to open up the characters and the relationships in the story in a way that will help us find our way to an even more universal portrayal of the character and the play as a whole," she said.
For centuries, women have been going through the same juggernaut of earth-shattering experiences Hamlet went through, Klingaman said. Audiences just have not been allowed to see that play out on a stage until now.
"To be a woman and to get to tackle those issues of power and mortality and duty and love will be extremely thrilling," Klingaman said. "But I am also excited about what it does to every relationship in the play"
It should be noted that Ophelia still will be played by a woman (Emelie O'Hara).
"Our understanding of masculinity and femininity today is so different from Shakespeare's time," she said. "Some of our ideas of what might be feminine today are now more in line with might have been considered masculine in Shakespeare's time. I want to open up a more fluid conception of gender and masculinity and femininity. It's not just a question of one or the other."
University of Northern Colorado theatre professor Shelly Gaza will make her Colorado Shakes debut as Kate in a New York-centric, post-war The Taming of the Shrew. Scott Coopwood, a Marin Shakespeare Company and Portland Center Stage regular, will play Petruchio.
More Colorado theatre coverage on the DCPA NewsCenter

Gaza's Kate is a plucky Air Force pilot who's just returned to New York City from a tour in World War II, and Coopwood's Petruchio, older and wiser in this production, must grapple with the fact that he's fallen in love with his strong, stubborn match.
Michael Bouchard (The SantaLand Diaries) and DCPA Teaching Artist Sean Scrutchins will play the title characters in Tom Stoppard's Rosencrantz & Guildenstern Are Dead, a comic retelling of Hamlet from the perspective of its two most minor characters. Most of the actors in Hamlet will play their same roles in Rosencrantz & Guildenstern Are Dead.
"I can't believe I get to work with Sean and Michael in the title roles," said Orr, who will direct. "Comedically, these guys can tear the roof off a theatre."
Other familiar DCPA names include Sam Gregory (Scrooge in A Christmas Carol), Mare Trevathan (The Sweetest Swing in Baseball), Rodney Lizcano (The Book of Will) and Meridith C. Grundei (Frankenstein). Also well-known to Colorado Shakes audiences or around the metro area include Christopher Joel Onken, Casey Andree, Rachel Turner, Sam Sandoe, Anne Sandoe, Bob Buckley and Anne Penner.
The design teams include DCPA costumer Meghan Anderson Doyle (An Act of God, The Glass Menagerie), sound designer Jason Ducat (Two Degrees) and lighting designer Shannon McKinney (Tribes). Acclaimed New York scenic and lighting designer Stephen C. Jones will light both indoor plays (the other is a yet-to-be-cast Original Practices performance of Henry VI, Part 3.
Additional reporting by Jill Kimball of CU Presents.
HAMLET, indoors
June 23-Aug. 13
Shakespeare's masterpiece, often considered the greatest play in the English language, returns for CSF's 60th season. When Hamlet's world is ripped apart by his father's sudden death and his mother's hasty remarriage, the young prince's mind wrestles with his heart in a tormented quest to uncover the truth. Staged for the first time inside the intimate University Theatre, this is Hamlet as you've never seen it before.
Gary Wright: Claudius
Michael Bouchard: Rosencrantz
Kristofer Buxton: Osric/Tragedian
Elise Collins: Fortinbras/Tragedian
Sam Gregory: The Player/Ghost
Lenne Klingaman: Hamlet
Ava Kostia: Laertes
Rodney Lizcano: Polonius/Gravedigger
Jihad Milhem: Horatio
Emelie O'Hara: Ophelia
Sean Scrutchins: Guildenstern
Cindy Spitko: Voltemand/Tragedian
Austin Terrell: Cornelius/Tragedian
Mare Trevathan: Gertrude
Blake Williams: Marcellus/Tragedian
Carolyn Howarth: Director
Paul Behrhorst: Stage Manager
Whitney Brady: Assistant Lighting and Scenic Designer
Jason Ducat: Sound Designer
Hugh Hanson: Costume Designer
Stephen C. Jones: Scenic Designer, Lighting Designer
Darion Ramos: Assistant Stage Manager
JULIUS CAESAR, outdoors
July 7-Aug. 12
Benaiah Anderson: Cinna/Titinius/Ensemble
Casey Andree: Casca/Strata/Ensemble
Bob Buckley: Cobbler/Publius/Lepidus/Ensemble
Michael Chen: Volumnious/Ensemble
Scott Coopwood: Marcus Brutus
David Derringer: Trebonius/Clitus/Ensemble
Evan Ector: Young Cato/Ensemble
Erik Fellenstein: Flavius/Anthony's Messenger/Octavius Caesar/Ensemble
Ian Roy Fraser: Lucius
Shelly Gaza: Calphurnia
Christopher Joel Onken: Marc Anthony
Anne Penner: Portia/Soothsayer
Tony Ryan: Carpenter/Metellus Cimber/Lucilius/Ensemble
Sam Sandoe: Caius Ligarius/Ensemble
Matthew Schneck: Cassius
Robert Sicular: Julius Caesar
Ayla Sullivan: Artemidora/Ensemble
Andy Walker Decius: Brutus/Pindarus/Ensemble
Coleman Zeigen: Marullus/Populous/Lepidus/Ensemble
Anthony Powell: Director
Caitlin Ayer: Scenic Designer
Jonathan D. Allsup: Assistant Stage Manager
Jason Ducat: Sound Designer
Clare Henkel: Costume Designer
Shannon McKinney: Lighting Designer
Stacy Renee Norwood: Stage Manager
THE TAMING OF THE SHREW, outdoors
June 11-Aug. 13
CSF kicks off its 60th season with a zany comedy set in swinging 1940s New York City. Enter Kate, a plucky pilot who's just returned from the fray of World War II, and her stubborn match, Petruchio. On the vibrant streets of Little Italy, the two duke it out in a battle of wits, dance the night away and discover, against all odds, a mutual respect that's almost like being in love.
Benaiah Anderson: Biondello
Casey Andree: Hortensio
Michael Chen: Ensemble
Scott Coopwood: Petruchio
David Derringer: Tailor / Ensemble
Evan Ector: EnsembleIan
Roy Fraser: Haberdasher/Ensemble
Shelly Gaza: Kate
Meredith C. Grundei: Curtis
Christopher Joel Onken: Lucentio
Tony Ryan: Tranio
Anne Sandoe: Widow
Sam Sandoe: Gremio
Matthew Schneck: Grumio
Robert Sicular: Baptista
Ayla Sullivan: Ensemble
Rachel Turner: Bianca
Robert Wester: The Pedant
Coleman Zeigen: Vincentio
Christopher DuVal: Director
Caitlin Ayer: Scenic Designer
Jonathan D. Allsup: Assistant Stage Manager
Meghan Anderson Doyle: Costume Designer
Jason Ducat: Sound Designer
Shannon McKinney: Lighting Designer
Stacy Renee Norwood: Stage Manager
ROSENCRANTZ & GUILDENSTERN ARE DEAD, indoors
July 21-Aug. 13
In this hilarious and mind-bending comedy by the Oscar-winning screenwriter of Shakespeare in Love, Hamlet is brilliantly retold through the eyes of two minor characters. Rosencrantz and Guildenstern, two bewildered schoolmates sent to pull Prince Hamlet out of his descent into madness, grapple with fate, free will and the game of life. CSF's production brings its full Hamlet cast on stage to inhabit Stoppard's ingenious parallel universe of wit and wisdom.
Gary Wright: Claudius
Michael Bouchard: Rosencrantz
Elise Collins: Tragedian
Sam Gregory: The Player
Lenne Klingaman: Hamlet
Rodney Lizcano: Polonius
Jihad Milhem: Horatio
Emelie O'Hara: Ophelia
Sean Scrutchins: Guildenstern
Cindy Spitko: Tragedian
Austin Terrell: Tragedian
Mare Trevathan: Gertrude
Blake Williams: Tragedian
Timothy Orr: Director
Paul Behrhorst: Stage Manager
Whitney Brady: Assistant Lighting and Scenic Designer
Jason Ducat: Sound Designer
Hugh Hanson: Costume Designer
Stephen C. Jones: Scenic Designer, Lighting Designer
Darion Ramos: Assistant Stage Manager
ADDITIONAL COMPANY
Casting by Sylvia Gregory Casting
Company Armorer: Benaiah Anderson
Props Supervisor: Katie Hamilton
Costume Shop Manager Adam M. Dill
https://www.denvercenter.org/wp-content/uploads/2018/04/featured-image-4543.jpg
676
800
John Moore
John Moore
2017-03-02 18:40:00
2018-06-15 09:56:23
Lenne Klingaman to explore Hamlet's feminine side for Colorado Shakes