'Miss Saigon' in Denver: Facts, figures and FAQs
Photos by Matthew Murphy. Click on any photo to see a larger version.
Everything you want to know about the new production now visiting Denver
The following information was provided by the national touring production of Miss Saigon:
FREQUENTLY ASKED QUESTIONS
How is the new production of Miss Saigon 'new'? Following the success of the new 25th anniversary production of Les Misérables and the new production of The Phantom of the Opera, producer Cameron Mackintosh reimagined the show that, despite its popularity, has had the least chance to have been seen in its full glory, Miss Saigon. His creative team, which includes director Laurence Connor (co-director of the 25th Anniversary production of Les Misérables and director of the new production of The Phantom of the Opera) and original choreographer Bob Avian, takes a grittier, more realistic approach than what was done for the original production.
Is this new production of Miss Saigon still the show I know and love? In many ways, yes. The show, from original producer Cameron Mackintosh, retains the music by Claude-Michel Schönberg with lyrics by Richard Maltby Jr. and Alain Boublil, adapted from original French lyrics by Alain Boublil, with additional lyrics by Michael Mahler. The production design, lighting, sound and costumes designed for this new production emphasize the enormous spectacle and epic scope of Viêt Nam at the end of the American occupation in 1975. This production travels in nine trucks and has a cast of 42 and an orchestra of 15, making this Miss Saigon one of the largest touring companies of a Broadway musical currently on the road.
Is Miss Saigon appropriate for my family? What is the running time? Age recommendation? Miss Saigon is recommended for audiences ages 12+. The show contains some scenes and language which may not be suitable for younger audience members, including scenes of a sexual nature. The production is 2 hours and 40 minutes (including a 20-minute intermission), and includes strobe lights, gun shots and pyrotechnic effects. We encourage patrons to consider these factors when making their decisions about attending the performance.
Is there a helicopter? Yes. The iconic moment of a flying helicopter entering, landing and whisking Chris and John away happens in this new production and incorporates advances in theatrical technology since 1989, when the original London production opened. The experience incorporates a combination of large engineering mechanisms, projection and lighting that make audiences believe this is the real thing and was designed by Totie Driver and Matt Kinley. Watch the video.
Are the Viêtnamese characters in Miss Saigon played by actors of Asian descent? Yes. Every actor portraying an Asian character in Miss Saigon is of Asian descent. Auditions were held across America, Canada and Manila. The current tour cast includes actors with Viêtnamese, Filipino, Japanese, Korean, Chinese, Thai and Malaysian ethnicity. Meet Red Concepción
Where else is this new production of Miss Saigon playing? Denver is the only place in North America you can see this new production at this time. Click here to see upcoming cities.
Is this the same production as the London 25th anniversary filmed production from 2016? Yes. This is the same production. The London 25th anniversary production was filmed and performed at London's Prince Edward Theatre in London's West End.
Is anyone from the original production associated with this new production of Miss Saigon? Yes. Original and current producer Cameron Mackintosh oversees this new production, which maintains the original music by Claude-Michel Schönberg, lyrics by Alain Boublil and Richard Maltby, Jr., book by Alain Boublil and Claude Michel Schönberg. In addition, the original Tony Award-nominated choreography is incorporated into this new production by original choreographer, Bob Avian, and original costume designer, Andreane Neofitou, creates the new design for this production.
Is this new production of Miss Saigon affiliated with the theatrical unions? Yes. The cast, crew and musicians are all members of the theatrical unions that represent actors (Actors' Equity Association), crew members (IATSE) and musicians (AFM).
Adoptee Rae Leigh Case found her heart family 'the moment I arrived' in Colorado
MISS SAIGON FACTS AND FIGURES
The history
The original London production opened at the Theatre Royal Drury Lane on September 20, 1989 and played there continuously until October 30, 1999 for a total of 4,263 performances.
The original Broadway production opened on April 11, 1991 with advance ticket sales of $37 million and had become the 6th longest-running show on Broadway when it closed on January 28, 2001.
The original Broadway company grossed more than $266 million and was seen by 6 million people.
Miss Saigon is one of the most spectacular and technically complex productions ever staged. More than 260 people worked on the original London production at each performance and of those only 47 appeared in front of the audience.
Many of the artists appearing in the original production of Miss Saigon were from the Philippines. A special school was set up in London to help train young performers in the singing and dancing skills required.
The full backstage story of how the new production was created, "The Heat Is Back On," is now available on DVD by Universal and is one of the most comprehensive insights into how a big musical is put together that has ever been filmed.
The accolades
Miss Saigon remains the 13th longest-running show in Broadway history.
Miss Saigon has won more than 70 theatre awards. Awards include: three Tony Awards®, four Drama Desk Awards and three Outer Critics Circle Awards
This production of Miss Saigon was nominated for Two 2017 Tony Award Nominations

Best Revival of a Musical
Best Performance by an Actress in a Leading Role in a Musical (Eva Noblezada)
By the numbers
Miss Saigon has played in 32 countries and 369 cities. The countries include: England, United States, Japan, Canada, Hungary, Germany, Australia, Denmark, Holland, Sweden, The Philippines, Poland, Hong Kong, Singapore, Ireland, Scotland, Estonia, Luxembourg, Switzerland, Finland, The Czech Republic, Wales, South Korea, Northern Ireland, Brazil, Portugal, Norway, Austria and Thailand.
Miss Saigon has been translated into 15 different languages: English, Japanese, Hungarian, German, Danish, Dutch, Swedish, Polish, Estonian, Finnish, Czech, Korean, Portuguese, Norwegian and Thai.
The production has been seen by over 36 million people worldwide.
There have been 14 cast recordings of Miss Saigon (including albums and suites). The original London recording was awarded a Gold Disc for selling 150,000 copies within three days of its release and subsequently went Platinum.
Moving the tour
Requires 10 53-foot trailers
It takes around 16 hours to put the show into a venue and 8 hours to take the show out of a venue
85 production and local crew are involved in putting the show in to a venue
50 production and local crew are required to put on the performance
The Helicopter
In an 8-show week the Helicopter rotor blades spin approximately 2,133 times
The blade span of the helicopter at full extension is 19' 8" in diameter
It has 8 different moving elements, independently controlled
It weighs over 3 tons, or 7,300 pounds (twice the weight of an average car)
It is 26 feet at full height
Wardrobe
All the straw hats in the show are from Viêt Nam or Thailand.
There are over 200 pairs of shoes in the show.
The bikinis worn by the girls in the "American Dream" number have more than 2 pounds of beads on each one.
There are 16 costume changes for each member of the female ensemble throughout the show.
The G.I. flak jackets and helmets are all original and have been used in action.
Every piece of costume has a hand sewn label with the actor's name, scene and character.
Orchestra
There are 15 members of the orchestra.
Instruments include 8 Asian flutes, piccolo and flute.
The Asian flutes (Dizi) only play when Kim is on stage and act as her character within the orchestra.
There are 77 different percussion instruments in total. Unusual instruments include skull drums, ankle bells, singing bowls, Thai chap cymbals and kabuki blocks.
Our complete Miss Saigon video playlist:
Miss Saigon in Denver: Ticket information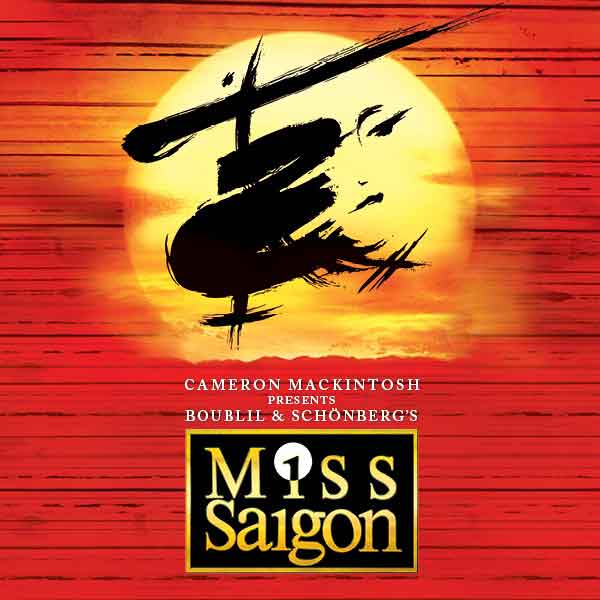 This is the story of a young Viêtnamese woman named Kim who is orphaned by war and forced to work in a bar run by a notorious character known as the Engineer. There she meets and falls in love with an American G.I. named Chris, but they are torn apart by the fall of Sài Gòn. For three years, Kim goes on an epic journey of survival to find her way back to Chris, who has no idea he's fathered a son. Featuring stunning spectacle and a sensational cast of 42 performing a score that includes "The Heat is On in Saigon," "The Movie in My Mind," "Last Night of the World" and "American Dream."
Writers: Claude-Michel Schönberg and Alain Boublil, with lyrics by Boublil and Richard Maltby Jr. It is based on Giacomo Puccini's opera Madame Butterfly
Director: Laurence Connor
When: Through September 22

Where: Buell Theatre
Age advisory: Miss Saigon contains some scenes and language that might not be suitable for younger audience members, including scenes of a sexual nature.
Tickets: Available by calling 303-893-4100, in person in the Helen Bonfils Theatre Complex at 14th and Curtis streets or, online by clicking here:

https://www.denvercenter.org/wp-content/uploads/2019/02/05.MISS-SAIGON.-Company.-Photo-Matthew-Murphy-and-Johan-Persson-2.jpg
429
850
DCPA Press
DCPA Press
2019-09-11 10:34:49
2019-09-11 10:34:49
'Miss Saigon' in Denver: Facts, figures and FAQs