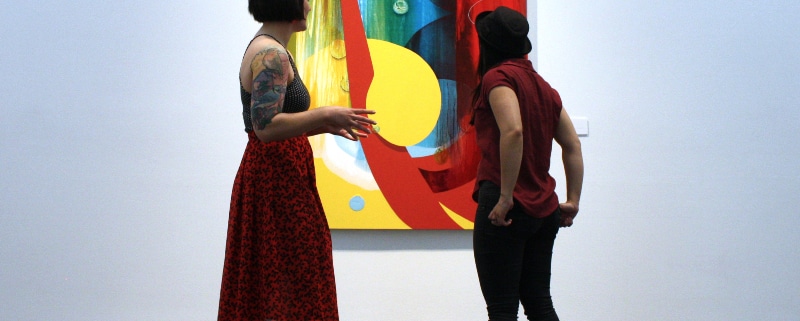 One-on-one theatre: What happens when nothing stands 'Between Us'?
Blind Date is an opportunity to connect with a fellow human traveler. And see some cool tattoo art.
Between us, I am the least likely candidate to enjoy Between Us, one of Off-Center's three new intensely personal journeys into interactive, one-on-one theatre experiences. Least of all Blind Date, which pairs one audience member and one actor on a tryst wandering together through the Museum of Contemporary Art for an hour.
And as a longtime former theatre critic, I dread nothing so much as when an actor turns his attention to the audience. I have spent my whole theatergoing life disappearing into an audience. I don't want to be noticed. I don't want to be part of the performance.
And as a longtime pseudo-human being, if someone in my real life ever even tries to utter the phrase "blind date," in my direction, they don't get to the word "date" before I've blurted, "No!!!!"
(I may have issues. Moving on …)
But I was challenged, both as a journalist and a human being, to break out of my comfort zone and allow myself to simply share this one hour with a stranger. How hard could that be? An old quote about cynicism being the death of creativity rolled around in my head. Something inside me was telling me I might be better off for doing this. So I said yes. The date was set, and as it approached, both my curiosity and anxiety grew.
More on Between Us: One audience member. One up-close-and-personal encounter.
No matter how old you get, "Date Night" does not start with the date. It starts when you wake up in the morning. You check your shoes. You shave, even if it's not a shave day. If you're me, you take the towel off the only mirror in the house and you take a good hard look at yourself. How am I seen by other people? Really seen? The self-doubt starts to sets in.
Still, I kept reassuring myself, this is not a date. Not really. It's a writing assignment. There is no chance of a hook-up. That's not what this is about. It's about having a conversation. God knows I love to talk. It's what I do nonstop whenever I get nervous. I can do this.
At the appointed time, I received a text from my date, androgynously named Tailor, telling me where to meet her inside the museum. Full disclosure: There are four actors "playing" Tailor at different times, and as a longtime theatre journalist, I know all of them, to varying degrees. But not as well as I was about to know Tailor, who is not any of the actors. She (sometimes he) is a character with her own story. One I was soon eager to learn more about.
Tailor immediately made me feel at ease, welcome and where I was supposed to be for the next hour. Our small talk was quick and clever. My banter was by some fluke connecting. Until our conversation took an early, unexpected turn. Soon whatever lingering awkwardness I was feeling was  subsumed by a tangible and meaningful conversation about life, loss and what we believe in. That's when I realized this whole "date" premise is just a playful ruse. It's not a date. It's an opportunity to connect with a fellow human traveler. And see some cool tattoo art.
Tailor wasn't real. But she was a real conduit to accessing and articulating some beliefs and feelings I hadn't touched base with in a long time. What a rare opportunity that was. A privilege, really. By the end of the hour, it occurred to me that my conversation with Tailor had actually been the most "real" and substantial conversation I had had with any human being in a very long time. And that fact that this actor put so much of herself into her "performance" for only my benefit was humbling.
The creators have crafted a pretty effective exit strategy so that the evening doesn't end with that awkward old, "So will you call me?" dating cliché. And yet, as I disappeared into the downtown Denver dusk, it felt just like I had been on a successful date. I felt that a genuine connection had been made. I felt oddly … more confident in myself.
So much so that the very next day, when a stranger contacted me on Facebook who said she followed my writing and wondered if I would like to make time for a drink sometime, I did something I never … ever … do.
I said yes.
John Moore was named one of the 12 most influential theater critics in the U.S. by American Theatre Magazine in 2011. He has since taken a groundbreaking position as the Denver Center's Senior Arts Journalist.
The Blind Date: Ticket information

At a gance: You've been set up on a blind date to wander through the Museum of Contemporary Art Denver. Skip the small talk and dive into the big questions of life, loss, grief, and how we ultimately expose our true selves through the strange ritual of dating.
When: Through May 26
Where: MCA Denver
Written and Directed by: Lauren Ludwig
Creative Production and Dramaturgy by: Monica Miklas
Tickets: Start at $40 and can be purchased at denvercenter.org, 303-893-4100 or in person in the Helen Bonfils Theatre Complex at 14th and Curtis streets. Museum admission included.
https://www.denvercenter.org/wp-content/uploads/2019/04/Between-Us.-Photo-by-Cheyenne-Michaels.jpg
569
800
John Moore
John Moore
2019-04-16 13:16:56
2019-04-17 12:33:51
One-on-one theatre: What happens when nothing stands 'Between Us'?