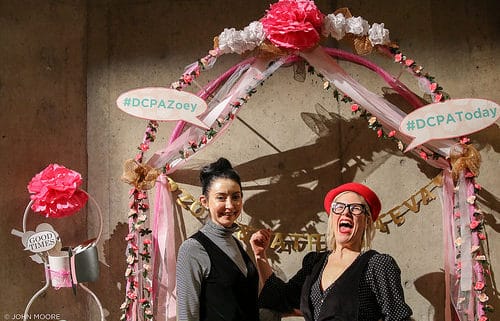 Perspectives: How is 'Zoey's Perfect Wedding' funny? Let's count to three, no, five
Photo gallery: Zoey's Perfect Wedding opening-night photos:

Photos from the making of the DCPA Theatre Company's world-premiere comedy 'Zoey's Perfect Wedding,' by Matthew Lopez, playing through Feb. 25 in the Space Theatre. Photos include opening night and go back to the first rehearsal. To see more, click on the image above to be taken to the full photo gallery Photos by John Moore for the DCPA NewsCenter.


How the creative team is creating a world-premiere comedy with a playwright who is making waves across the pond

Perspectives is a series of public panel discussions held just before the first preview performance of each DCPA Theatre Company offering. Next up:
Here are five quick things we learned at the Jan. 19 conversation about Matthew Lopez's Zoey's Perfect Wedding, which opens Jan. 26 in the newly renovated Space Theatre:
Nice digs? Zoey's Perfect Wedding is a world-premiere comedy about a wedding that goes horribly, hilariously wrong. The play is set in 2008 at a Marriott Hotel in downtown Brooklyn, and there are many digs in Matthew Lopez's script about the nature of the digs. But the DCPA Theatre Company's creative team didn't exactly find the inspiration it was looking for when it visited the Brooklyn Marriott last summer. "It's sadly been renovated — and quite nicely," said Scenic Designer Dane Laffrey. "It's sort of rather tasteful now. I suspect in the former life of the hotel it was more decrepit than it is now. So our trip to that hotel was less helpful than we thought because it didn't feel like the right world for our play."
(Pictured above, from left: DCPA Literary Director Douglas Langworthy, 'Zoey's Perfect Wedding' Director Mike Donahue, Dramaturg Kimberly Colburn and Scenic Designer Dane Laffrey. Photo by John Moore for the DCPA NewsCenter.)
Calling London. Playwright Matthew Lopez, who was in Denver last month for the start of Zoey's Perfect Wedding rehearsals, is currently in London for the March 2 premiere of his highly anticipated two-part play The Inheritance at The Young Vic. The epic play takes a panoramic view of gay life in New York today in the aftermath of the AIDS crisis depicted in Tony Kushner's sprawling Angels in America, which is also about to get a Broadway remount with Denver native Beth Malone sharing the role of The Angel. Lopez's new plays will be directed by Stephen Daldry, the Tony Award-winner for, most recently, Billy Elliot, and an Oscar nominee for films including The Reader and The Hours. Lopez previously debuted his play The Legend of Georgia McBride at the Denver Center. (Pictured above: 'Zoey' Director Mike Donahue, left, and Playwright Matthew Lopez. Photo by John Moore.)
The game is afoot. Even though Lopez is ensconced in London, he remains very active in preparations for Friday's opening of Zoey's Perfect Wedding. "He's sending in rewrites every day," said Dramaturg Kimberly Colburn. How does that work? "In large part because he trusts in our reporting," said Colburn, also the Literary Director at South Coast Repertory in Costa Mesa, Calif., who is spending much of her time watching preview audiences watch the play. "We tell Matthew where the audience laughed, and where they didn't … which jokes aren't quite landing, or if the rhythm feels off. We'll tell him if a joke has maybe three too many words in it. And then he takes all that feedback and he puts it into that magical brain of his and he spits it out new pages. It has been a great and gratifying process because Matthew is such a trusting collaborator."
(Story continues below the video.)

Video bonus: Your first look at Zoey's Perfect Wedding

Your first look at 'Zoey's Perfect Wedding.' Video by David Lenk for the DCPA NewsCenter.

Watch more: Our video interview with Director Mike Donahue
Rule of threes. There is a reliable axiom in comedy that three of something is funny, but four is not. "It's a mystery, but it's almost always true," said Colburn, who says she is "rigorously faithful" in her allegiance to the rule of threes. And there are a lot of threes (or were) in Zoey's Perfect Wedding. "You find the places where something happens four times, and then you have cut the right one," she said. "In one of our cuts, we decided that we cut the wrong one, so now we are restoring the old line and cutting this other line. It's a fun puzzle." If you are wondering, there are other numerical rules, Colburn said: "So three is funny, and four is not, but once you get to seven, it gets funny again. So you actually have some options." Certain sounds are funnier than others, too, she added, such as any hard consonant. "So a kiwi is always going to be funnier than an orange, every time" she said. "It's a mystery, but it's true."
Turning the table. Because the play takes place at a wedding reception, it makes sense that the banquet table serves as the nerve center of the action. And that presents a particular staging challenge for Laffrey: You never want things to get static in a story with a lot of scenes that have people sitting around a table. "That's a challenge on any kind of set, but there are ways to cheat," Laffrey said. "Often on a proscenium stage, you'll only see three chairs at a four-sided table, and I am always wondering where the fourth chair went." For Zoey's Perfect Wedding, which is presented in the round, Laffrey is employing a turntable so the banquet table slowly rotates throughout the play. "It's like a revolving restaurant — without the restaurant," Laffrey said. His solution means no one in the audience will be stuck looking at the same point of view for the entire pay. "It makes for a more democratic audience experience," he said.
Bonus: What's your fortune? Audiences will be be handed fortune cookies upon their arrival at the Stage Theatre that offer yummy life advice — in the form of quotes from Lopez's script. Samples: "Get a cheap apartment, find a couple dozen roommates and live!" and, "Tradition dies today!"
John Moore was named one of the 12 most influential theater critics in the U.S by American Theatre Magazine in 2011. He has since taken a groundbreaking position as the Denver Center's Senior Arts Journalist.
Zoey's Perfect Wedding: Production photos

Your first look at the official production photos for 'Zoey's Perfect Wedding.' To see more, click on the image above to be taken to the full Flickr photo gallery. Photos by
Adams VicsCom.

Zoey's Perfect Wedding: Ticket information

At a glance: The blushing bride. The touching toast. The celebration of true love. These are the dreams of Zoey's big day…and the opposite of what it's turning out to be. Disaster after disaster follow her down the aisle, from brutally honest boozy speeches to a totally incompetent wedding planner. Even worse, her friends are too preoccupied with their own relationship woes to help with the wreckage around them. Like a car crash you can't look away from, watch in awe as this wildly funny fiasco destroys her expectations with the realities of commitment, fidelity and growing up.
Presented by the DCPA Theatre Company
Performances Jan. 19-Feb. 25
Space Theatre, Denver Performing Arts Complex
Tickets start at $30
Call 303-893-4100 or BUY ONLINE
Sales to groups of 10 or more click here

Selected previous NewsCenter coverage of Zoey's Perfect Wedding:

https://www.denvercenter.org/wp-content/uploads/2018/04/featured-image-5431.jpg
333
500
John Moore
John Moore
2018-01-23 17:11:00
2018-01-23 17:11:00
Perspectives: How is 'Zoey's Perfect Wedding' funny? Let's count to three, no, five