#RedAlertRESTART hopes to galvanize national support for the live events industry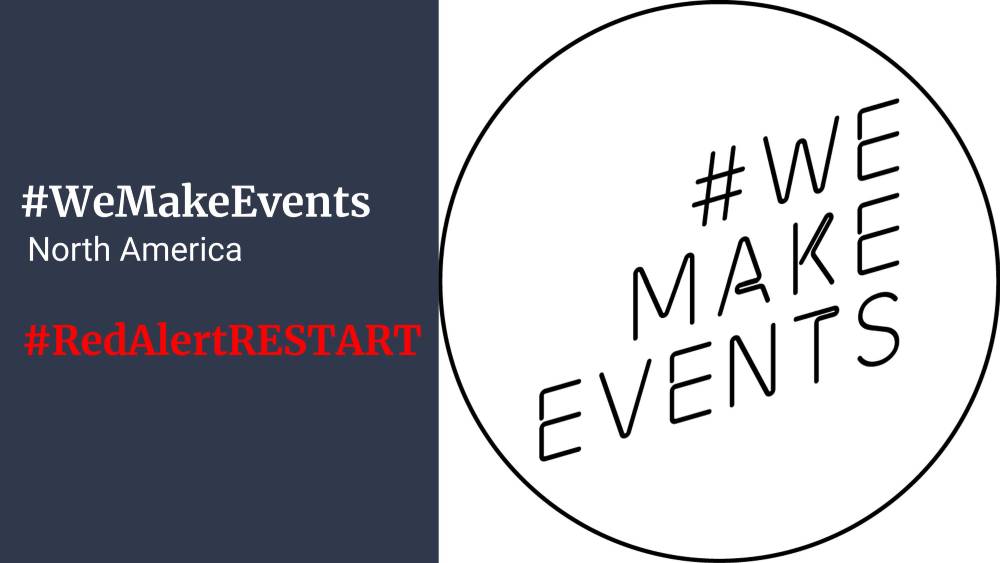 On September 1, live performance venues will launch the #RedAlertRESTART effort to raise awareness of the impact COVID-19 has had on the industry. As many as 1,500 buildings across North America are anticipated to join the effort by lighting their buildings in red to signify that the live events industry is on Red Alert for its very survival.
It is estimated that 96% or as many as 12 million people in the live events industry are unemployed, furloughed or have lost up to 98% of their income. Once a robust $35 billion industry with an economic impact of $1 trillion annually, the live event business was the first to close and likely to be the last to re-open, sustaining increased financial losses in the tens of billions of dollars.
#WeMakeEvents has organized the #RedAlertRESTART initiative to encourage Congress to pass the RESTART Act, which is co-sponsored by Colorado Senator Michael Bennet and intended to offer economic relief to the live events industry. Millions of actors, musicians, artists, ushers, ticket sellers, stagehands, and many, many more individuals have been out of work since March 2020 with little optimism that live performance venues will reopen for months to come.
"This is an important cause that, if not acted upon immediately, could result in the complete collapse of our industry and the workers who make it possible," says Brad Nelms, director of #We Make Events North America. "PLEASE share this message far and wide, and join in by lighting your house red and posting it on social media. This is our opportunity to show the world the scale of what it really takes to make events possible."
In Denver alone, the city recently issued two reports that completely halted a decade of unprecedented growth in the cultural sector. Just before COVID-19 shuttered venues on March 13, metro Denver supported 96,358 jobs in the creative industry which contributed to $16.2 billion in sales revenue in 2019 alone. Now it is estimated that between April 1 and July 31, 2020, 29,840 jobs will be lost along with $1.4 billion in sales revenue.
"As a non-profit organization, the DCPA's assets outweigh its cash reserves," said DCPA President & CEO Janice Sinden, "so funding such as the RESTART act or #SaveOurStages, which is a parallel bill, could extend $10 billion in relief to venues nationwide. That type of support would go a long way to help us pay our bills, bring our artists back to the stage and make sure we don't fall into harder times as we come out of COVID."
Sinden went on implore the community to show its support:
• Share #RedAlertRESTART on social media
• Light your house red in September
• Most importantly, contact your Congressional representatives
What originally began as a movement in the UK that kicked off on July 6 when hundreds of venues, monuments and buildings were lit up in red, was repeated on August 11 and now is crossing the pond to be replicated in America. It spans online and social messaging, video, case studies and legal outdoor events to gain media attention. The aim is to have financial support extended for the people and companies in this sector until they can return to work.​ For more information on this international movement, visit plasa.org/we-make-events.

https://www.denvercenter.org/wp-content/uploads/2020/08/RedAlertRESTART-1-1.jpg
563
1000
DCPA Press
DCPA Press
2020-08-25 14:55:43
2020-08-28 13:08:31
#RedAlertRESTART hopes to galvanize national support for the live events industry