Alejandro G. Iñárritu's Academy Award®-Winning Virtual Reality Exhibition CARNE y ARENA Debuts in Aurora, Colorado, as First Stop on Multi-Year Tour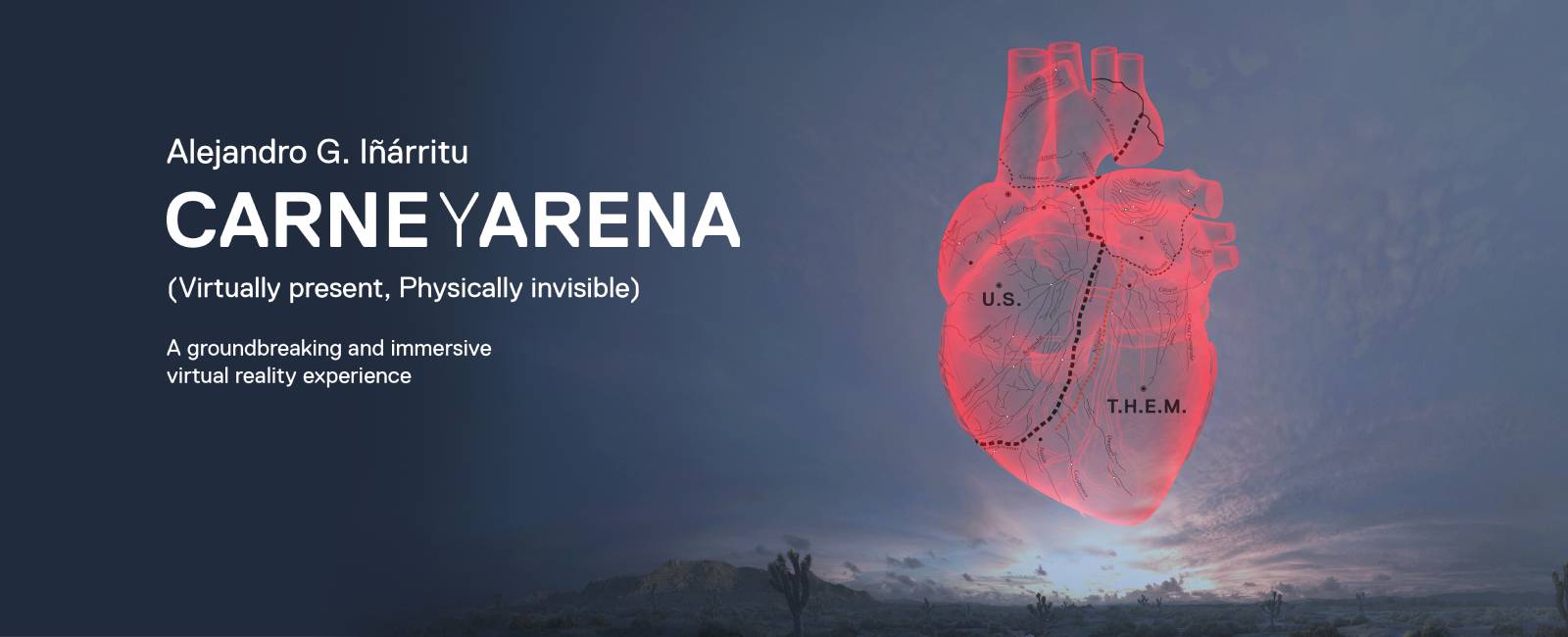 Community Partners include the Biennial of the Americas, Denver Art Museum, Denver Center for the Performing Arts, and Latino Cultural Arts Center
New York, Oct 19, 2020 – Earlier this week, PHI Studio, Legendary Entertainment, and Emerson Collective announced an ongoing partnership to take acclaimed director Alejandro G. Iñárritu's virtual reality exhibition CARNE y ARENA (Virtually present, Physically invisible) on a multi-year, international tour, set to debut in Aurora, Colorado. Today, the partners announced that CARNE y ARENA will go on view at The Hangar at Stanley Marketplace on Fri, Oct 23, 2020. The exhibition will remain open to the public through Jan 30, 2021.
Initially exhibited in an airplane hangar at the 70th Festival de Cannes in 2017, CARNE y ARENA was the first VR experience ever chosen as part of the festival's Official Selection. Created with frequent collaborator and three-time Academy Award®-winning cinematographer Emmanuel Lubezki, CARNE y ARENA explores the human condition of refugees and immigrants entering the United States. The conceptual work is a twenty-minute immersive experience centered around a multi-narrative virtual reality sequence based on true accounts reenacted by Central American and Mexican refugees.
Originally produced and presented by Legendary Entertainment, Fondazione Prada, and Emerson Collective – and now in collaboration with PHI Studio – CARNE y ARENA has evolved to be optimized for touring by the Montreal-based PHI Studio, which specializes in virtual reality (VR), augmented reality (AR), and extended reality (XR) installations. Initially presented as a singular experience, CARNE y ARENA now features separate rooms for three concurrent visitors to navigate through independently within the 8,000 square-foot installation. The spaces are designed in such a way that visitors are able to circulate with limited interactions and with respect to social distancing.
CARNE y ARENA is presented in Colorado in association with The Denver Center for the Performing Arts Off-Center. Many of Denver's cultural institutions are also coming together to serve as community partners for CARNE y ARENA, including the Biennial of the Americas, Denver Art Museum, Latino Cultural Arts Center, Mexican Cultural Center, and Museum of Contemporary Art Denver. Virtual and live programming will be held throughout the run of CARNE y ARENA, with additional community partners presenting collateral events as it relates to their exhibitions and programs.
Advance bookings for timed tickets are on sale through denvercenter.org, beginning at 10am MDT on Tuesday, October 20. CARNE y ARENA will be open to the public seven days a week, 10am to 8pm MDT.
CARNE y ARENA has implemented extensive COVID-19 safety measures in order to protect the health and wellbeing of visitors and staff, including mandatory masks, social distancing, and health screenings, regular coronavirus testing and protective gear for staff, a specialized air filtration system and nightly deep cleaning of spaces. For a detailed list of safety protocols, please visit our show page.
QUOTES FROM COMMUNITY PARTNERS AND SUPPORTERS
"The Biennial of the Americas is thrilled to welcome the critically-acclaimed installation CARNE y ARENA to Aurora, Colorado. Immersive experiences like CARNE y ARENA build cultural empathy and create opportunities for our community to more deeply connect with the people and stories of the Americas. Alejandro's artistic vision demonstrates the transformative power of art and technology, and the Biennial is looking forward to the critical dialogue that CARNE y ARENA will inevitably encourage," said FloraJane DiRienzo, Interim Executive Director, Biennial of the Americas.
"The Denver Art Museum is delighted to be a community partner for Alejandro G. Iñárritu's CARNE y ARENA experience in Colorado," said Christoph Heinrich, the Frederick and Jan Mayer Director of the Denver Art Museum. "This virtual reality installation at Stanley Marketplace expands the cultural opportunities available to metro Denver communities, offering the opportunity for new dialogue around challenging and relevant topics through this shared experience."
"DCPA Off-Center is thrilled to be partnering to help bring this groundbreaking immersive experience to Colorado," said Charlie Miller, Off-Center Curator. "CARNE y ARENA has been the talk of the immersive arts world since it premiered, and I can't wait to share this unique, timely, and vital work of art with our community and to participate in the important conversations that it will inspire."
"This kind of deep community engagement will transform institutions from the bottom-up at a time when people are losing hope in the same institutions that at one point brought transparency, stability and cohesion," said Alfredo Reyes, Director of Operations and Programs. "At the Latino Cultural Arts Center, we are committed to leading in a way that brings different perspectives together and reignites our shared belief in empowering individuals from all walks of life, while building more resilient communities in the process."
"The Mexican Cultural Center is pleased to be collaborating with our cultural and community partners to bring CARNE y ARENA to Colorado. In this time of divisiveness, CARNE y ARENA touches upon some of the most complex, pressing and important topics of our time. It embraces the opportunity to engage our communities collectively in meaningful conversations on various topics. Culturally relevant programs such as CARNE y ARENA promote community, tolerance, respect and help us build a bridge of understanding between our communities," said Marcela de la Mar, President of the Board of Directors, Mexican Cultural Center.
"CARNE y ARENA offers a new, immersive exploration of one of the most pressing issues of our time and is a poignant example of how art can help us reckon with those issues in distinctly meaningful ways," said Nora Burnett Abrams, Mark G. Falcone Director at the Museum of Contemporary Art Denver.
"The arrival of CARNE y ARENA at Stanley Marketplace is a testament to our community's commitment to telling the story of our immigrant and refugee neighbors," said Congressman Jason Crow. "Humanizing the immigration debate is one of the most important things we can do, and that's what this exhibit does. Our community's diversity is our strength and I'm proud that CARNE y ARENA has come to Aurora for its first stop on its multi-year, international tour."
For media inquiries, please contact carneyarena@suttoncomms.com.
Alejandro G. Iñárritu
CARNE y ARENA
(Virtually present, Physically invisible)
October 23, 2020 – January 30, 2021
The Hangar at Stanley Marketplace
All ticket sales are online and through the DCPA. Tickets for Oct 23 – Nov 15 are available now. Additional tickets for CARNE y ARENA will be released every two weeks starting in mid-November. Get tickets and sign up for new ticket release alerts.
https://www.denvercenter.org/wp-content/uploads/2020/10/DCPA-20-CARNE-Y-ARENA-Homepage-1600x650-1.jpg
650
1600
DCPA Press
DCPA Press
2020-10-20 13:16:35
2020-10-20 13:22:13
Alejandro G. Iñárritu's Academy Award®-Winning Virtual Reality Exhibition CARNE y ARENA Debuts in Aurora, Colorado, as First Stop on Multi-Year Tour