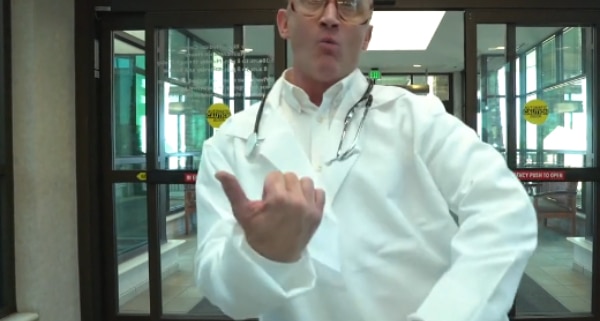 B+: Here's a guaranteed laugh: Gotta, gotta wash your hands
B+ is an ongoing NewsCenter series offering positive news from around the Colorado theatre community throughout the COVID-19 shutdown. We will share ways people are helping each other, making virtual art, encouraging artistic collaborations or spreading joy and laughter. Send submissions to jmoore@dcpa.org.
Viral videos spread laughs and information – not germs!
Local actor Rob Costigan never could have imagined when he was hired to film a public-service video for Sky Ridge Medical Center in Lone Tree that, a year later, he and his alter ego, Dr. Foam, would be going viral (in the good way) during a pandemic.
Costigan, also an award-wining properties designer but best-known for three decades of mostly comic roles on area stages, was hired by Director Chris Starkey of Denver's Imprint Events Group to play a dancing doc wearing  funny glasses and a lab coat to encourage doctors, nurses and visitors to hand-sanitize as they go in or out of patient rooms.
The catchy music video was originally intended to be played only on hospital monitors and at corporate medical events. Now it is spreading joy and common sense (but not germs!) all over the internet. Costigan's funny face is now posted next to every hand sanitizer in the hospital reminding everyone to foam in and foam out. The first step to prevention is to wash your hands. It is vital to stopping the spread of germs and illness to others.

Serious actors typically prepare a back story for all of their characters, even if only for a 90-second PSA. Costigan giggles at the notion but did concede, "Dr. Foam is probably a little OCD and a bit of a germaphobe." And these days, there is nothing cooler than that.
Costigan is an Aurora native who graduated from Smoky Hill High School and Regis University. Among his meatier acting roles at the Arvada Center have been playing the barber in Man of La Mancha and Henry Ford in Ragtime, which earned him a Henry Award nomination. He won a 2015 True West Award as a properties designer for his work on the Lone Tree Arts Center's The Explorer's Club.
The hand-washing video won a 2019 Bronze Telly Award for its use of humor in branded content. And while there is nothing funny about the COVID19 pandemic and its rising carnage, Costigan is happy the video has become part of the dialogue.
"I never thought it would be what it is, but I'm glad it's making people smile," Costigan said. "There is so much anxiety and so much that is unknown right now. So if you can make people smile a little bit, then I think that's a good day."
Fosse for Fauci: A father-son handwashing video
An amazing young DCPA Education student named Blake Taylor created this Bob Fosse-inspired handwashing video with his father, Edd Taylor.
"We were inspired by Bob Fosse to share some of the great tips Dr. Anthony Fauci of the Centers for Disease Control's recommendations to keep us healthy," said Edd Taylor. Watch the pair soap up to Chicago, Damn Yankees and other great Fosse Broadway musicals.
John Moore was named one of the 12 most influential theatre critics in the U.S. by American Theatre Magazine. He has since taken a groundbreaking position as the Denver Center's Senior Arts Journalist.
.
https://www.denvercenter.org/wp-content/uploads/2020/04/Rob-Costigan.jpg
463
600
John Moore
John Moore
2020-04-01 12:22:22
2020-04-01 15:20:20
B+: Here's a guaranteed laugh: Gotta, gotta wash your hands