Regan Linton: What constitutes a 'disability play,' anyway?
Phamaly Artistic Director was set to perform Pulitzer-winning play Cost of Living in Maryland
Last week I started rehearsals for the play Cost of Living at Round House Theatre in Bethesda, Maryland – a production that has since been indefinitely postponed because of the COVID-19 virus. This 2018 Pulitzer Prize-winning play by Martyna Majok centers on two storylines: One is the relationship between a wealthy graduate student with cerebral palsy and his newest caretaker as they build an uneasy trust. The other involves a truck driver struggling to reconnect with his estranged wife after she is paralyzed in a car crash. I play that wife, Ani.
So two of the four characters have visible disabilities. But at our first rehearsal, our cast and director Ryan Rilette found ourselves discussing: Is this a "disability play"?
No robust play can ever be distilled down to one simple adjective. But it happens all the time. For example, at any theatre festival where many stories are being told at once, people will start referring to each offering not by it title, but by a short descriptor based on however it deviates from a typically white, nondisabled, cisgender, hetero, Christian construct. You know … It's "The Mexican Play." Or it's "The Gay Oklahoma!" Or "That Muslim One."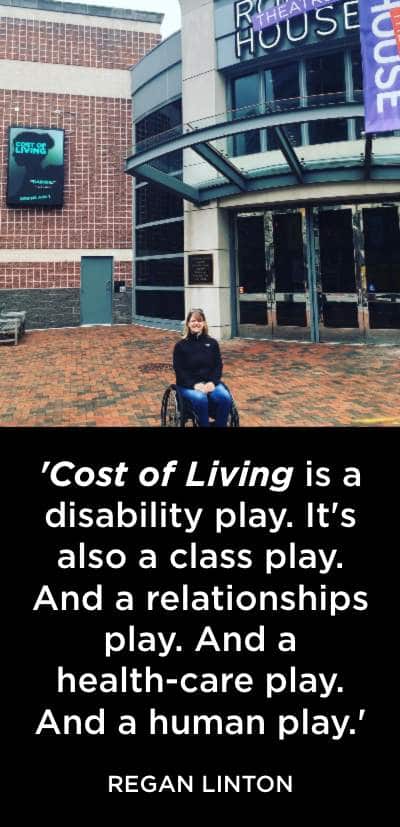 At the recent Colorado New Play Summit, I heard several references to Another Kind of Silence as "The Sign Language Play." Playwrights sometimes build these short-cuts into their own titles in a self-referential, ironic, or tongue-in-cheek way – recent examples including Slave Play  or The Thanksgiving Play.
When this topic came up in our rehearsal room, there was substantial discussion … and some pushback:
"It's really more of a class play."
"I think it's a loneliness play."
"I mean, what even IS a disability play?"
Good question: What IS a disability play?
As Artistic Director of Phamaly Theatre Company in Denver, I think a lot about disability. And disability plays. Technically, you could say that Phamaly's work – which affirms the disability identity and exclusively features disabled actors in all of our shows – presents ONLY disability plays and musicals based on the identities of our performers. But should we define a "disability play" based on the actors or the content? Should we define it at all?
There is no simple answer.
Read more: Regan Linton named Colorado's 2017 Theatre Person of the Year
Frankly, if you just go by the presence of a character with a disability, then the majority of all American plays are "disability plays." A recent study by Mixed Blood Theatre in Minnesota tried to determine just how many plays in the American canon have a disability component. But it was nearly impossible to determine because the number of characters in American plays who can easily be read as having disabilities, visible or otherwise, is overwhelming.
Or should it depend on a play's themes? What if an entire play is communicated in sign language – but the story has little to do with deafness? Must the play reinforce society's common notion (or frankly, stigma) about the experience of disability as something isolating, depressing, or life-ending, to be considered a "disability play"?
How then does any play cross over into not being a "disability play"?
"The worst part – the truly disabling part – isn't my wheelchair: It's the way society changed how it felt about me." – Regan Linton
Why is it that plays like One Flew Over the Cuckoo's Nest and The Glass Menagerie have never been called "disability plays," even though they both clearly involve mental health? Is it because the actors and playwrights aren't disabled? Or perhaps the playwright is aware of society's great reluctance to talk about disability – which most people fear and don't understand? Or is it because marketing teams know it's easier to sell a "relationship play" than a "disability play"?  They don't tell you Amanda Wingfield has a disability. They say she has "a condition."
Quick term check: "disability" is a designation that covers a wide range of conditions and situations. In America, one prominent definition of disability comes from the 1990 Americans With Disabilities Act, which outlines disability as "a physical or mental impairment that substantially limits one or more major life activities." However, over the past 30 years, as humans have developed their knowledge base around various physical, cognitive, intellectual and emotional situations, "disability" has grown to encompass much more, including autism, depression, anxiety and post-traumatic stress.
All of this is to say, disability is complicated. Complex. Diverse. Expansive. Which begs the question: Is disability just another human characteristic? Just one more aspect of the gargantuan human web of interdependence and interconnectedness?
What really IS disability?
In my own experience, the medical condition – a spinal cord injury – was significant. I can't walk. My bladder and bowels work differently. I can't feel two-thirds of my body, and I have had to develop heightened attention to every aspect of my physical functions. And yes, there's the wheelchair … that unfairly universal symbol of all things disabled. It's intense.
But the worst part – the truly disabling part – isn't my wheelchair: It's the way society changed how it felt about me. If you ask me …
Disability is the stigmas.
Disability is people assuming you can't do things, and devaluing your very existence.
Disability is having to sit separate from your friends at events – sometimes alone – because there is limited accessible seating.
Disability is having people assume you are no longer a sexual being.
Disability is people questioning the truth of your condition.
Disability is not being able to participate in the newest and coolest attraction/event/game/ride/immersive art exhibit/culinary experience that everyone is saying you "HAVE to try!"… because it isn't designed for you.
Disability is the pity that oozes from someone's gaze or voice as they interact with you.
Disability is people thinking you need to be healed or fixed.
Disability is also … surprise! … many wonderful things. There are aspects of my life with a disability that I would never trade for the nondisabled experience, including deepened relationships. Increased self-awareness. Wicked humor. Heightened social intelligence. But these things never get highlighted as connected to disability. Or if they do, people assume they have developed in spite of disability, not because of.
How to approach improving accessibility? Start with, 'Don't be a jerk!'
As we comb through Cost of Living, I am reminded by the characters – Ani with her wheelchair and emotional barbs, Eddie with his tough trucker façade and need for connection, John with his affected speech and privileged obliviousness, and Jess with her first-gen fighter attitude – of everything else that is disability:
Disability is vulnerability.
Disability is honesty.
Disability is walls coming down.
Disability is need.
Disability is connection.
Disability is post-traumatic growth.
Disability is interdependence.
Disability is weird.
Disability is armor.
Disability is dark humor.
Disability is enhanced intimacy.
Disability is love.
So, is Cost of Living a "disability play"? Abso-frigging-lutely. It is also a class play. And a relationships play. And a health-care play. And a human play. Because, guess what? Disability is human. And sorry to break this to you, but humans are fallible. Porous. We get injured, and then we pick up the pieces and continue on … with scars. But fuller than before. And with greater need for connection.
As Eddie says in Cost of Living: "People don't go after people unless they (bleeping) need 'em. And everyone (bleeping)  needs 'em. Someone. That's what life is, what your life, my life … is. OK? That's how people work. In life."
That's disability.
Actor, writer, director and Denver native Regan Linton is the Artistic Director of Phamaly Theatre Company, which provides a creative home for theatre artists with disabilities. She received her Master of Social Work at the University of Denver, and her MFA in Acting from the University of California San Diego. She has performed around the world for companies including the  Oregon Shakespeare Festival, Mixed Blood (Minneapolis) and  Big-I (Osaka, Japan). She named  the True West Awards' 2017 Colorado Theatre Person of the Year. Linton, who uses a wheelchair because of a complete spinal-cord injury from a car accident in college, has become a prominent voice for inclusion in the national theatre community.
Cost of Living/At a glance
At a glance: Two parallel narratives intersect as a wealthy graduate student with cerebral palsy and his newest caretaker build an uneasy trust, while a truck driver struggles to reconnect with his estranged wife, recently left paralyzed by a car crash. Though each is wounded, the four continue to fight for the tantalizing possibility of human connection, even in the face of physical, mental and emotional defeat. Both humorous and heartbreaking, Cost of Living  illustrates the redemptive possibilities of reaching out to others despite the sometimes-devastating costs.
Written by: Martyna Majok
When: Postponed indefintely
Where: Round House Theatre in Bethesda, Maryland
Information: roundhousetheatre.org
Video bonus: Regan Linton wins PUSH Spirit of Craig Award
https://www.denvercenter.org/wp-content/uploads/2020/03/Regan-Linto-will-appear-in-Round-House-Theatres-Cost-of-Lliving..jpg
1000
1000
Regan Linton
Regan Linton
2020-03-12 10:28:57
2020-03-12 17:39:05
Regan Linton: What constitutes a 'disability play,' anyway?