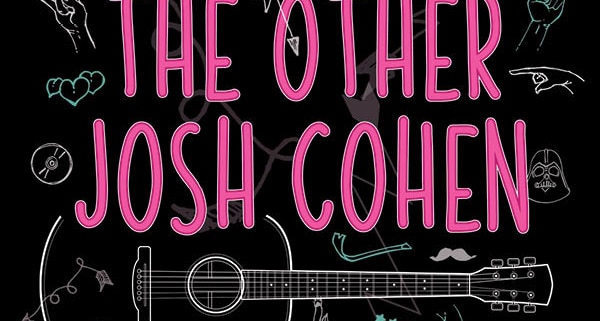 The Serendipitous Life of The Other Josh Cohen's Aaron Vega
Luck comes in all shapes and sizes. For some people, luck is winning the grand prize in a raffle drawing. For others, it's as simple as not spilling your coffee during an icy morning walk to work. For Aaron Vega, a local actor in the Denver Center for the Performing Arts' The Other Josh Cohen, luck comes in bite-sized pieces that have all perfectly fit together. From meeting his partner to producing a puppet opera, life has always handed Vega good fortune. However, Vega would say, "I don't think I'm lucky so much as I am just completely oblivious to my bad luck."  
In fact, his original involvement with The Garner Galleria Theatre was a fluke. In 2017, Vega was a part of the DCPA Off-Center production The Wild Party. He got a call that there was an unexpected opening in the Cabaret production First Date. "They told me, 'I know you're doing another show for us,'" Vega explained, "'but would you be interested in working at the Galleria?' To which I said, 'why not!'" And the rest is history. Vega then performed in the DCPA Cabaret production Xanadu in 2018/19 and now The Other Josh Cohen through May 1, 2022. 
The Other Josh Cohen centers around one lucky moment that has the potential to change the titular character's life. Vega literally plays "A Bunch of People," changing costumes and roles throughout the show. "The thing that really took my heart when I was listening to the soundtrack and deciding whether I would audition was that it's not saying that everything is fine. It's not fine. We are not fine," Vega observed, "but I strongly believe in the message of The Other Josh Cohen: bad things will happen to us in life, that's a given, but the question is how do we respond to those bad things? And in the end, we will ultimately be okay."  
But why should you go see it? Vega says, "It's charming, it's lovely, it's accessible, and it's just this heartfelt message that we can all relate to. And you get to just laugh for an hour and a half." It's an extremely hummable musical with a lot of heart. And if you're a fan of Neil Diamond, you're in for a special treat. 
Outside of acting, Vega works with The People's Building, a renovated furniture warehouse in the oldest part of Aurora that was turned into an independent arts hub. Their mission is to provide affordable access to performance space. "Living in New York City, I got to see the effect of gentrification on the arts and independent artists," said Vega, "and Denver does not have many large, empty warehouse spaces or independent venues anymore either." But it isn't just the arts that drew Vega to the project; it's the community engagement. Vega added, "There are so many incredible artists in Denver that need dignified space and we are happy to elevate their voices." 
DETAILS 
The Other Josh Cohen 
Now-May 1, 2022 · Garner Galleria Theatre 
https://www.denvercenter.org/wp-content/uploads/2020/03/JOSH_600x600.jpg
600
600
Emma Hunt
Emma Hunt
2022-02-09 12:37:57
2022-02-10 11:39:58
The Serendipitous Life of The Other Josh Cohen's Aaron Vega