#SINCERELY, ME: Greg Moody's letter to 'Dear Evan Hansen'
After a lifetime in front of screens and stages, CBS4's Critic-At-Large says: 'I had, quite frankly, never seen anything like this show'
Like many of you, I had no idea what to expect of Dear Evan Hansen when I first sat down in the Music Box Theatre in New York City. I cadged a couple of house seats, told by the manager that they had been pulled from a celebrity couple just to give to me. Who the celebrities were, I have no idea.
I just hoped they were celebrities I didn't like.
I attended simply because I knew Dear Evan Hansen not only would be the opener of the 2018-19 DCPA Broadway season, but also would start its national tour in Denver.
I should see it. So, I went. Otherwise, I would have gone to The Great Comet of 1812.
Sometimes, friends, you just luck into it.
I never expected to be as touched, emotionally undone and deeply affected as I turned out to be.
The characters, the story, the depth, the emotional insight, the music, the humor, the dramatic impact resonated across 60 years of theatregoing. I had, quite frankly, never seen anything like this show.
Yes, it is that different. It is that powerful. It is that thought-provoking, life-affirming, and, dare I say it — life-changing.
The show begins in tragedy, but it is a tragedy that only serves to drive the characters into two simple ideas: assumptions race out of control in a heartbeat and, that amid tragedy, people on the outside want to be a part of the resulting emotional bond.
It is a heightened plane of emotional existence, and many people want to embrace that feeling just as those closest to the tragedy would give anything to have the anguish pass their door. There is no judgment here, just acknowledgement of a human need to connect to the greater emotional experience, to be a part of the event, to build one's role within either the tragedy itself, society's reaction to it or the recovery.
"I knew the victims – not well. They were more like acquaintances, but I knew them," becomes, over time, "I knew them very well. In many ways, I'd say they were my closest friends. We never talked about it, but we knew we were there for each other."
Why does this happen?
It's part of an "I BELONG" coping mechanism that we all employ at various times, in varying degrees. In Dear Evan Hansen, however, the coping mechanism is intensified by the impact and immediacy of social media. As we plunge deeper into the world of Facebook, Instagram, Snapchat and Twitter, we are, in fact, asking ourselves — who am I? Who am I really, not merely on the surface where I hide in a hundred different ways, but at the very base of my soul?
Are we someone else when we tweet or post on social media? Of course, we are. We ponder and weigh our quotes, our quips, our posts, ad infinitum, ad nauseum. And, once they are sent off into the great ether, we breathlessly await the likes, comments, shares and retweets to stroke our ego. Then, if necessary, we are ready to bend our personal moral narrative to quickly fit the latest emotional trend.
Which person is the real me?
Where is my true self?
Does anyone know me?
Can anyone hear me?
See me?
Do I need a cause, a purpose, a reason to even exist?
These questions are what I found at the core of Dear Evan Hansen, a show so beautifully conceived, written and performed that I simply could not turn away. Rather than a night of bright and bouncy Broadway entertainment, I walked out having had a full emotional meal, each course of music, acting, directing, staging and choreography reaching new heights far beyond what I thought a Broadway musical could possibly attain.
I have never felt this way about a show before – I highly doubt I will ever experience this sort of dramatic impact again.
Hold on. You are about to go on the theatrical ride of your life.
Greg Moody has been a champion of Denver arts and culture for more than 25 years, most with CBS-4.
Watch Greg Moody's video coverage of Dear Evan Hansen:
Interview with Director Michael Greif
Interview with Writer Steven Levenson
Interview with Producer Stacey Mindich
Interview with Composers Justin Paul and Benj Pasek
Tune in to CBS-4 throughout the run for more interviews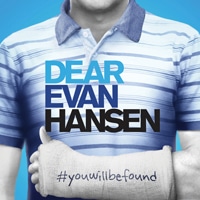 Dear Evan Hansen: Denver ticket information
• Sept. 25-Oct. 13
• The Buell Theatre, Denver Performing Arts Complex
• Call 303-893-4100 or BUY ONLINE
• ASL, Audio-described and Open Captioned performance: Oct. 7, 2 p.m.
• Note: Please be advised that the Denver Center for the Performing Arts – denvercenter.org – is the only authorized ticket provider for Dear Evan Hansen tickets in Denver. Ticket buyers who purchase tickets from a ticket broker or any third party run the risk of overpaying or purchasing illegitimate tickets. Patrons should be aware that the DCPA is unable to reprint or replace lost or stolen tickets and is unable to contact patrons with information regarding time changes or other pertinent updates regarding the performance. Patrons found in violation of the DCPA Ticket Purchase and Sale Terms and Policies may have all of their tickets canceled.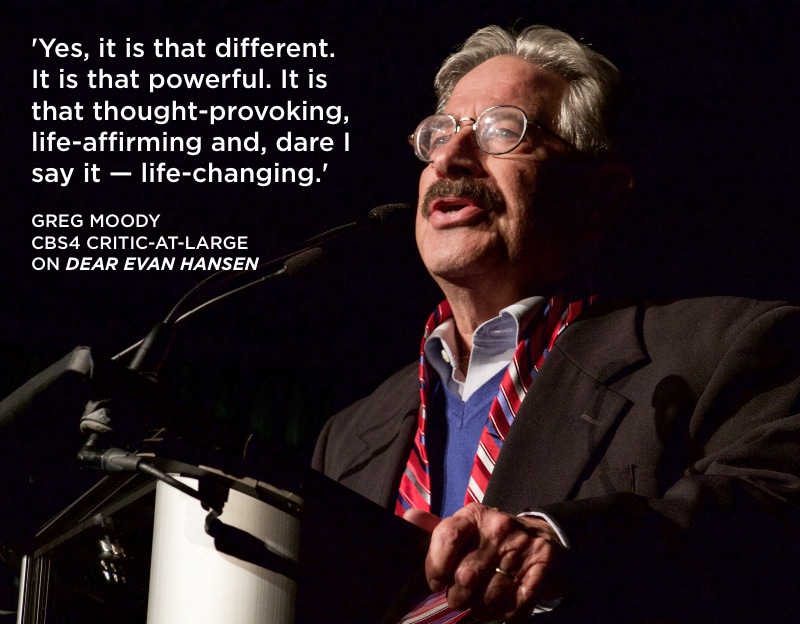 https://www.denvercenter.org/wp-content/uploads/2018/09/31190090518_1d44106954_k.jpg
1161
2048
Greg Moody, CBS4 Critic-At-Large
Greg Moody, CBS4 Critic-At-Large
2018-09-21 10:09:14
2018-10-10 11:03:59
#SINCERELY, ME: Greg Moody's letter to 'Dear Evan Hansen'