Summit Spotlight: Benjamin Benne, 'Alma'
In this daily five-part series for the DCPA NewsCenter, we introduce you to the plays and playwrights featured at the Denver Center's 2020 Colorado New Play Summit through February 23. Over the past 15 years, 31 Summit plays have gone on to be premiered as fully staged productions on the DCPA Theatre Company's mainstage season. Today: Benjamin Benne, author of 'Alma.' Video by DCPA Video Producer David Lenk and Senior Arts Journalist John Moore.
A mother, a daughter and the thread of an American Dream
The play at a glance: For Alma, an undocumented Mexican immigrant, and her 17-year-old American daughter, Angel, a study session uncovers the dreams and despair over their future. As Alma quizzes Angel with vocabulary for the SATs, Angel tests Alma on American History for her citizenship exam. Feeling both an overwhelming excitement over the possibilities their tests can offer as well as the dread about the laws and loopholes stacked against them, they encourage each other to find hope in the uncertainty. But will the American Dream cost them a life together?
The playwright at a glance: Benjamin Benne is a playwright and puppeteer born and raised in Los Angeles County. He has lived in the Pacific Northwest and Midwest but now resides on the East Coast, where he is an MFA Playwriting Candidate at the Yale School of Drama. Benne's work, like its author, has been seen at the The Old Globe (California), Teatro Milagro (Oregon), Seattle Repertory Theatre (Washington), The Playwrights' Center (Minnesota), The Eugene O'Neill Theater Center (Connecticut), Roundabout Theater Company (New York) and more. His gently poetic and quietly explosive plays – including at the very bottom of a body of water and Alma – feature vivid images that take on deep symbolic resonance.
'When these immigration stories become headlines, we don't get to feel the heartbeat and the pulse of what it means for two people who love each other so intensely to be separated.' – Benjamin Benne
Benjamin Benne wrote his new play Alma about his mother. Or at least that's what he set out do when he began writing his personal tale of a Mexican immigrant and her 17-year-old American daughter, Angel.
"My mother was an undocumented immigrant from Guatemala who came to the United States in the late '70s," said Benne, who was born and raised in Los Angeles County. He tells a story from his youth that, at the outset at least, seems cloaked in the dread of an inevitably awful end.
"I was in elementary school, and one morning, my mother said to me, 'I can't drop you off at school today' – which is something she did every day," said Benne. "Instead, she said, 'My friend Maria is going to drop you off because I have something really important I have to do.' "
But this story does not end with separation, isolation and deportation, as it has for so many thousands of others. When Benne saw his mother again later that afternoon, she told him, "I'm a United States citizen now."
As he looks back on that memory today, Benne thought it was both remarkable and a bit arbitrary that his mother could have gone from not being a citizen in the morning to suddenly that afternoon – she was.
"That got me thinking about the history of immigration and immigration law in the United States and how it's been constantly shifting," said Benne, whose mother qualified for amnesty under President Reagan in the 1980s. The playwright soon realized that his burgeoning idea for a play, about a pregnant woman who crossed the border at 18 with the same dreams as Benne's mother, was no longer his mother's story. Not in 2016, anyway. "Because my mother's pathway to citizenship no longer exists for someone who is currently in the same situation my mother was then," he said. "That got me researching what the legal loopholes and Catch-22s are – and that research is what turned into Alma."
The play is a focused dialogue between a mother studying for the citizenship exam and a high-school daughter studying for all-important SAT exam that will dictate her college possibilities. In 2019, the highly praised yet still-developing play was the winner of the National Latinx Playwriting Award.
"Our judges fell in love with the poetically distilled language of Alma," said Elaine Romero, a judge from the Arizona Theatre Company. "This is a covertly socially relevant play that asks us to look at the impact of the swing of the political pendulum on the lives of everyday people who have come to this country to dream."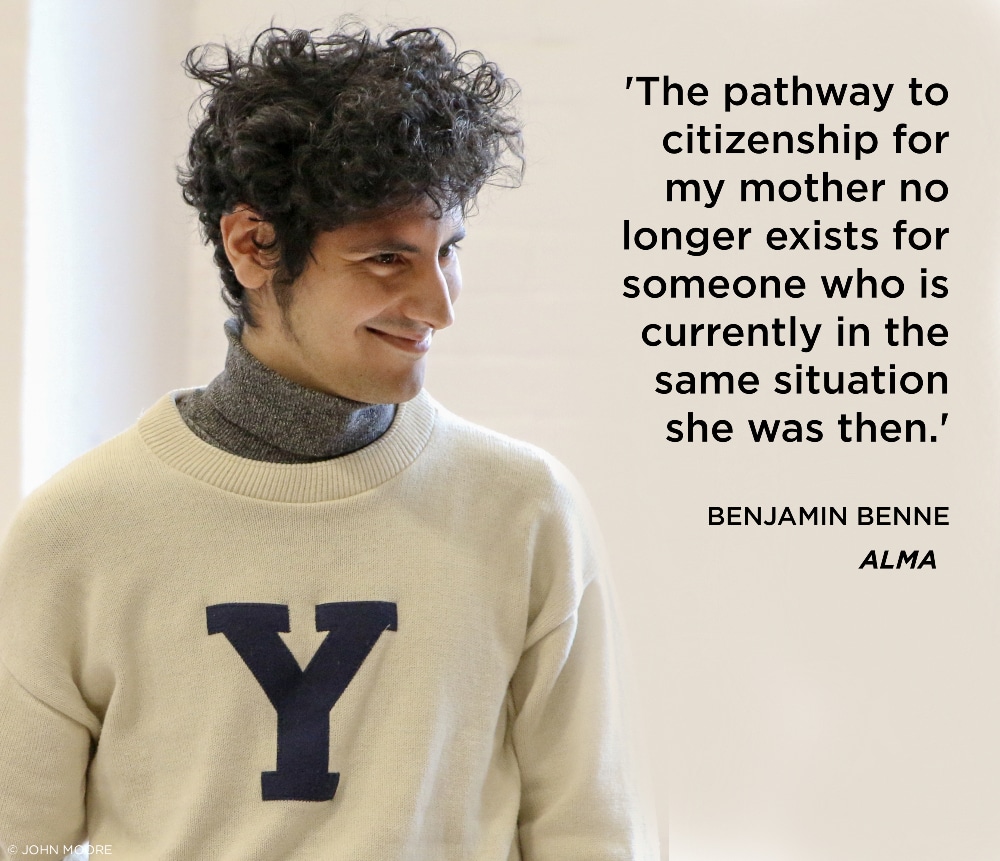 Here are additional excerpts  from Senior Arts Journalist John Moore's conversation with Benjamin Benne:
John Moore: So, wait, you're in school right now, as we speak?
Benjamin Benne: Yes, I'm in the second year of my MFA program at Yale School of Drama. I'm missing class right now – but the Summit is a pretty good excuse.
John Moore: Tell us about the origin of Alma and the journey it's already been on.
Benjamin Benne: I started working on this play in the spring of 2016, just before the election, and then I put it in a drawer, because I didn't really think I was going to do anything with it. But post-election, the play just felt so urgent that I couldn't even think about working on anything else. And it quickly changed from this expansive play that was encompassing all different sorts of ideas around immigration to a simple two-hander between a mother and a daughter.
John Moore: So what happens in your story?
Benjamin Benne: The play is about a woman named Alma, an undocumented immigrant from Mexico who came to the United States 18 years ago when she was pregnant with her daughter, Angel. The play takes place in their one-bedroom apartment, and we simply watch 75 minutes of their lives unfold.
John Moore: So what is the central conflict?
Benjamin Benne: I would describe the central conflict as cultural. Alma, having been from Mexico, has these very lofty aspirations for her daughter's future. And Angel, having grown up the United States, has a very different vision of what the American Dream means for her and what is possible – and seemingly impossible – in the United States in 2016.
John Moore: Is setting the play in 2016 essential to the plot?
Benjamin Benne: Yes. The play takes place in that limbo period after the election and before (Trump's) inauguration. The world felt different then. Scarier. I remember this moment where people were wondering, "Is the Electoral College actually going to follow through with what the electorate has determined? Will (Trump) even be confirmed?" I remember this collective moment of holding our breath to see how it all was going to play out. And that's definitely the state that these two characters are living in. They are in a waiting game where the future looks seemingly bleak. But is it going to be? They are holding on to that thread of hope.
John Moore: I've heard your playwriting described as both intrinsically poetic and political at the same time. You can't get any more universal than a mother and daughter story. So how is that also political?
Benjamin Benne: I'm always interested in very intimate relationships. I think that's where the poetic and the personal come into play. As a playwright, I'm very specifically interested in watching two people have an extended conversation around one subject. And this subject happens to be the sacrifice of making a migration and what feels tangible in terms of a person's dreams in a new cultural context. It becomes expansive through the lens of these two people, and that's where the political comes into play: Suddenly we're in this much more sprawling backdrop than what a very personal two-person interaction normally feels like.
John Moore: You mentioned the American Dream. But what does that even mean to your characters in 2016?
Benjamin Benne: Alma is very interested in Angel's higher education. Alma was living in poverty in Mexico, and she knows that her daughter wouldn't have had the opportunity there to go to college and become a veterinarian and make real money as a doctor. Those dreams that all felt seemingly impossible for her in her country of origin all seem very possible for her here. So now she has built this whole dream of what is going to happen for Angel in the United States after she graduates from high school. But Angel is very aware of the systemic oppression that she's up against. She sees how her mother's plan for her actually is out of reach for her – or seemingly out of reach –  and she has a lot of questions about whether that dream is a possible, tangible reality.
John Moore: What do you want people thinking about after your reading?
Benjamin Benne: I think the gift of the play is that it's just such a hyper-specific relationship between a mother and daughter. I've had a lot of people tell me they see their own relationships with a parent in the play. There's just so much love between these two women, and the greatest tragedy would be for the two of them to be separated – which is a potential challenge that they face.
John Moore: And what do you want your play to tell us about the very real immigration crisis we are in now?
I've had a lot of people tell me they see their own relationships with a parent in the play.' – Benjamin Benne
Benjamin Benne: In real life, when these stories become headlines, they become really abstracted. When that happens, we don't get to feel the heartbeat and the pulse of what it means for two people who love each other so intensely and really rely on one another, to be separated. That's what's at stake in this play. And I think we feel that viscerally when we're sitting in a room with these two women.
John Moore: Let's talk about the Colorado New Play Summit. When you've written a play that already has gotten as much recognition as this one has, you might assume it's done. What do you want to accomplish here at the Summit?
Benjamin Benne: Yes, this play already has had a ton of development. I think this is the 11th reading it's had in three years. So it's had a lot of work behind it. But one of the draws for the Summit is that two weeks is a really generous amount of time to be working on a play. I've had to mount this piece in readings in 24 hours or less, which actually means you get four or five of rehearsal and then people are watching it. To me the gift is two weeks working with my director, Cat Rodriguez. I love her so much. She's not only one of the smartest and most gifted like theater artists in my life, but also just an astounding human being. We have a shorthand, and that allows us to really dig in deep with the process.
John Moore was named one of the 12 most influential theatre critics in the U.S. by American Theatre Magazine. He has since taken a groundbreaking position as the Denver Center's Senior Arts Journalist.
Check out all of our 2020 Colorado New Play Summit Spotlights: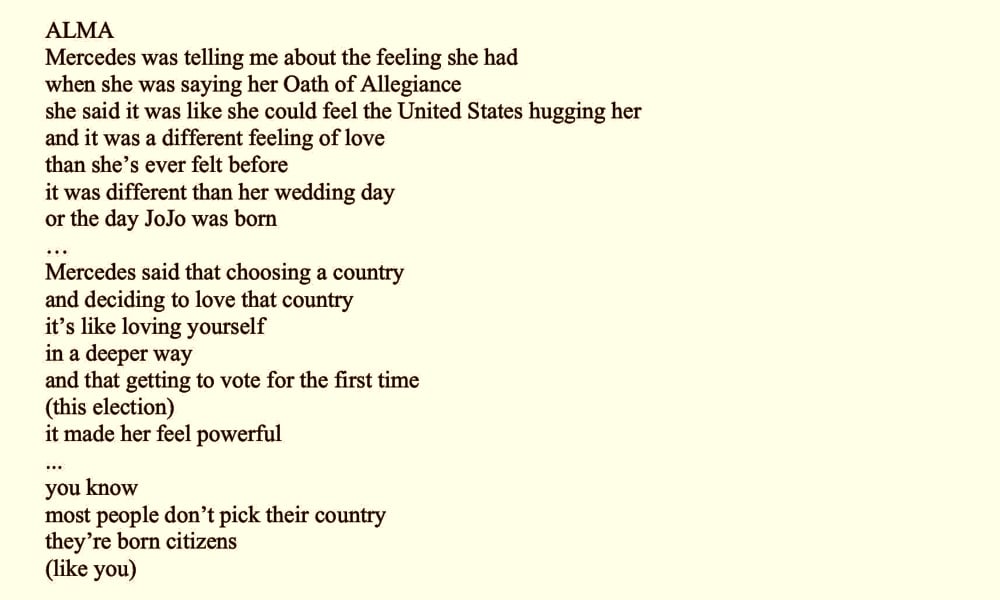 Photo gallery: Alma
Check out our growing gallery of photos from the 2020 Colorado New Play Summit
---
By Benjamin Benne
Directed by Catherine Maria Rodriguez
Dramaturgy by Xiomara Cornejo
Cast and crew:
Alma: Danaya Esperanza
Angel: Amandla Jahava
Stage Directions: Iliana Lucero Barron
---
The 15th Annual Colorado New Play Summit
Launch Weekend: February 15-16
Festival Weekend: February 21-23. All-inclusive Festival Weekend packages include five play readings and two fully staged world premieres, plus meals and special events
Details and packages available at denvercenter.org
The 2020 Colorado New Play Summit is presented by AT&T, Sheri & Lee Archer/New Wave Enviro, The Joy S. Burns Commission in Women's Playwriting, Daniel L. Ritchie, Semple Brown Design, Robert & Carole Slosky, and Transamerica.
Follow the DCPA on social media @DenverCenter and at the DCPA's online NewsCenter.
https://www.denvercenter.org/wp-content/uploads/2020/02/Benjamin-Benne-quote-1000-Photo-by-John-Moore.jpg
861
1000
John Moore
John Moore
2020-02-20 17:48:15
2020-02-26 08:39:17
Summit Spotlight: Benjamin Benne, 'Alma'