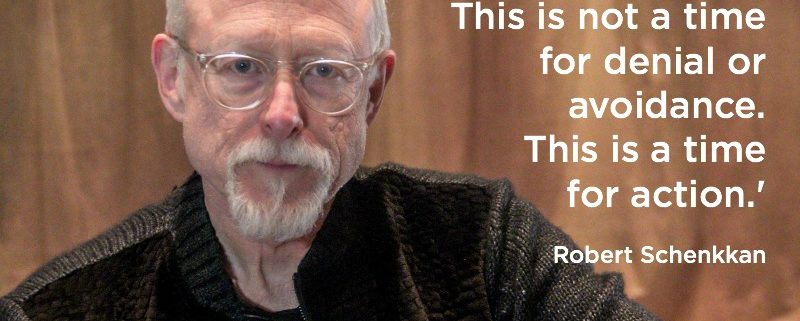 Summit Spotlight: Robert Schenkkan on the danger of denial

Video above by DCPA Video Producer David Lenk and Senior Arts Journalist John Moore.
In this daily, five-part series for the DCPA NewsCenter, we will introduce you to the plays and playwrights featured at the Denver Center's 2017 Colorado New Play Summit. Over the past 12 years, 27 plays introduced to the Summit have gone to be premiered on the DCPA Theatre Company mainstage season. Next up: Pulitzer-Prize-winning playwright Robert Schenkkan (The Kentucky Cycle), author of the new history play Hanussen.
Pulitzer-winning playwright speaks bluntly on the danger of denial in a time of authoritarianism

In 1930s Berlin, the brilliant mentalist Erik Jan Hanussen captivates German audiences with his ability to read minds and his uncanny predictions of the future. His reputation brings him to the attention of avid occultist Adolf Hitler.
John Moore: Let's first review your recent history here at the Denver Center.
Robert Schenkkan: Well here in Denver, you would know The 12, the musical that Neil Berg and I created a year and a half ago, which won the (Colorado Theatre Guild) Henry Award for best new work. Great production. It was very successful.
John Moore: Well, there have been quite a few more awards since the Henrys. Emmys, most recently I believe a $10,000 Humanitas Prize for writing Hacksaw Ridge. (Note: Shenkkan donated his share of the prize to Doctors Without Borders). You are not exactly a late bloomer, but the last few years have been extraordinary for you, really starting with the 2014 Tony Award for All the Way.
Robert Schenkkan: I have had a great run. On stage with All the Way and The Great Society, and then the HBO film version of All the Way starring Bryan Cranston that Steven Spielberg and I co-executive produced. Also here in Denver with The 12, and now Hanussen. And then with the movie Hacksaw Ridge, which I co-wrote with Andrew Knight that Mel Gibson directed and Andrew Garfield starred in, which is currently nominated for six Academy Awards. … Stay tuned!
John Moore: We have gotten happily accustomed to seeing you on the awards circuit: The Emmys. Writers Guild of America. Screen Actors Guild. And coming Sunday:
Robert Schenkkan: I have eaten a lot of rubber chicken lately, yes.
John Moore: The Academy Awards are Sunday night, so let's talk briefly about Hacksaw Ridge, which manages to be a remarkable story of warfare and pacifism at once.
Robert Schenkkan: It's an extraordinary story, and it has taken 10 years to get it on screen. It is the true story of the first conscientious objector to win the Medal of Honor, Desmond Doss. A country boy from Virginia whose faith and principles insisted that he go to war, and that same faith and principles also insisted that he not take a life. He became a medic, and in one extraordinary engagement in the battle of Okinawa, he saved upward of 75 or more American and Japanese lives.  It's a mind-boggling story, really.
John Moore: That's an fascinating transition into the war story you are writing here for the DCPA Theatre Company. Can you introduce us to the story of Hanussen?
Robert Schenkkan: Hanussen is based on the true story of Erik Jan Hanussen, who was the leading headliner in 1931 in the last days of the Weimar Republic in Berlin. Hanussen was a mentalist. He had a mental act. He could red your mind. He had psychic powers. He could hypnotize and he claimed he could predict the future. He's fascinating character. Very contradictory in many ways. Kind of Shakespearean in his size. It is always hard to parse the truth here, but it is said that Hanussen coached Hitler on how to be a more effective public speaker, and that he cast Hitler's horoscope, that he was his astrologer, and that he had something to do with the Reichstag fire. Hanussen was also Jewish.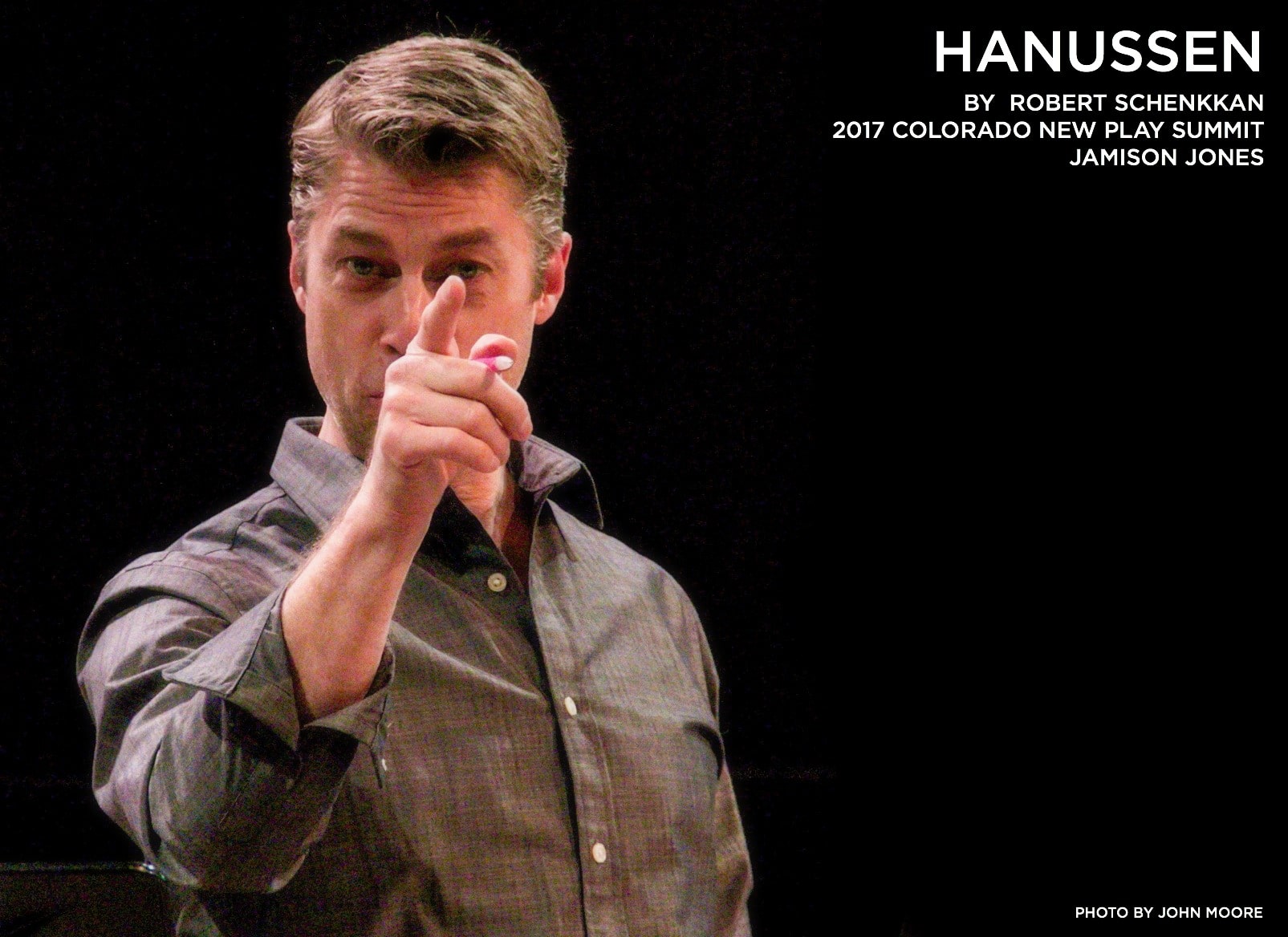 John Moore: How does his religion play into the story?
Robert Schenkkan: Well, it's something that he keeps on the down-low while he plays this extremely dangerous game with the Nazis. The play is very much about the human condition, in particular our tendency to avoid that which is unpleasant, or that which we don't want to see. It's about denial, and the dangers of denial.
You have said very forebodingly that this is not the worst time for us to be revisiting the Weimar Republic. Why is this play that goes so far back into history the right play at the right time for what is going on in the world right now?
Robert Schenkkan: Well, it's pretty fascinating. The playbook for authoritarianism is an old one. It's pretty well understood. I think one could make a very good claim that we are seeing that play out right now in American politics in this last election. Just as in the Weimar Republic in Berlin, in the United States in 2017, I think it will be increasingly important for individuals to look to their own conscience and be careful in their decisions. This is not a time to stay silent. This is not a time for denial or avoidance. This is a time for action.
John Moore: Who are some of the other historical figures we meet in your play?
Robert Schenkkan: Well, part of the pleasure of Hanussen is that it is a so-called history play; that it is set with events that actually happened and people we know, and in this case there are some very prominent people that we know. Count Wolfe Von Heldorf, Joseph Goebbles and, of course, Adolf Hitler. It's not often that you see these characters on stage, and of course there is so much baggage that they carry; it presents a unique challenge to the writer I think. What can you do with this that we haven't seen before? Or how can you play with our expectations – what we expect that we will see with this? I have had a lot of fun with this. I think I've gotten it right. I think it will be extremely entertaining and very thought-provoking.
John Moore: I don't know how much you have to do with casting, but we here at the Denver Center find it enjoyable that the actor who is playing Hitler (Richard Thieriot) we remember as a masters student who played the Jimmy Stewart role in Harvey (pictured at right by John Moore).
Robert Schenkkan: That is kind of perfect. He's a wonderful actor, by the way.
John Moore: This is your first Colorado New Play Summit as a featured playwright.
Robert Schenkkan: Yes, I have been an observer at two Summits, and I am really very grateful to be here. The way Kent Thompson has structured this is really kind of brilliant. You have the first week of work, ending with a public reading, And then you get another week of work culminating in a second and final reading. That second week of work is absolutely unique. I don't know any other theatre festival in the United States that does anything like that. And it's a really critical for the writer because so often, you are just beginning to get your arms around it just as you near the end of that first week. You are just beginning to say, "Now I see what I need to do." … And then it's over. Well, that's not true here. You get to take the tings that you learned at the first reading and really thrash it out and take all of that complexity and nuance and additional richness back into the text, culminating in a second public reading.
John Moore: This is the first time you have ever gotten to work with your daughter, who is playing three roles in Hanussen (pictured at right by Adams Viscom).
Robert Schenkkan: Yes, I am very proud to say that I will be working with my daughter, Sarah Schenkkan, who is a professional actress living in New York City. Obviously I have followed her career very closely, but this is the first opportunity we have had to work together. As proud as I am of my professional achievements, my greatest achievement is my children. So it's a real thrill to be here working side-by-side as a professional colleague with Sarah.
John Moore: Total right turn here: Going back for a second to LBJ and All the Way, what did you think of the guy who played LBJ in the new Natalie Portman movie Jackie?
Robert Schenkkan: I thought he did a very credible job. I thought that he brought a certain gravitas to it. I thought he avoided cliché. And he did not give us any of the more sensationalized – and to my way of thinking less interesting – aspects of LBJ.
John Moore: I ask that because the actor is John Carroll Lynch, and he is from Denver.
Robert Schenkkan: Well, I thought it was a very dignified performance. It was very accurate.
John Moore was named one of the 12 most influential theater critics in the U.S by American Theatre Magazine in 2011. He has since taken a groundbreaking position as the Denver Center's Senior Arts Journalist.
Hanussen
Directed by Kent Thompson
Dramaturgy by Liz Engelman
Hanussen: Jamison Jones
Hitler: Richard Thieriot
Wolfe: Kevin Kilner
Ernerst Juhn, Bruno Frei and Stage Manager: Andy Nagraj
Fred Marion, Joseph Goebbles, Young Man and Manager: Robert Montano
Fritzi, Katrina and Maria Paudler: Sarah Schenkkan
Servant, Rudolf Steinle and Nobleman: Leigh Miller
Businessman and Kurt Egger: Jason Delane
Stage Directions: Luke Sorge
Leigh Miller and the cast of 'Hanussen' in rehearsal. Photo by Adams VisCom.
Building the Wall: A new Schenkkan play coming to Curious Theatre
Note: Immediately after the presidential election, Robert Schenkkan wrote the play Building the Wall, which imagines the first six months of the Donald Trump presidency while invoking George Orwell's 1984 and the Nazi regime. The play focuses on the frontman of the new administration, who loses his humanity amid chaos and martial law. It is, Schenkkan says, "a terrifying and gripping exploration of what happens if we let fear win." The play, starring John Jurcheck and Brynn Tucker (who is appearing at the Colorado New Play Summit in Last Night and the Night Before) from April 4-19 at Curious Theatre, 1080 Acoma St., Call 303-623-0524.
Selected previous coverage of the 2017 Colorado New Play Summit:
2017 Summit welcomes dozens for opening rehearsal
Summit Spotlight: Robert Schenkkan on the dangers of denial
Summit Spotlight: Lauren Yee lays it all on the free-throw line
Summit Spotlight: Rogelio Martinez on when world leaders collide
Summit Spotlight: Donnetta Lavinia Grays on the aftermath of trauma
Summit Spotlight: Eric Pfeffinger on the fertile comedy of a divided America
Record four student writers to have plays read at Summit
DCPA completes field of five 2017 Summit playwrights
The 12th Annual Colorado New Play Summit
Launch Weekend: Feb. 18-19
Festival Weekend: Feb. 24-26
More details: denvercenter.org/summit

Hacksaw Ridge: The official trailer
https://www.denvercenter.org/wp-content/uploads/2018/04/featured-image-4559.jpg
565
800
John Moore
John Moore
2017-02-24 08:55:00
2019-01-28 11:27:20
Summit Spotlight: Robert Schenkkan on the danger of denial