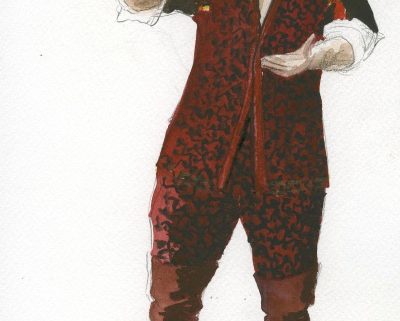 The Book of Will: Just who were all the King's Men?
By Douglas Langworthy
DCPA Literary Director and Director of New Play Development

In 1613, William Shakespeare retired his pen and moved back to Stratford, where his wife and daughter had carried on for years without him while he devoted himself to his London "family" — the theatre. When he died three years later, he left in his will a telling bequest: 26 shillings and eightpence each to Richard Burbage, John Heminges and Henry Condell to buy mourning rings in his memory.
But who were these three men and why did Shakespeare care that they remember him?
"The Book of Will has always been about the power of friendship, and those rings are the perfect symbol of it," said playwright Lauren Gunderson. "We don't have many details about who Shakespeare was, but this fact is one of them: that he bequeathed mourning rings to his core group of friends on his death. It was an unique tradition in Elizabethan times that let me imagine the kind of love, respect and cherished intimacy of this special group of men."
(The illustration above and right shows Costume Designer Camille Assaf's sketch for Richard Burbage.)
William Shakespeare was the house playwright for The King's Men (formerly known as The Lord Chamberlain's Men), an acting company that included legendary actor Burbage, as well as Heminges and Condell, actors who are best known as the masterminds behind the First Folio, the book that immortalized Shakespeare's plays.
Burbage, Heminges and Condell figure prominently in The Book of Will, a DCPA Theatre Company world premiere opening Jan. 13 in the Ricketson Theatre. Several years after Shakespeare's death, and immediately following the death of Burbage, Heminges and Condell realized that if they didn't act soon, many if not all of Shakespeare's plays could be lost in the wake of history. Both men dropped everything to devote themselves exclusively to locate and edit the scripts, and then have them printed in a single, majestic volume. Their instincts were correct: if not for their tireless devotion to the plays and their love for their friend Will, we would have lost half of the plays that today make up his canon.
So why were these men so dedicated to each other? Why were Heminges and Condell willing to give up two years of their lives to make sure their friend's words lived on? First of all, by the time Gunderson's play starts, the four men had been working together in the same acting company for more than 20 years. In that time, Shakespeare had written 38 plays for The King's Men, affording Burbage the chance to create the roles of Hamlet, Othello, Richard III and King Lear for the first time. And conversely, Shakespeare got to create those monumental characters with Burbage's prodigious talents in mind.
Gunderson imagines this group of theatre artists as visionaries: "They invented theatre as we know it today — not just the plays but the experience of seeing a play. When my play introduces them, they are seasoned experts with great acclaim, but at their hearts I see them as the same scrappy, creative, rebellious band of 'upstart crows' they must have been when they were young."

More Colorado theatre coverage on the DCPA NewsCenter

All four men were shareholders in The King's Men, which meant they were financially invested in the company's operations and able to cash in on the theatre's profits. Yes, Shakespeare's theatre was a for-profit enterprise run chiefly by its actors. Given that Shakespeare was the most popular playwright in London at the time, business for The King's Men was brisk. This meant that instead of being starving artists, these shareholder-actors became modestly wealthy. In fact, when The Globe burned down in 1613, the company was able to afford an expensive rebuild, even replacing the thatched roof with tile. Conveniently, the actors wouldn't have had to go far to grab a drink after a show, as Heminges, who was a grocer by trade, also ran the ale house just outside the entrance to the theatre.
The King's Men were a well-knit community with many of them marrying each other's family members and, in some cases, widows of other company members. In fact, John Heminges married Rebecca Knell (also a character in the play), the widow of the actor William Knell, who was killed by another actor while on tour near Oxford. Some speculate that this job opening gave Shakespeare his first acting job. Heminges and Condell lived very close to each other in the London parish of St. Mary of Aldermanbury, their children grew up together, and the two men were married and buried at the same church. Shakespeare lived just around the corner. They all lived a short walk from their two performance venues: the open-air Globe Theatre or the indoor Blackfriars Theatre.
Video: Our interview with Lauren Gunderson:
Our video interview with DCPA commissioned playwright Lauren Gunderson, author of 'The Book of Will.'

A sign of his generosity, when Richard Burbage inherited The Blackfriars Theatre, he allocated equal shares of it to all of the existing shareholders of The Globe with no fee. With the addition of the much smaller, indoor Blackfriars, the King's Men became the first company to operate two theatres under a seasonal model — Globe in the summer and Blackfriars in winter. The audiences of the Blackfriars were vastly different from that of the Globe, which attracted a wide spectrum of social classes. Audiences at the smaller and pricier Blackfriars were more affluent and women attended in greater numbers, which could have been why Shakespeare wrote some of his strongest female characters at this time.
"It is quite clear," Gunderson points out, "from Shakespeare's own portrayal of women in his plays that he must have known some incredible ladies in his time. The women are complex and thoughtful and layered and emotional and human. I wanted to believe that he was inspired by the women around him and his comrades, so I wrote the coolest, wisest and strongest women I could imagine to pair with the heroes in The Book of Will."
If not for the love these men felt for each other and their work, Condell and Heminges might have given up somewhere along the way before reaching the finish line. But the love expressed in those mourning rings got doubled down by the two friends with the publication of the First Folio.
And the rest, as they say, is history.
The Book of Will: Ticket information

Without William Shakespeare, we wouldn't have masterpieces like Romeo and Juliet. But without two of his friends, we would have lost Shakespeare's plays forever. A comic and heartfelt story of the characters behind the stories we know so well.
Jan. 13-Feb. 26, 2017
Ricketson Theatre
Written by Lauren Gunderson
Directed by Davis McCallum
303-893-4100 or ONLINE TICKETING
Selected previous NewsCenter coverage of The Book of Will:
'The Year of Gunderson' has begun in Colorado
Shakespeare in a season with no Shakespeare
First Folio: The world's second-most important book heads to Boulder
2016-17 season: Nine shows, two world premieres, return to classics
Video: Our look back at the 2016 Colorado New Play Summit
Summit Spotlight: Playwright Lauren Gunderson
Lauren Gunderson wins Lanford Wilson Award from Dramatists Guild of America
https://www.denvercenter.org/wp-content/uploads/2018/04/featured-image-3500.jpg
684
400
John Moore
John Moore
2016-12-15 13:44:00
2016-12-15 13:44:00
The Book of Will: Just who were all the King's Men?