The last two years have taken a toll on our youth. Remote learning, mask mandates, the attrition of teachers…. Study after study shows that student's fell behind while mental health challenges grew exponentially.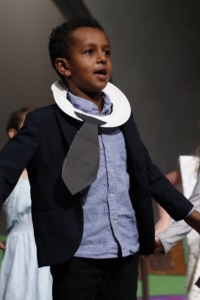 While there are many ways to address these concerns, one proven way to boost academic achievement and stimulate confidence is exposure to arts education.
While you may not be able to cite the survey and stats, anecdotally most people know that the arts help students be more successful in school. Theatre education, specifically, has been shown to improve SAT scores, strengthen reading comprehension, improve verbal and non-verbal communication, reduce drop-out rates and increase school attendance.
Not to mention unleash creativity and confidence.
Enter DCPA Education, stage right. From on-site acting classes and student matinees to in-school literacy programs and customized workshops, the Denver Center for the Performing Arts has offered innovative, engaging educational opportunities for more than 40 years.
And now, these opportunities are more critical than ever.
"Arts Education is vital to empowering each student's voice, creativity and finding their place in the world," said Allison Watrous, Executive Director of DCPA Education & Community Engagement. "Our offerings help form well-rounded, articulate and empathetic individuals. Students learn first-hand from our professional teaching staff of national theatre leaders, who bring decades of professional experience to their classes and curriculum."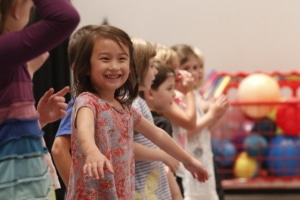 Now more than ever, it is critical for young people to see themselves in stories and learning spaces so they feel a strong sense of connection to their educational journey. Recently, a young child who was participating in the DCPA's Book Stars early childhood literacy program made a striking connection between a book and his own life.
According to a Douglas County schoolteacher who hosted Book Stars, "An English Language Development student was so excited by a book because one of the characters had a neck tattoo. His uncles have neck tattoos and he had never seen them in a book. He had me write down the name of the book so he could get it from the library to show 'Tito.' So awesome!"
This connection is the power of arts education. Beyond the core academic curriculum, infusing art into the classroom is one way the DCPA achieves its mission to engage and inspire audiences of all ages.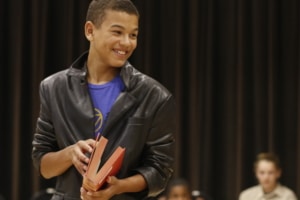 "I LOVE how DCPA creates opportunities for people of all levels to step into theatre," said one schoolteacher. "The staff is always kind and welcoming and incredible to work with. Little by little, I have felt like I have become part of the DCPA Education family. I simply can't wait for more to come!"
Theatre-based learning builds character and fosters community, empowering resilience and socio-emotional development. These two categories of life skills have been challenged by school closures, virtual learning, and the constant shifts to routine and engagement caused by the events of the last two years. "Now that our programming has returned to in-person," said Watrous, "we no longer take for granted the delights of sharing space, bringing stories to life, and personal discovery based in play.
"Once again we are able to help students enrich their self-worth and revitalize a sense of belonging to, and participation within, a community."
For more information on DCPA Education, please visit denvercenter.org/education.
https://www.denvercenter.org/wp-content/uploads/2022/02/MG_6068.jpg
4000
6000
DCPA Press
DCPA Press
2022-02-15 10:33:43
2022-02-15 11:22:08
Why Take a Class Now