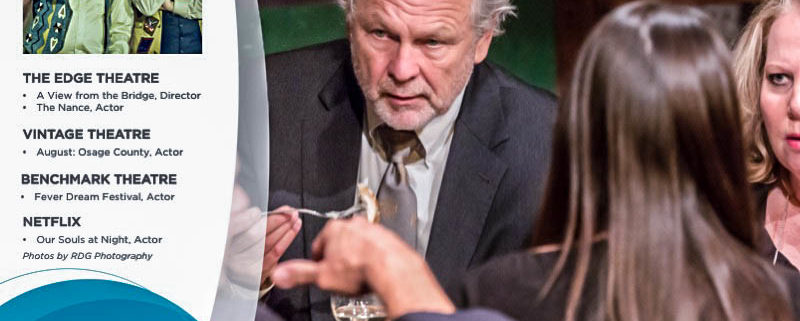 2017 True West Award: John Ashton

2017 TRUE WEST AWARDS

Day 24: John Ashton
Vintage Theatre
The Edge Theatre
Benchmark Theatre
Netflix's Our Souls at Night

By John Moore
Senior Arts Journalist

John Ashton rang in 2017 as the guest of honor at his surprise 70th birthday party — and he went soft. Proactively, profoundly and proudly soft. Overwhelmed by both community and camaraderie, the longtime actor, director and producer publicly promised not to let himself become an angry old man. The line got a laugh. That's easy for Ashton.
It was funny because Ashton has never shown any encroaching proclivity for shouting at anyone aged millennial or younger to get offa his lawn! Caustic, sure. Playfully cynical — you bet. He is one of the few ex-journalists to have ever worked at The Denver Post, Rocky Mountain News AND Westword, after all. That ought to bake anyone's shell.
But the actor we saw on Denver stages this year was noticeably more open. More vulnerable. More focused. The change was evident in his work both as vaudevillian comic in The Edge Theatre's The Nance and more subtly as a genuinely gentle husband in Vintage Theatre's family corker August: Osage County.
Ashton, it appears, celebrated his milestone birthday by taking his acting to the next level — something that's virtually unheard of after reaching the senior side of 70.
"I think there is something about how closely he is examining his work and his life these days that is allowing him to dig deeper and be more honest," said director and actor Abby Apple Boes, who is also Ashton's partner in life and, occasionally, on stage. "It maybe means more to him now."
It certainly seemed to mean more in everything Ashton did this year. He finished 2016 directing a solid revival of Arthur Miller's incestuous immigrant drama A View from the Bridge for The Edge Theatre — with Boes as the matriarch who looks the other way.
"He was really proud of that project. I think he felt like he put a great cast together and brought some nuanced performances out of them," Boes said of an expert ensemble that included Rick Yaconis, Benjamin Cowhick, Amelia Corrada, Jon Brown and the ever-reliable Kevin Hart.
Ashton returned to The Edge as an actor in The Nance, Douglas Carter Beane's disarming play about the lives of burlesque performers in the 1930s. That was a time when it was perfectly fine to play a "nance" onstage, but not to be an openly gay man off it. Ashton played a gruff vaudevillian and theatre manager. In the routine, Ashton's Ephraim played the slapstick "straight man" to 2016 True West Award winner Warren Sherril's self-described pansy, Miles.
It would have been easy for Ashton to go unnoticed in the shadow of Sherrill's rich and haunting portrayal, but Ashton did not. The Met Report's Avery Anderson called Ashton "a Colorado theatre legend who keeps the laughs rolling, even at the toughest times."
(Story continues below the photo.)

John Ashton with the cast of 'The Nance' at the Edge Theatre. RDG Photography.
Sherrill said Ashton is "both a blast to watch and to be on stage with. He gives and he plays — and he plays a lot — but is always a professional."
That's about how Darcy Kennedy described partnering with Ashton in Vintage Theatre's Herculean undertaking of Tracy Letts' Pulitzer Prize-winning beast August: Osage County. This feral story of a fractured Oklahoma family that has gathered after the disappearance of its patriarch is filled with strong female characters who could easily swallow all of the men whole. But Ashton's performance was again impossible to ignore.
Ashton was perfectly cast as Charlie Aiken, a simple, quiet man who is fully in love with a woman who is very hard to fully love.
"Oh, he's a card backstage," said Kennedy, who played Mattie Fae. "But it was a true pleasure to perform with him. He was very much a giver, and if you ever needed something from him for the sake of your own performance, he would be more than willing to work with you. For example, Mattie Fae says some really rotten things to Charlie, and at one point I told John I really needed him to get more pissed off at me for the scene to work — and we worked our way up to that together."
(Pictured above: John Ashton and Darcy Kennedy in Vintage Theatre's 'August: Osage County.' RDG Photography.)
That moment comes when Charlie admonishes his wife for continually tearing down their son. Ashton nailed the killer line not by going large, but by going real: "We've been married 38 years and I wouldn't trade it for anything," he says to his wife. "But if you can't find a generous place in your heart for your own son, we're not gonna make it to 39." It was a poignant display of both heart and backbone. Two things, Director Bernie Cardell says, that capture Ashton's biggest strengths as an actor: Tenderness and strength.
Ashton has been such a fixture in the Colorado theatre community for the past quarter-century that surely many are unaware of the adventurous pre-theatre life that preceded it.
A quick recap: Ashton grew up in St. Louis and was sent to Colorado during the Vietnam War after filing for conscientious-objector status. Ashton was assigned to work with Monsignor Charles Woodrich, more popularly known as Father Woody — Denver's patron saint of the poor. Ashton still works for people in need as an external affairs officer for FEMA, responding on-site to occasional disasters around the country.
"John truly is one of the most interesting people I have ever met," said Boes. "Not only did he work in the newspaper business, he had a radio talk show and he wrote a bunch of murder mysteries, and he was in a bunch of movies — and he was in Breaking Bad."
After his rather, ahem, colorful journalism career, Ashton reinvented himself as a theatre producer, director and performer. He bought operational control of the Avenue Theater from Bob Wells and ran the vagabond boutique theatre from 1990-2005, including overseeing its move down 17th Avenue from Vine Street to Logan in 2003. Ashton has continued to have a place in the running of The Avenue ever since, but it's probably no coincidence that when he shifted his full focus to acting last December, he went on to perhaps the best year of his acting life.
Oh, and Ashton notched one other thrilling little achievement in 2017: He landed a role in the Netflix film Our Souls at Night, an adaptation of the beloved late Colorado novelist Kent Haruf's final book. Ashton had two scenes with, ho-hum … Robert Redford.
(Ashton is pictured at far right with veteran DCPA actor Randy Moore on the set of 'Our Souls at Night.' Photo courtesy of Ashton.)
Ashton has managed to stay relevant in the Colorado theatre community, Boes said, because he's never stopped being curious or giving. He's always in demand as a voice of Colorado's theatre history, recently having hosted memorial celebrations for towering figures such as Henry Lowenstein and Terry Dodd. He's also always up for
having fun at his own expense, appearing regularly at the Denver Actors Fund's annual Miscast fundraiser — most recently as an aging Little Orphan Annie and as Grizabella from Cats (not in the same year).His first gig in 2018 will be directing the regional premiere of the musical Bullets Over Broadway for Vintage, opening April 13.
"John is a pioneer of the Denver theatre scene, and I love his crazy stories of the good old days," Sherrill said. "And yet he's constantly thinking about what Denver needs next."
Sherrill admires Ashton no matter what hat he's wearing. "He's smart when it comes to producing because he always gives the audience what it wants," he said. "That may be nothing more than a simple slamming-door comedy — which really isn't that simple — but he will work his hardest to make sure that comedy is a quality experience for his audience. As a director, he's able to streamline and simplify things, without taking anything away. And as a person, he is one of the most kind and endearing people I've ever met."
All of which helps to make him a better actor.
"John is all heart, and that is what he brings to the stage," Cardell said. "You love watching him — and, while you do, you fall in love with him."

John Moore was named one of the 12 most influential theater critics in the U.S. by American Theatre Magazine in 2011. He has since taken a groundbreaking position as the Denver Center's Senior Arts Journalist.


Video bonus: A video review of The Edge Theatre's The Nance:
Video by The Met Report's Avery Anderson.


John Ashton: 2017

Directed A View from the Bridge for The Edge Theatre*
Played Efram in The Edge Theatre's The Nance
Played Charlie Aiken in Vintage Theatre's August: Osage County
Appeared in five plays for Benchmark Theatre's Fever Dream Festival
Played Rudy in Netflix's Our Souls at Night, with Robert Redford and Jane Fonda
*This production was staged in December 2016. The True West Awards consideration period runs from December through November of each calendar year.
About The True West Awards: '30 Days, 30 Bouquets'
The True West Awards, now in their 17th year, began as the Denver Post Ovation Awards in 2001. DCPA Senior Arts Journalist John Moore — along with additional voices from around the state — celebrate the entire local theatre community by recognizing 30 achievements from 2017 over 30 days, without categories or nominations. Moore's daily coverage of the DCPA and the Colorado theatre community can be found at MyDenverCenter.Org



A look back at the history of the True West Awards

The 2017 True West Awards
https://www.denvercenter.org/wp-content/uploads/2018/04/featured-image-5507.jpg
618
800
John Moore
John Moore
2017-12-24 10:13:00
2018-06-14 14:08:00
2017 True West Award: John Ashton