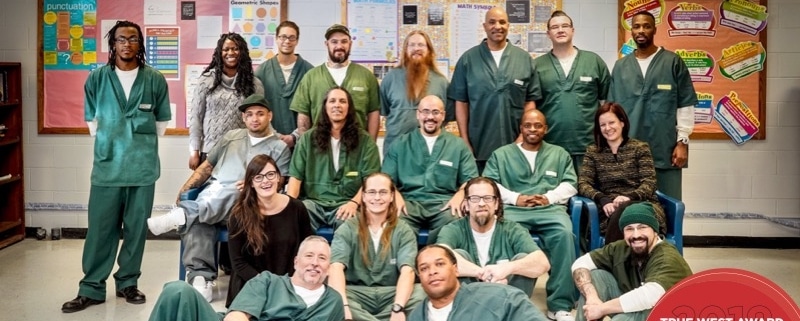 2019 True West Award: DU Prison Arts Initiative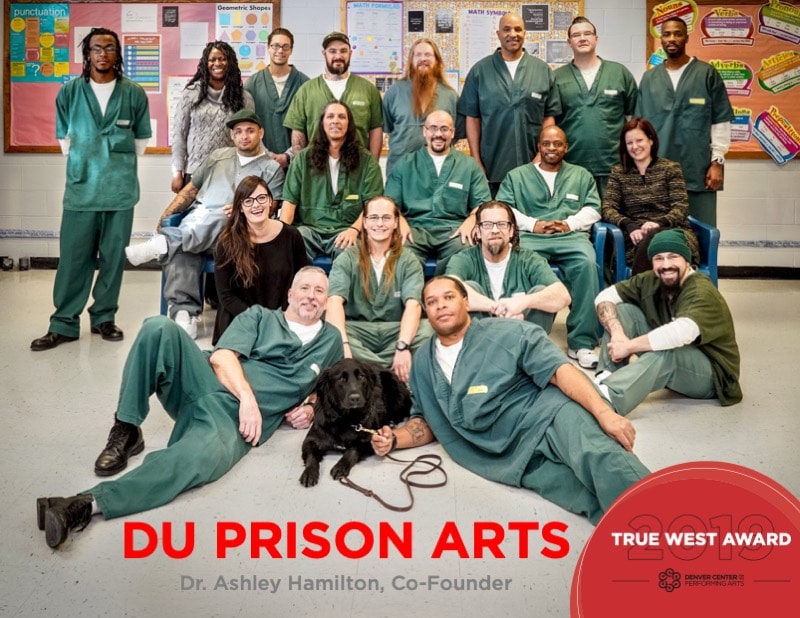 Day 3: Finding freedom and purpose in the power of making theatre
Theatre has been taking place in American prisons since at least the 1950s, but there has never before been a program like the University of Denver Prison Arts Initiative, which was launched three years ago to give Colorado prisoners both a project and a purpose through the empowering potential of creating art.
2019 has been a historic year of rapid growth and recognition for both the program and its founder, DU Professor Dr. Ashley Lauren Hamilton.
Her production of One Flew Over the Cuckoo's Nest, performed, designed and produced by inmates at the Sterling Correctional Facility, made history as the first prison play in the country ever to tour when it was packed onto a bus and brought to two other state prisons. For some of Hamilton's cast and crew, it was their first time off the grounds since the prison opened in 1999. The production captured the attention of media outlets from Colorado Public Radio to The Denver Post to an essay and photo spread in The New York Times. Hamilton also launched a groundbreaking new podcast called "With(in)," a series of revealing conversations with people in and around the prison system.
At the start of 2019, the DU Prison Arts Program was operating in two of Colorado's 18 state prisons. In September, the University of Denver signed a history-making, $2 million contract with the Colorado Department of Corrections to bring its curriculum to 10 prisons by the end of 2020. The deal, which allowed Hamilton to promote Cuckoo's Nest co-creator and  longtime Colorado theatre practitioner Julie Rada to full-time Program Manager, makes DU Prison Arts the first arts program ever to be included in the Colorado Department of Corrections budget, and just the second in the country behind California.
But what separates DU Prison Arts from previous initiatives is how fully it incorporates the community into its programming. Members of the public were allowed to attend One Flew Over the Cuckoo's Nest in Sterling sitting alongside inmates and corrections officers. There was a talkback and an opportunity to mingle with the prisoners afterward.
"Thank you for seeing us. Thank you for seeing us as human," Terry W. Mosley Jr., who played Martini (Danny DeVito's role in the film) told the audience. Mosely, a convicted drug-trafficker, called the experience life-changing. "In prison, you have no expectations," he said. "You are set up for loss and disappointment. This, on the other hand, was rehabilitative, it was therapeutic and it was transformative."
Next: An all-female A Christmas Carol
Hamilton has somehow made theatre by a Hamilton but not called Hamilton the toughest ticket in Colorado theatre. She's about to present precedent-setting, sold-out performances of an all-female A Christmas Carol both at the Colorado Women's Correctional Facility, where Director Clare Hammoor's 40 performers are incarcerated (December 6-7); and at the University of Denver's Newman Center, where all 1,000 available seats sold out in just four days (December 12-13).
"What has happened this year is bigger and more magical and more meaningful than anything I could have ever dreamed was possible," Hamilton told the DCPA NewsCenter. "We have accomplished only what can happen when perfect timing meets preparation and really hard work."
The larger story here is that the Colorado Department of Corrections has fully embraced the radical notion of prison normalization at all its facilities. That's the humanistic belief that for those prisoners who will walk free again one day, the best way to give them a fighting chance at successfully acclimating to civilian life and avoiding recidivism is to first create a rehabilitative environment in jail that includes responsibility, commitment and some independence. And for those who will never leave prison, the arts are still considered a powerful opportunity for inmates to make positive changes in their lives and improve their sense of self by giving them both a demonstrable group goal and an opportunity to see it through.
Read our full report on One Flew Over the Cuckoo's Nest in Sterling
And Hamilton is the engine for all of it. She estimates she put 35,000 miles on her car in 2019 – more than 1 1/2 times the circumference of the Earth. Her 2020 plans include staging Antigone at the Limon Correctional Facility; an original, interview-based play about prison life at Sterling Correctional Facility; and her first-ever full-on rock musical at the Fremont Correctional Facility.
But first, she could not imagine a better next project than having incarcerated women present A Christmas Carol, the ultimate story of redemption and spiritual transformation. While most of these women from the Colorado Women's Correctional Facility have never created theatre before, "they have jumped into this project with joyful enthusiasm," she said.
Hamilton understands some victims and their families are troubled by arts programs that make prison life more tolerable and fulfilling for murderers and other violent criminals. To her, it all comes down to one large and difficult moral question: "Do you think people who commit terrible crimes should have the opportunity to change, or do you think they should just be punished for the rest of their lives until they die?" she said. "I think this is a pivotal moment in time that we are going to look back on in 30 years and say this is when prison life in America started to change."
"I feel like it's OK if I live my whole life in here now. Because now I'm free." – Prisoner Terry W. Mosley Jr.
About The True West Awards: '30 Days, 30 Bouquets'
The True West Awards, now in their 19th year, began as the Denver Post Ovation Awards in 2001. DCPA Senior Arts Journalist John Moore — along with additional voices from around the state — celebrate the entire local theatre community by recognizing 30 achievements from 2019 over 30 days, without categories or nominations. Moore was named one of the 12 most influential theater critics in the U.S. by American Theatre magazine in 2011. His daily coverage of the DCPA and the Colorado theatre community can be found at MyDenverCenter.Org
https://www.denvercenter.org/wp-content/uploads/2019/11/Day-4-DU-Prison-Arts-featured.jpg
425
800
John Moore
John Moore
2019-11-30 13:23:10
2019-12-30 01:27:28
2019 True West Award: DU Prison Arts Initiative