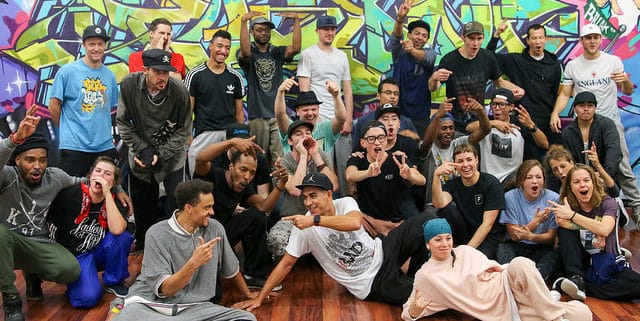 Breakin' Convention workshop spreads message of hip-hop and hope
To see more photos, hover your cursor over the image above and click the forward arrow that appears. All photos by John Moore for the DCPA NewsCenter
Breakin' Convention's French hip-hop stars work up a sweat with local breakers at Denver's Bboy Factory
By John Moore
Senior Arts Journalist
The aptly named French hip-hop star Salah stood before two dozen breathless breakdancers on Wednesday night practicing what he preaches: Joy. Taking just a one-minute break from an aerobic 90-minute workout worthy of a gleeful boot camp, Salah smiled widely through his sweat.
The featured performer at this weekend's Breakin' Convention international festival of hip-hop dance theatre at the Buell Theatre told the assembled dancers of widely varying ages, genders and skin colors that, yes, technique and precision are just as important in hip-hop dancing as they are in Broadway or ballet. But hip-hop not only allows for a dancer's individuality to make itself known, he said — it demands it.
"You know what makes you a memorable dancer is having fun moments while you are also showing your abilities," he told the dancers who flocked to Denver's Bboy Factory dance studio in Globeville for a first hand-look at the longtime French star of Moroccan and Algerian descent whose last U.S. appearance was eight years ago. His name means "Muslim prayer," but not just any prayer — Salah refers to a physical, mental and spiritual act of worship. Not unlike his dancing.
"I am an Arab man," said Salah, who won the fourth season of a hit TV show in France literally called Arabs Got Talent. He says letting his infectious joy for dance shine through has helped him to eradicate preconceived ideas some people might have about Muslims.
(Story continues below the photo)
That point hit home with workshop dancer Lisa Engelken, who has been studying Saleh's dancing for many years. "Now I get it," she said. "He's goofy. And he's really being himself when he dances. From now on, when I watch him dance, I'll know exactly why he dances like that."
Though Engelken proudly rocked her "Ladies of Hip-Hop" T-Shirt, she grew up taking classes at Denver's internationally renowned Cleo Parker Robinson Dance, where she now teaches. And while relatively new to what she calls the world of street dance, she's part of two crews that will be featured this weekend at Breakin' Convention, the world's biggest annual festival of hip-hop dance theatre.
She's appearing with Nasty Kidz at Saturday's 303 Jam — a full afternoon of free performances and activities in and around the Buell Theatre featuring live DJs, workshops and demonstrations. Then on Sunday, Engelken will take to the Buell Theatre mainstage with Malika — three women whose like-minded intention "is to bring good energy to the masses."
Salah's workput was followed by another 90-minute aerobic whirlwind led by Bee D, co-founder of France's multidisciplinary dance group Yeah Yellow, another Breakin' Convention headliner along with Protocol (U.K.), Soweto Skeleton Movers (South Africa) and Popin' Pete (U.S). In all, five members of Yeah Yellow burned through Bee D's workout, right alongside Bboy Factory's breakers in training.
Click here for more coverage of the Colorado theatre community

Teaching dance combinations to the students made Wednesday's calorie-incinerating master classes look not all that different from a Broadway rehearsal, with two key differences: The fashion — and the individuality. "The thing I really like about hip-hop is you can create your own moves," Bee D told his dancers. "It's not like classic dance. In hip-hop, it's very important that you NOT look like the person next to you. You have to be you."
Ian Flaws has hosted many of hip-hop's greatest icons since opening Bboy Factory in 2012 with a stated mission of preserving traditional hip-hop culture. He said other forms of dance, from Broadway to ballet to modern, could stand to take a cue from hip-hop, which is much less constricted in its rules. "Hip-hop allows for so much range of movement and expression and exploration and creativity," said Flaws, whose clientele ranges from children to adults, from beginners to high-level artists,who come from as far away as Boulder and Aurora.
He said Breakin' Convention is a unique opportunity for the larger metro population to get a taste of what hip-hop is all about — especially if for the first time.

"It will be a great introduction to hip-hop," said Flaws. "And when I say hip-hop, that usually brings an automatic assumption that we are only talking about rap music. Hip-hop is really a big, vibrant culture that includes dance, art, food and music. And this weekend, all of that is going to be represented on one of Denver's biggest stages. Hip-hop is a culture that comes from the street, and I think Breakin' Convention will be a beautiful introduction to everything that is positive in hip-hop culture."
Engelken first saw Breakin' Convention at the famed Apollo Theatre in Harlem, and she still can't quite believe Denver was chosen to be just the fifth North American city to host it. So she feels it is especially important for a wide swath of Denverites to come out and represent.
"I hope people just come out and experience the true spirit of hip-hop, which is childlike play and just having fun," she said. "I think Breakin' Convention will be a good tool to demystify some stereotypes. I think people will be happily surprised. Just come and try it out."
John Moore was named one of the 12 most influential theater critics in the U.S. by American Theatre Magazine in 2011. He has since taken a groundbreaking position as the Denver Center's Senior Arts Journalist.

Breakin' Convention

:

Ticket Information
• Nov. 4-5
• The Buell Theatre and surrounding areas
• Tickets: 303-893-4100 or BUY ONLINE
• Groups: Call 303-446-4829
• Special student performance at 11 a.m. Friday, Nov. 3
• Breakin' Convention officially kicks off with the free 303 Jam from 1-5 p.m. Saturday, Nov 4 at The Buell Theatre. Enjoy free activities and performances including live DJs, workshops, free demonstrations and performances by DJ Cavem, The Reminders and more. Free fun for the whole family.
Breakin' Convention: The international lineup
Previous NewsCenter coverage of Breakin' Convention:
Breakin' Convention to bring largest festival of hip-hop dance theatre to Denver
Breakin' Convention promises to bring authenticity, local artists to DCPA
Video: Our talk with the one and only Jonzi D of Breakin' Convention
Denver's DJ CaveM: Saving lives one healthy beat, and bite, at a time
Video: Denver Arts Week is off to a hip-hop start
https://www.denvercenter.org/wp-content/uploads/2018/04/featured-image-5629.jpg
429
640
John Moore
John Moore
2017-11-03 00:44:00
2018-06-14 15:46:09
Breakin' Convention workshop spreads message of hip-hop and hope