Denver Gay Men's Chorus Channels Its Inner Disney Characters at PRIDE Concert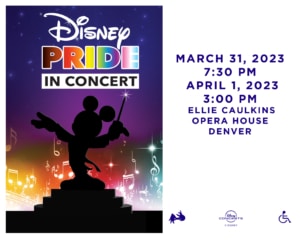 What do Disney's Frozen, Hercules, The Little Mermaid, The Hunchback of Notre Dame and others have in common?
These Disney stories tug on the strings of humanity, family, love, perseverance and acceptance from society – virtues every Denver Gay Men's Chorus (DGMC) member can relate to and share at their upcoming Disney PRIDE Concert at the Ellie Caulkins Opera House March 31 and April 1.
Artistic and managing director James Knapp described getting the greenlight for this event from Disney as a dream come true.
"We were able to have a really warm and extended dialogue with them about this possibility," Knapp explained. "Quite frankly, I'm not sure this would've happened if COVID hadn't had happened because [Disney was] just so busy all the time. During COVID obviously live performances, live music, amusement parks, Disney parks were all closed.
"I have to take my hat off to the Boston Gay Men's Chorus who really drove this entire project," he added. "[They] reached out to Disney with a proposal to work with them on the first two-hour choral concert from the beloved Disney catalog."
Disney Inc. allowed the DGMC to pick numerous songs from their extensive song and film archive. In a Colorado premiere, DGMC will be among the first choruses to present Disney PRIDE in Concert, which will feature a 25-piece orchestra, 120 DGMC singers, and clips from Disney movies projected on a big screen to enhance the experience. The performance lasts approximately two hours and includes 42 songs, including "Go the Distance" from Hercules, "God Help the Outcasts" from The Hunchback of Notre Dame, "Let it Go" from Frozen, "You've Got a Friend in Me" from Toy Story and more.
Knapp explained that some chorus members will share their personal "Disney stories" during the show to better appeal to LGBTQ+ members.
"It's an opportunity for singers in the chorus to share their personal experience," he said. "Whether that was a coming-out experience, whether that was a love affair that turned into a marriage, whether that is someone living with HIV. We also have a gentleman from Russia, and his experience of being gay in Russia, and then immigrating and marrying in America."
Some DGMC members, including Stephen A. Sbanotto MS, LPC, CSAT-S, gave kudos to Disney for opening their songbook to the LGBTQ+ community and allowing DGMC to serenade these songs live.
"Disney has been creating such powerful and imaginative music for decades," Sbanotto said. "So many generations, past and present, have been touched by not only the words, but the music behind the words in very powerful and meaningful ways.
"So many in and around our community of marginalized people are hurting and the world can seem, at times, like a very dark and lonely place," he added. "Hopefully my local family, friends, and loved ones can hear us and connect just a little more with us in a time of fun, respite from the world, and healing for their weary souls."
Dan England described how Disney not only touched him and his fellow chorus members, but how the movies and songs brought them closer together with their children.
"The year I came out of the closet, Mulan was released," he recalled. "So it was a telling of my story to learn to be myself. My daughter's first movie ever was The Hunchback of Notre Dame. She was three. She dressed up as Esmerelda for years at Halloween. Years later, she sang the "Reflection" solo for Mulan for another gay men's chorus I was singing in at the time. Full circle. All I can say is thank you, Disney."
First established in 1982, DGMC's mission statement is "building community through music." This motto helps the chorus reach out and build ties with the LGBTQ+ and other marginalized communities, including the homeless, Latino and Hispanics, and African Americans. Knapp also recalled how this choir reached outsiders.
"We had one audience member who attended one of our concerts, in an email, describe how they had already developed a plan of death by suicide the following day after he attended the DGMC concert," Knapp described. "He felt like he had no other choice [and] was exhausted from trying to cope and make life work.
"After experiencing the concert, he was given a renewed hope," he continued. "The power of the community, the unity of spirit on stage, and the messages of the songs helped him through. He is alive and well today."
Disney is one of the biggest media powerhouses in the world, from its streaming platform and theme parks to its ownership of The Simpsons, Marvel and Star Wars. It's virtually impossible to not know or relate to a Disney character in some shape or fashion.
"There aren't too many people that hate Disney," Knapp conveyed. "Many of the characters in these films and musicals often struggle to fit in and to accept themselves first and have the acceptance and love of others or they long for love. It seems really unattainable with same-sex people or non-gender individuals.
"Many of us have lost our family of origin and have had to create a new one like a lot of the Disney characters," he added. "But we persevere, and we find the joy in life."
DETAILS
Denver Gay Men's Chorus' Disney Pride In Concert
March 31-April 1, 2023 • Ellie Caulkins Opera House
Tickets
https://www.denvercenter.org/wp-content/uploads/2023/03/DGMC_DisneyPride2023_Materials_Website-ad-tile-copy.jpg
2500
3125
Khaleel Hayes
Khaleel Hayes
2023-03-08 10:09:34
2023-03-08 10:15:01
Denver Gay Men's Chorus Channels Its Inner Disney Characters at PRIDE Concert