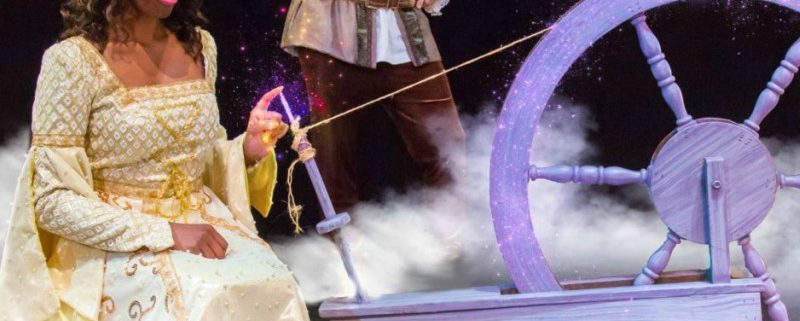 In the Spotlife: Ilasiea L. Gray of 'Sleeping Beauty'
DCPA Teaching Artist making most of rare opportunity to play a princess with color for the Denver Children's Theatre
MEET ILASIEA L. GRAY
DCPA Teaching Artist Ilasiea Gray is proudly playing an African-American Sleeping Beauty for the Denver Children's Theatre through May 4. She is also playing the title role in Curious Theatre's BLACK, which is available for performance in schools and for community organizations. Gray has directed more than 20 children's shows. She also works as a Casting Associate for Sylvia Gregory Casting. Gray is a graduate of Denver's Thomas Jefferson High School and the University of Colorado Denver with a BFA in Theatre, Film and Television, and a minor in political science.
Hometown: Denver — though we lived in California for a time when I was younger, and I became a die-hard Oakland Raiders fan!
Home now: Denver
Where does your first name come from? My mom's wonderful, creative, imagination
What's your web site? ilasiea.com
What does your job as a DCPA Teaching Artist encompass? Teaching students from pre-kindergarten through high school, both at the Denver Center and in schools.
What have you done for us lately? I played Bunny in Curious Theatre's recent production of Detroit '67.
Twitter-sized bio: An extroverted introvert, living the dream. Passionate about activism and social justice, children, education and the arts. Occasionally binge-watches reality T.V.
The role that changed your life: This is a tough one because my three most recent roles all have changed me: Bunny in Detroit '67 for Curious Theatre (photo at right by Michael Ensminger) because she was written for an actor like me — a black woman. She was an extension of myself, and a representation of women in my family. That experience was truly once-in-a-lifetime. Also playing Black in Curious Theatre's touring production of BLACK because she is also a strong black woman dealing with social justice as it relates to race, police brutality and understanding. This one is special because not only do I get to play this role, I then get to be a part of powerful post-show discussions in the schools. I am all about activism, and what a gift it is to be in the room, reaching hundreds of people who are confronted with the topic of race, and discussing how we can all be better. Then there is Sleeping Beauty. I am so passionate about children's theatre, and the smiles I see on these kids' faces – especially the smiles I see on little black kids' faces — is magic. Representation matters, and to my knowledge, this is history for Denver. I cannot tell you what it would have meant for me as a young girl to have seen a black lead character — especially a princess — in the live theatre. Someone I could hug and talk to afterward, as opposed to a movie. I am still taking it in!
Ideal scene partner: Tupac Shakur because he is one of my idols. He was so raw and unfiltered not only in his music, but also in all that he stood for. He had such presence in life and on screen via movies, interviews, videos and more. People who know his background know he went to the Baltimore School of the Arts and studied acting. He had a bright future in film, and I'm sure his take on current events would lead to such amazing conversations. Fun fact: I actually impersonated Tupac for a college assignment. It was so acclaimed that I was asked to present it as one of my senior exit performances for my BFA. Proud of that.
What's your bucket-list stage role? I honestly don't think it has been written yet. Kerry Washington ever thinking that Olivia Pope would be a role in her career? Not likely!
What are you listening to on Spotify right now? The Black Panther soundtrack.
What is Sleeping Beauty all about? Charles Way's adaptation tells the story of Briar Rose (also known as Sleeping Beauty), an independent, headstrong, in-your-face kind of princess and her best friend Gryff, a smart-aleck half-dragon. The play also includes two sister witches (one good, one evil) who are trying to out-spell each other. When Briar Rose pricks her finger and goes to sleep, Prince Owain and Gryff join forces on a funny, adventurous quest to save her, battling troublesome fairy-folk and a riddling Spider King along the way.
Tell us about both the challenge and the opportunity of playing Sleeping Beauty as a person of color? The opportunity is incredible. When I was asked to audition, I had no idea that I was even being considered for the title role. As an actor of color, you don't even think it's possible. I am so grateful for director Steve Wilson's vision and for him taking a chance. I found this role to be such a calling. This is making history. This is everything I represent. The challenge for me is being nervous about the possible backlash. Not all audiences are as progressive or accepting as they like to think. I have seen it time and time again, when white audiences and even fellow artists start to reveal their disapproval and disappointment in non-traditional casting, which devalues the progress and necessity of equal representation. I have already had one kid say that I don't look like the Sleeping Beauty from the animated film, and I expect to field many more of those comments. I am so happy to remind kids that princesses — and regular people — come in all shades, shapes and sizes, and can look many different ways. As an arts educator, it is an honor to be the vessel for these teachable moments by way of this production. The beauty of children is that they are impressionable yes, but also more adaptable in changing their world view. It is the steadfast adults I am worried about.
What do you hope audiences get out of seeing Sleeping Beauty? I hope they have such a great time and that their eyes are opened to unlimited possibilities. One of the themes in the play is living out one's dreams. I think we can all relate to that and be reminded that all things are possible, and that barriers are meant to be broken down.
Tell us about BLACK and what it is accomplishing at area schools? BLACK was written by Lamaria Aminah as a part of the 2016 Curious New Voices Summer Intensive. It was born of her desire to articulate a common problem in our country – we don't know how to talk about race. It takes place at a vigil after another black boy is killed by police, and a conversation evolves between two mothers – one white and one black. Touring BLACK with Anastasia Davidson has been a true highlight of my career. The play is a call to action that is always followed by a community discussion facilitated by our director, donnie l. betts. It evokes such thought-provoking conversations among people from different walks of life, and I am so grateful to be a part of it. We have performed for 2,000 students at George Washington High School, churches, libraries, at ThesCon and, just last month, for a group of lawyers and judges. The conversations afterward are so different but they are all so real, at times tough and always inspiring. I always leave humbled and hopeful. Word-of-mouth on this story has been so powerful, it has toured for two years now.
What's one thing we don't know about you? I am terrified of squirrels. I have had a couple of run-ins.
What do you want to get off your chest? I think it is so important to allow people to walk in their truth and be themselves. I always like to say, "Do you and allow others to do the same" — whether that be, race, gender, religion, sexual orientation or quirky personality traits. If people spent half as much time reflecting and making sure they are being their best selves, there wouldn't be room for so much judgment and misunderstanding of others. Let people live.
 Sleeping Beauty: Ticket information
• Written by Charles Perrault and adapted by Charles Way
• Directed by Steve Wilson
• Through May 4
• Public performances 1 p.m. Sundays
• Elaine Wolf Theatre at the Mizel Arts and Culture Center, 350 S. Dahlia St.
• Tickets $10 for students and seniors, $12 for adults
• Call 303-316-6360 or go to maccjcc.org


More 2017-18 'In the Spotlife' profiles:

• Meet Candy Brown of Love Letters
• Meet Christy Brandt of Creede Rep's Arsenic and Old Lace
• Meet Deb Persoff of Vintage Theatre's August: Osage County
• Meet Monica Joyce Thompson of Inspire Creative's South Pacific
• Meet Hugo Jon Sayles of I Don't Speak English Only
• Meet Marialuisa Burgos of I Don't Speak English Only
https://www.denvercenter.org/wp-content/uploads/2018/04/featured-image-5777.jpg
691
800
John Moore
John Moore
2018-03-29 17:15:00
2018-12-12 17:01:03
In the Spotlife: Ilasiea L. Gray of 'Sleeping Beauty'