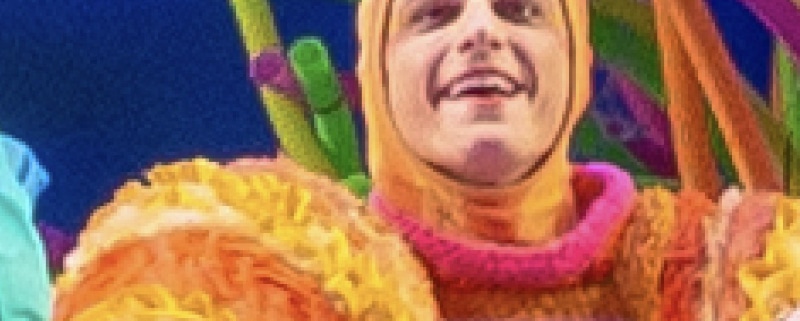 Just one word to describe how Columbine grad feels: Electric

Who would have thought a passion for skateboarding would help Littleton native Joshua Bess get hired onto not one but two stage productions? First cast in Righteous: The Skateboard Play, Bess is now coming home to perform in The SpongeBob Musical, playing at the Buell Theatre from March 10 through 22. Audiences can watch him sing, dance, act and skateboard all at once as one of the Electric Skates – one of the show's three skateboarding rock stars.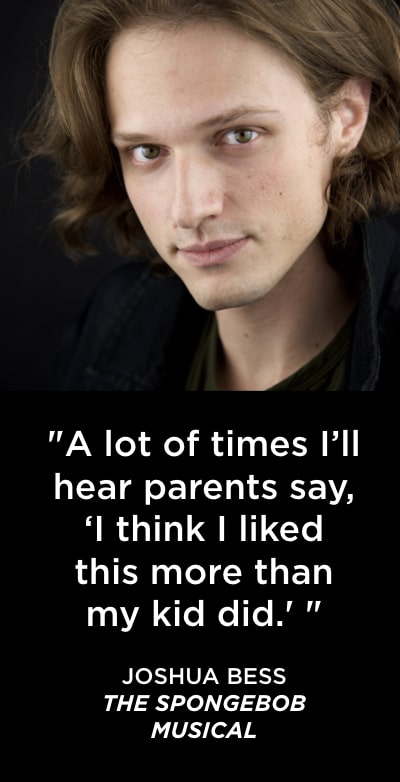 As a theatre geek growing up, Bess saw many shows at the Denver Center. "I used to go every year – like, multiple times a year," he said, his favorite probably being Wicked. "I would go down to the city all the time, and I'm so excited to show the rest of the cast just how beautiful Denver is."
During his teenage years, Bess appeared in many productions with a variety of local theatre companies. "I did probably seven-plus shows with the Performance Now Theatre Company. I also worked at the Town Hall Arts Center in Littleton, Vintage Theatre, and The Colorado Springs Fine Arts Center," said Bess, who attended a charter school called Collegiate Academy of Colorado in Jefferson County and later graduated from Columbine High School.
Bess often worked with local director and choreographer Kelly Van Oosbree, who says Bess' talent and hard work were evident from a young age. "I first met Josh when he auditioned for me in 2012 for a production of Footloose that I was directing and choreographing for Performance Now," Oosbree said. "Josh was still in high school at the time. I remember his audition vividly. He sang 'What You Own' from RENT." Van Oosbree cast Bess in the lead role of bad boy Ren McCormack. (Reviewer Bill Wheeler called him "magnetic"). Ironically, Bess would play Roger in the RENT 20th Anniversary Tour six years later, and Van Oosbree was thrilled to see him in it. In fact, Bess was playing Roger in the RENT 20th anniversary tour when he was hired to join The SpongeBob Musical. Further irony: The RENT tour is visiting Denver from February 28 through March 1, just before The SpongeBob Musical arrives.

He says both shows have been challenging and rewarding in their own ways. "RENT has been around for so many years and has such a following behind it, so that came with its own sort of pressures," he said. "With this show, it's such a high-energy, fast-paced, crazy, wonderful ride."
Van Oosbree was not surprised to see a young Bess go on to become a successful professional actor. "The first rehearsal that I gave blocking to Josh for our production of Footloose, he did not write anything down. That made me raise my eyebrows. I thought it was pretty audacious of him. Well, he did not need to write anything down. He is one of the actors who just gets it. And over the course of four more years of productions with him, I don't think I ever saw him with a script in hand, because he always came into the first rehearsal prepared."
As an Electric Skate in The SpongeBob Musical, Bess gets to combine his love for acting and skateboarding, both longtime passions. "When I started skateboarding, I was maybe 7 years old, and that's also when I started community theatre," he said.
This isn't his first acting role that has allowed him to skateboard on stage, however. In 2017, Bess appeared in Kyle Matthew Hamilton's Righteous: The Skateboard Play. Hamilton was the original skateboard consultant for The SpongeBob Musical and landed the role of one of the Electric Skates on Broadway.
When Bess saw the show on Broadway, he got to go backstage and was amazed by the sets and costumes. His connection with Hamilton led to Bess auditioning for and getting cast in The SpongeBob Musical touring production. "When they were seeking actors for this company, I was one of the first people (Hamilton) reached out to, and it just seemed like the perfect timing for me."
As an ensemble member, Bess has 19 character changes throughout The SpongeBob Musical. His favorite, aside from his Electric Skate character, is the main sea creature he plays, Goldie. "I love being in that character. It's so different from anything I've been able to play, and I got to learn how to walk on stilts, which is so cool."
Bess notes that the musical, though based on the popular "SpongeBob SquarePants" children's animated series, is enjoyable for all ages. "Adults come to the show and are surprised to see that it's a full-fledged Broadway musical with all these reimagined "SpongeBob" characters that we all know and love," he said. "A lot of times I'll hear parents say, 'I think I liked this more than my kid did.' So, it's one of those things that catches people by surprise, and that is always so great to hear, because that's why we do it. It's for everybody, not just for kids."
Cayl Jameson is an English major at Wartburg College in Waverly, Iowa, who is currently doing a marketing internship with the DCPA as part of the Wartburg West program. A longtime theatre geek and creative writer, she is excited to share her ideas with our readers.
Joshua Bess/At a glance:
Grew up in Littleton
Attended the Collegiate Academy of Colorado; graduated from Columbine High school in 2012
Favorite local roles have included Gabe in Town Hall Arts Center's Next to Normal (2015); and, for Performance Now: Link Larkin in Hairspray (2014), Young Joe Hardy in Damn Yankees (2014) and Ren

McCormack

in Footloose (2012)
Fun facts about Joshua Bess:
He named his Electric Skate character "Axel Gills"
Of his castmates in The SpongeBob Musical, he's closest with fellow Electric Skate Miles Davis Tillman, who he met during the audition and is now his roommate on the road
He is a romantic at heart and a big fan of rom-coms
In January, he got engaged to former RENT cast member Alex Lugo, who was an ensemble member in the show as well as an understudy for Mimi.
Castmate Zach Kononov, who plays Mr. Krabs, is a graduate of Cherry Creek High School

The SpongeBob Musical: Ticket information
At a glance: A legendary roster of Grammy® Award winners. A visionary director and a Tony Award®-winning design team. One of the world's most beloved characters. Turn them loose on stage and what do you get? Broadway's best creative minds reimagine and bring to life the beloved Nickelodeon series with humor, heart and pure theatricality. SpongeBob and all of Bikini Bottom face catastrophe until a most unexpected hero rises to take center stage. The bold, original musical celebrates friendship, cooperation, and the power of unity and inclusion. The power of optimism really can save the world.
Dates: March 10-22
Where: Buell Theatre
Tickets: Start at $30 and can be purchased at 303-893-4100 or in person in the Helen Bonfils Theatre Complex at 14th and Curtis streets or online by clicking here:
https://www.denvercenter.org/wp-content/uploads/2020/02/Joshua-Bess-in-The-SpongeBob-Musical.-Photo-by-Jeremy-Daniel.jpg
932
800
Cayl Jameson
Cayl Jameson
2020-02-28 10:24:50
2020-03-06 10:19:39
Joshua Bess is skating back to hometown with 'The SpongeBob Musical'