Denver's Zach Kononov taking heart from the message of his show as he adjusts from dream job to pressing pause
The abbreviated national touring production of The SpongeBob Musical gave Denver native Zach Kononov the opportunity to scratch two lifelong dreams off his bucket list. The first came in November, when the Cherry Creek High School grad sang the National Anthem before more than 75,000 at the Denver Broncos' game against the Cleveland Browns at Mile High Stadium. The second came on March 10, when he performed for the first time on his hometown Buell Theatre stage.
"That was a crazy, full-circle moment," Kononov said of his moment at the 50-yard line. "I am a fourth-generation native, and my family loves the Broncos. So to be able to go home and sing the anthem was unreal and it was amazing and a little scary – but mostly amazing."
But actually getting the words out, he said, was easier said than sung.
"In the moment, it felt like I had never sung anything in my entire life," he joked. "But somewhere back there in me was my training for this moment, and my body knew what it was supposed to do."
Kononov was joyfully touring the country playing Mr. Krabs, the deliciously crabby crustacean in the Broadway touring production of The SpongeBob Musical, when the show skateboarded into Denver last month. Outside the stage door on opening night, he was greeted by a friend he hadn't seen since middle school.
"That was the best," he said of performing on the Buell stage. "It was everything I thought it going to be – even if it was short-lived."
It was short-lived, of course, because just three days after the show's scheduled two-week run opened in Denver, the mayor ordered the closure of all city buildings in response to the growing COVID-19 pandemic. Kononov was sad but not surprised given that, back in New York, all Broadway theatres had shut down the day before. "We knew then it was just a matter of time," he said, "and it obviously turned out to be the right decision."
The bigger blow
The bummer for Kononov – the big, BIG bummer – is that his parents had tickets to see the show during its second week in Denver. An even bigger bummer happened a week later, when the cast learned on a Zoom call that the final five months of the tour would be canceled. Kononov went from the Rocky Mountain high of performing in his hometown to losing his job and moving into his parents' basement in Centennial, where he will ride this whole thing out for the foreseeable future. But he fully appreciates that his disappointment is nothing compared to the real human cost COVID-19 is leaving in its deadly wake.
"The way I am looking at it, this is the first extended period of time I have had at home to spend with my family since high school," Kononov said. "I may never get this opportunity again, and I am grateful for that."
And nothing can ever take away from the thrill of finally being part of the storied history of the Buell Theatre he grew up in and around.
"I have been going to shows at the Buell for as long as I can remember," he said. "I was that kid in high school who took the light rail downtown. I would wait at the stage door with my friends from choir and we'd talk to people. I remember loving Avenue Q and In The Heights. And when Spring Awakening was here, I saw it four times in a two-week span.
"That show changed my life because I was seeing me up on that stage for the first time. To be 15 and see 15-year-old characters on stage expressing their angst and their feelings made me think, 'That's something I have to do for the rest of my life.' "
Roots in the Colorado Children's Chorale
Kononov began his performing life singing with the Colorado Children's Chorale from third through eighth grades. Since 1974, the Children's Chorale has performed everything from fully staged operas to choral compositions throughout the world, drawing its 400-member ensemble from students representing more than 180 Denver metro schools. Alumni include Broadway star Sierra Boggess, Tony Award winner Gabriel Ebert and film veteran Don Cheadle. A young Kononov traveled to France and Spain with the group.
"As a kid who loved theatre and performing, that was probably the most influential thing I could have done because there's such an emphasis on professionalism and instilling empathy in you both as a performer and a human being," he said.
"My time with the Chorale was magical, and I don't think I truly understood how much of a long-term effect it had on me until I started getting professional jobs as an adult and thinking, 'Wow, this is something I learned back when I was in fifth grade.' I mean, it's unparalleled. It really is."
Kononov also credits his time at Cherry Creek High School for giving him a head start on his professional career.
Kononov on how The SpongeBob Musical got such a rocking score
"I am so lucky to have grown up where the arts are accessible and readily available," he said. "From the fifth grade on, I was doing at least one musical every year. And if I didn't have that then, there's no way I would be doing this now – because I was able to discover just how much I love doing this at such an early age.
"Cherry Creek High School is a huge school that has boundless resources. They have five or six choirs you can be in. They produce a mainstage musical and two plays every year, as well as smaller plays in a black-box theater. When I was in high school, I was in the equivalent of what college is for a lot of other people. And the teachers there are phenomenal."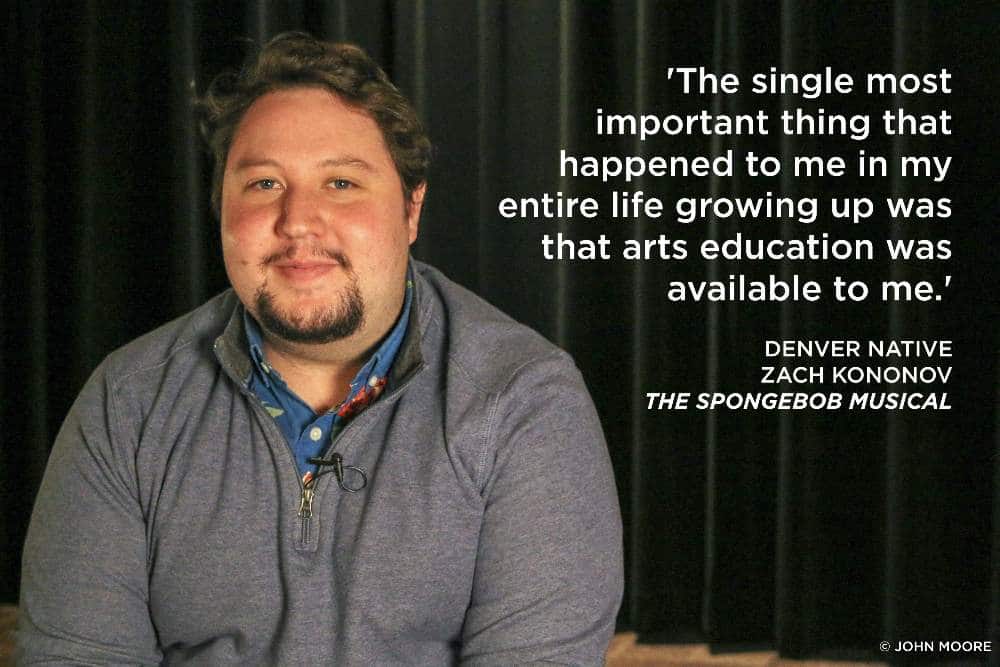 One of those teachers was the legendary Jennifer Condreay. Yet another was Mark Devine, who recently appeared in the Arvada Center's MAMMA MIA! and Elf The Musical. Devine was an original cast member in the Denver Center's I Love You, You're Perfect, Now Change, still the longest-running production in Colorado theatre history. But he's best known around town these days as the long-haired lead singer of Mr. Majestyk's 8-Track Revival.
"The single most important thing that happened to me in my entire life growing up was that arts education was available to me," Kononov said. "But even if I hadn't gone into the arts as a profession, I would still say it's just so important to have in the schools because it instills empathy, and it teaches you about caring and working together. Regardless of your profession, you need to learn to work with people and care about people. I think that's what theatre does."
"There is so much doom and gloom in the world right now, and The SpongeBob Musical was a balm for all of that because it scattered joy and love and celebration." – Zach Kononov
And that's what The SpongeBob Musical preached – and practiced. In the story, a volcanic apocalypse comes to Bikini Bottom, and it's up to SpongeBob and his pal Sandy – a starfish and a squirrel – to save the day. The intersection of the story's all-or-nothing fictional stakes with the growing outside reality of the COVID-19 threat made performing the show those final three days in Denver nothing less than surreal, he said.
"On our end, we were hearing an urgency in our lines that had never stuck out before," said Kononov, who played the opportunistic owner of the Krusty Krab restaurant, a crab determined to profit off the impending end of the world. "In the show when Sandy tells SpongeBob, 'What are you doing outside of your pineapple when everyone is supposed to be inside?' it took on a whole different meaning, and the audience reacted accordingly."
As he now licks his employment wounds and mourns the end of the best job of his life, Kononov can't help but take comfort from the message of his own show, which professed acceptance and love and welcoming in the outsider.
"There is so much cynicism and doom and gloom and scorched-Earth feelings happening in the world right now," he said. "And The SpongeBob Musical was a balm for all of that because it scattered joy and love and celebration."
John Moore was named one of the 12 most influential theatre critics in the U.S. by American Theatre Magazine. He has since taken a groundbreaking position as the Denver Center's Senior Arts Journalist.
How you can still watch The SpongeBob Musical
Members of the original Broadway cast of The SpongeBob Musical, including Ethan Slater as SpongeBob, Danny Skinner as Patrick, Gavin Lee as Squidward and Wesley Taylor as Sheldon Plankton DCPA in Cabaret's An Act of God) reunited for a 2019 live re-staging on Nickelodeon. But if you missed the live broadcast, you can still watch it on Amazon or Google Play.
https://www.denvercenter.org/wp-content/uploads/2020/03/Zach-Kononov.jpg
667
1000
John Moore, Senior Arts Journalist
John Moore, Senior Arts Journalist
2020-04-03 09:40:20
2020-04-06 20:35:02
Mr. Krabs' boundless optimism was born of his arts education in Colorado