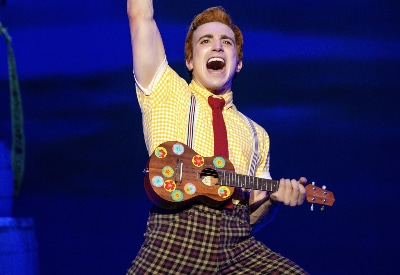 How 'The SpongeBob Musical' ended up with such a rocking score
Video above: Denver native Zach Kononov, a graduate of Cherry Creek High School, plays Mr. Krabs in The SpongeBob Musical.'
From Lauper to (The Flaming) Lips: All original songs by some of the most popular artists in music history
"SpongeBob SquarePants" is one of the most successful animated series in TV history, but one of the many reasons The SpongeBob Musical continues to broaden its generational appeal on Broadway is its unprecedented rock score, which is made up of original songs by some of the most popular artists in music history.
The roster includes Cyndi Lauper, Aerosmith, The Flaming Lips, Sara Bareilles, Lady Antebellum, John Legend, Panic! at the Disco, Alexander Ebert of Edward Sharpe & The Magnetic Zeros and even the late legend David Bowie — acts that have combined to sell more than 400 million records. If that were the lineup for some hipster concert festival, let's just say it would certainly be a Bikini Bottom Day for South By Southwest or Coachella.
But theatre? … Theatre? Broadway musicals just aren't put together this way. And yet Chris Jones of the Chicago Tribune opined that The SpongeBob Musical's big gamble "works quite beautifully."
All of the musicians got a brief on where their song would fit in the story, so they weren't writing random SpongeBob songs. They were then unified by orchestrator Tom Kitt, whose Broadway credits range from Next to Normal to Green Day's American Idiot. His driving principal was that "first and foremost, you have to retain the identity of the artists," he said. "It has to be recognizable as their work."
When word got out that counterculture icon Wayne Coyne of The Flaming Lips was on board, Kitt said, "It seems like every artist we reached out to wanted to be a part of this." All of the songs are original except for "Best Day Ever," which comes from the TV show, and a modified version of "No Control," released by Bowie in 1996.
David Bowie's acting career began with record-breaking week in Denver
The storyline for The SpongeBob Musical stands alone, so audiences need no previous knowledge of the animated series or its characters to follow along. A volcanic apocalypse has come to Bikini Bottom, the title character's home under the sea, and SpongeBob and his pals (a starfish and a squirrel) must save the day.
One of the central characters is Mr. Krabs, played by Denver native Zach Kononov, a graduate of Cherry Creek High School and former singer with the Colorado Children's Chorale. Krabs is SpongeBob's employer, a crabby Krab who sees the impending disaster as a money-making opportunity.
"In a normal musical, you have one book writer and one composer and one lyricist, so all the music is very similar," Kononov said. "What's amazing here is that you're getting all of these different styles, and Tom Kitt has unified them so that they all fit perfectly within the world of the show. There's something in it for everyone."
Kononov says everyone should see The SpongeBob Musical "because it's a show about community and acceptance and love and welcoming in the outsider, which is a message everyone should hear. There is so much cynicism and doom and gloom in the world, and this musical is a balm for all of that. It scatters joy and celebration and endless optimism. Our director, Tina Landau, describes it as a rock concert, a party and a carnival."
We asked Kononov to introduce the score to readers by highlighting six songs:
"No Control"
By David Bowie and Brian Eno
"This is a super-cool song that sets up what's happening in the show. It exemplifies and personifies the chaos that's going on in Bikini Bottom. This is right after we find out that Mount Humongous is erupting, we have no control — and everything is kind of falling apart."
"Just a Simple Sponge"
Written by Panic! at the Disco
"Brandon Urie of Panic! at the Disco has created what I call SpongeBob's 'I Want' song. Mr. Krabs belittles SpongeBob by saying, 'You're just a fry cook!' but SpongeBob wants to be so much more. This song is super-high, it sounds just like a Panic! at the Disco song, and it's one of my favorites in the whole show."
"Tomorrow Is"
Written by Wayne Coyne of The Flaming Lips
"This is a driving rock song about taking in the moment and knowing that we only have tomorrow. It's about living in the moment."
"Poor Pirates"
Written by Sara Bareilles, Tony Award nominee for writing Waitress
"This song is so very different from Waitress. We have a character named Patchy who is SpongeBob's No. 1 fan, and he's trying to meet SpongeBob all through the show. At the start of Act 2, he and his band of pirates come on stage and sing this very silly song about being pirates."
"Bikini Bottom Boogie"
Written by Steven Tyler and Joe Perry of Aerosmith
"This is a perfect song for Aerosmith to contribute to the score because in the story, it's sung by a rock group called The Electric Skates, who ride into town on their skateboards and just blow the roof off Bikini Bottom. The song is about rocking out as hard as you can, which lends itself perfectly to Aerosmith."
"I Guess I Miss You"
Written by John Legend
"This is a really beautiful song about the friendship between SpongeBob and Patrick, a pink starfish who wears flowered swim trunks often unknowingly encourages activities that get the two into trouble. There's a portion of the show where they get into a fight and they're separated from each other, and in this song they express their love for each other in a very John Legend-y kind of a way. Which is to say it's very sincere."
John Moore was named one of the 12 most influential theatre critics in the U.S. by American Theatre Magazine. He has since taken a groundbreaking position as the Denver Center's Senior Arts Journalist.
The SpongeBob Musical: Ticket information
At a glance: A legendary roster of Grammy® Award winners. A visionary director and a Tony Award®-winning design team. One of the world's most beloved characters. Turn them loose on stage and what do you get? Broadway's best creative minds reimagine and bring to life the beloved Nickelodeon series with humor, heart and pure theatricality. SpongeBob and all of Bikini Bottom face catastrophe until a most unexpected hero rises to take center stage. The bold, original musical celebrates friendship, cooperation, and the power of unity and inclusion. The power of optimism really can save the world.
Dates: March 10-22
Where: Buell Theatre
Tickets: Start at $30 and can be purchased at 303-893-4100 or in person in the Helen Bonfils Theatre Complex at 14th and Curtis streets or online by clicking here:
Video bonus: Your first look at The SpongeBob Musical:
https://www.denvercenter.org/wp-content/uploads/2020/02/400-Lorenzo-Pugliese-as-SpongeBob-SquarePants-in-The-SpongeBob-Musical-Photo-by-Jeremy-Daniel.jpg
275
400
John Moore
John Moore
2020-02-13 09:09:38
2020-03-04 10:21:12
How 'The SpongeBob Musical' ended up with such a rocking score