Kirk Petersen: A Hard Act to Follow
For 41 years, Kirk Petersen's driving passion at the Denver Center for the Performing Arts (DCPA) was accommodation. As Associate Director of Ticketing Services, he propelled the box office into an industry leader in providing customer service for every patron – and especially for those with special needs.
He just never thought that in his final years at the only job he ever loved, he would be the one in need of accommodation.
Seven years ago, while out of state visiting family, Petersen's thumbnail started to feel numb. It didn't hurt. He could walk. When he got home, his doctors thought it might be a pinched nerve. Petersen suggested Guillain-Barre Syndrome, a condition so rare his doctors scoffed at first. Until they figured out that he was right.
GBS is a rare disorder in which your body's immune system attacks your nerves, causing weakness and tingling in your hands and feet – and it can quickly spread. "Within two days, both my arms and legs were completely numb," said Petersen, who soon learned that GBS comes from a respiratory illness. "Any flu can trigger it, but it is super rare," he said. "One in 100,000 get it after the flu."
Petersen was left with permanent nerve damage and no hammer reflex in his legs. But he did not let the lingering disease slow him down at work – not even when the pandemic brought a triple-whammy of new challenges. With no shows to sell, all but four leaders of the DCPA's ticketing services department were furloughed. Working from home, Petersen went back to his beginnings as a ticketing agent. For months, all he did was take phone calls, reassign and refund tens of thousands of sold tickets, and counsel unsettled customers who, he said, "turned out for the most part to be really nice."
But when the DCPA slowly started to re-open in the fall of 2021 and employees began returning to the office, Petersen had some very real concerns. COVID, now an ongoing part of our lives, has been known to trigger GBS, and Petersen did not want to risk a new outbreak by going back. He wondered whether his time at the DCPA was necessarily over.
Instead, his boss, Director of Ticketing and Audience Services Jennifer Lopez, arranged for  Petersen to keep working from home indefinitely, which he did until his retirement on Aug. 5.
"There was never a question whether we were going to make it work," said Lopez, who says she owes Petersen her career. Just a few months after she started working as a DCPA ticketing agent 16 years ago, it was Petersen who gave Lopez her first promotion.
"The pandemic was incredibly hard on everyone in customer service, and Kirk was my absolute rock for nearly two years," she said. "He answered hundreds of phone calls and thousands of emails. He treated the whole situation with grace, and he always maintained his empathy for our customers. He led this team in a really remarkable way."
An 18-year-old Petersen never would have seen his DCPA life coming. That Petersen, a recent graduate of Arvada West High School, worked steadily at King Soopers before getting himself fired for (gasp!) throwing away the day-old donuts at the end of his shift. "I so richly deserved to be fired," the resolutely principled older Petersen now says. "Denying them the opportunity to resell those donuts was essentially stealing from the company."
Young Petersen's heart was instead on art school, which he attended at night at the Colorado Institute of Art. A friend of a friend told him about an opening at Robert Garner's Center Attractions, which at the time booked all the national touring productions into the Auditorium Theatre. This was 1981, the Buell Theatre did not yet exist and the Denver Center Theatre Company was just one year old. Petersen was hired as an entry-level box office worker for less than $3 an hour. His first show was the first-ever Denver run of Evita. He took orders by phone and manually processed them using carbon paper and those old-fashioned credit-card swipers called "Knuckle Busters."
There was only one departmental computer at the time, and it was kept in the tiny ticketing office on 13th and Champa streets. That was far from the entrance to the Auditorium Theatre. So, on show nights, Petersen would call the box office manager stationed inside the theatre every five minutes to address any problems that might have popped up. "I would look it up on the computer and try to figure out whatever the problem was," said Petersen.
It was super old-school. And Petersen loved it. Even when Cloris Leachman casually, and for no apparent reason, walked up to Petersen and burped in his face. In those days, national tours were star-driven and Petersen loved meeting divas like Leachman and Carol Channing.
"I remember getting really excited about a 25-cent raise," he said. "I loved the job. Absolutely."
What Petersen did not love was that, in those days, customer service did not exist as a pre-Denver Center company value. He remains mortified yet grateful for an early encounter with a disabled person in 1981 that shaped the rest of his career.
"We had a subscriber – a young woman in a wheelchair – who came down to our Champa office to exchange some tickets," Petersen said. "There was a ramped door, but it was for service deliveries only. She had to call us from the payphone outside the building to come down and let her in. So I brought her up to our office on the second floor to make the exchange. But we didn't have tickets for the date she wanted. When we suggested another date, she very reasonably wanted to call her friend to ask if that date worked for her. But in those days, we would not allow anyone from the public to use our phones. That was 'the policy.' She was understandably frustrated and started weeping. So I took her back outside to the payphone, waited for her to make the call and then we came back up and made the exchange.
"And all I remember thinking was, 'This is not right.'"
What a difference four decades make. Garner Attractions eventually merged with the Denver Center Theatre Company and, after a whirlwind of office moves, the combined department eventually settled into its present home at the Newman Center for Theatre Education in the Historic Tramway Building. A crew that was once just eight reached a pre-pandemic high of 56.
"It was only when we joined the Theatre Company under Maureen Anderson that I started to learn about customer service for the first time," said Petersen. "To be honest, before the merge, we were the only game in town. If you wanted to make a ticket exchange, we had no empathy. If your credit-card was declined, we just wouldn't take your order."
That all changed as Petersen was promoted, first to a ticketing manager and then to Box Office Director. When Petersen was diagnosed with GBS in 2015, Director of Sales & Marketing Jeff Hovorka created a temporary three-person leadership team to give Petersen time to ease back into the job. Petersen, a man of proudly little personal ambition, said he told Hovorka straight out: "If you are going to put one person in charge, it really should be Jennifer.'" And so, he did. The new arrangement left Petersen with both the title of Associate Director of Ticketing Services and the time, he said, "to focus on the thing that I care most about, which is customer service."
Or, as Lopez lovingly puts it, "He was The Complaint Department."
The DCPA of today offers a wide variety of audio, visual and mobility services to help make the arts more accessible to more people. That includes American Sign Language, open captioning, personal captioning, audio description, large print programs, Braille programs and sensory-friendly performances. When a special-needs person can't attend a designated performance, Petersen takes it as a personal challenge to come up with an alternative solution.
Why? Because he, like the rest of society, has learned through trial and human error that equality means equality.
"I used to think that if we were complying with the Americans with Disabilities Act, that was enough. That was something to be proud of," Petersen said. "But, boy was I wrong. We were all wrong. I've come to learn that there is the law, and there is the spirit of the law. And the law itself is not enough. The spirit of the law is equality, and it's not equal if you have special needs and you only have the option to attend one designated performance. We can do more than the minimum of what we have to do by law."
At the time of his retirement, Petersen was working on solving the problem of a deaf woman who wants to attend the upcoming tour stop of Ain't Too Proud — The Life and Times of the Temptations. There is one designated ASL performance scheduled for Nov. 6, but she cannot attend that day. According to the law, the DCPA did its part by scheduling the Nov. 6 performance. But, even in retirement, Petersen is continuing to work with the woman to get her moved to another available night during the run. Hiring the ASL interpreter for the evening will be the easy (if expensive) part. Finding her a seat where she can see the interpreter when the run is essentially sold out is the challenge. But that, said Lopez, is quintessentially Kirk.
"I don't know anyone who has empathy for people like Kirk," Lopez said. "He truly puts himself in the patron's position, asks himself how he would want to be treated and acts accordingly."
In addition to his round-the-clock attention to patron concerns, Petersen has had a second life as an artist and art aficionado. In his early years, he met a co-worker in Group Sales named Jennifer Doran, who is now a co-owner of the Robischon Gallery with her husband, Jim Robischon. For eight years, Petersen worked part-time at the gallery in exchange for "art dollars," which he has used to start his own art collection, which is focused on nature in contemporary art. "Being exposed to the art at Robischon was an education that has really turned my life around," said Petersen, who considers among his favorite artists Zoa Ace, Louis Recchia, Trine Bumiller, Udo Nöger and Brad Miller.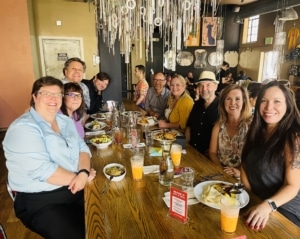 Last week, the DCPA Board of Trustees acknowledged Petersen for his career service. Lopez and DCPA team members have additionally purchased the naming rights for two seats in the newly renovated Wolf Theatre to honor Petersen. Naturally, one will be a wheelchair seat and the other a companion seat. "That just seemed right given how passionate Kirk was about access in all of our theatres," said Lopez, who also pointed out that Petersen himself is a longtime Theatre Company subscriber, choosing to support the home-grown arts that have supported him as opposed to accepting employee comps.
"There just isn't one negative thing anyone would ever say about Kirk's performance," she added. "I owe him my career. He was amazing for 40 years."
Petersen is leaving more than a job, he said. But he's not leaving it all behind.
"The DCPA has been a family for me," he said. "The people here have taught me a love and appreciation for theatre that I did not have before – and that's a really meaningful part of my life moving forward."
https://www.denvercenter.org/wp-content/uploads/2022/10/IMG_2989.jpeg
3024
3790
John Moore
John Moore
2022-10-07 08:52:24
2022-10-07 08:52:41
Kirk Petersen: A Hard Act to Follow