Local Artist Highlight: Ryan Omar Stack
Over the last few years, students from the Denver Center for the Performing Arts' (DCPA) Adult Education program have emerged on professional stages across the Denver metro area.
"It's exciting to see several students step into professional theatre," Head of Acting Tim McCraken shared. "There are real theatrical opportunities around town for these students because of the skills they've developed and their commitment to the work."
Ryan Omar Stack, Business Analyst-turned-Actor, is one such student seizing local opportunities, scoring himself roles in the Colorado Shakespeare Festival and The Queen's Ball: A Bridgerton Experience.
Stack moved to Denver in 2010 to pursue a career in business. After several years he found himself hungering for a creative outlet and returned to acting. While searching for a place to continue to grow as an actor, he stumbled upon the DCPA and began taking classes.
"It felt new," Stack shared. "After so long, I was uncomfortable performing in front of people." But the hesitancy quickly wore off. Stack jumped into classes getting to know the education staff, including McCraken; Executive Director of Education and Community Engagement, Allison Watrous; and Director of Education and Curriculum Management, Patrick Elkins-Zeglasrski.
He received a scholarship where he learned various tools, methods and crafts to add to his repertoire plus practical skills like auditioning, building a resume and professional acting etiquette. The two-year program reintroduced Stack to the industry and challenged him to explore areas he'd previously been intimidated by such as improv.
"The staff was so willing to provide feedback at any time," Stack explained. "Having people to confer with and learning from people who've studied the art and applied it is incredibly helpful."
Following his time with the DCPA, Stack auditioned around town and eventually became a resident actor at Benchmark Theatre. "I slowly transitioned from performing in front of students and small audiences in master classes to month-long performances in front of paying audiences."
Following breakout roles in Benchmark's productions of George Orwell's 1984, Airness and Parfumerie, Stack joined the seventh season of DCPA Education's Shakespeare in the Parking Lot. He worked with teaching artists and local actors to share abridged performances of Romeo and Juliet, A Midsummer Night's Dream and Macbeth with high school students at schools, libraries and community centers across the Denver area.
"It was the best job I've ever had," Stack shared. "Getting to play that much, six days a week, sometimes three or four shows a day is grueling, but the most rewarding thing I've ever done."
Performing in these classical works prepared Stack for his next job with the Colorado Shakespeare Festival (CSF).
"Work gets work," Stack explained. "As I continued to book more jobs, I gained more confidence and comfortability being in the room. Shakespeare in the Parking Lot gave me the tools needed to get into CSF."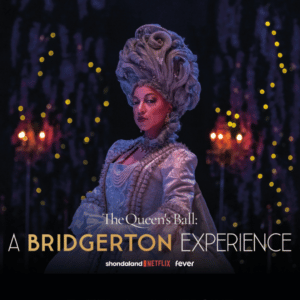 Now Stack is venturing into less traditional theatre experiences. Recently he worked with Deck Nine Games, providing voice-over and facial motion-capture for the video game Life is Strange: Remastered Collection, and this fall joined the cast of The Queen's Ball: A Bridgerton Experience.
During The Queen's Ball, Stack has worked with a remarkable team of coaches, technicians and dancers. "I love doing jobs where I work with different creatives," Stack said, "where we can all learn from each other."
Travel to 1813 London and meet Stack as Sir Harris Thornby at The Queen's Ball. Can you help him reveal the identity of Lady Whistledown by the end of the night?
DETAILS
The Queen's Ball: A Bridgerton Experience
Through December 18 • Non Plus Ultra Venue
Tickets
https://www.denvercenter.org/wp-content/uploads/2022/11/RSHeadshot1.jpg
4821
3857
Madison Stout
Madison Stout
2022-11-18 09:23:44
2022-11-18 13:29:49
Local Artist Highlight: Ryan Omar Stack