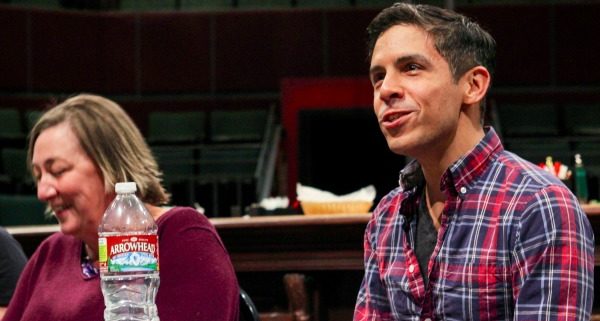 Matthew Lopez among Perry-Mansfield featured playwrights
Matthew Lopez, shown at the recent Colorado New Play Summit, is a featured writer in Steamboat Springs. Photo by John Moore for the DCPA NewsCenter.
Every summer for nearly two decades, playwrights have retreated to the glorious Colorado mountains near Steamboat Springs to develop new plays in collaboration with some of the nation's leading theatre companies.

Perry-Mansfield is a performing-arts school that attracts students from around the world and faculty renowned for their work in theatre, music and modern and contemporary dance,
Perry-Mansfield's 19th Annual New Works Festival on June 10-11 will develop five new plays in partnership with the Actors Theatre of Louisville, the Denver Center for the Performing Arts, The Lark, Primary Stages and South Coast Repertory.
Among the featured writers are DCPA Theatre Company Playwright in Residence Matthew Lopez, who will be developing his latest work, Zoey's Perfect Wedding. It is directed by Mike Donahue, with whom he collaborated on the DCPA world premiere The Legend of Georgia McBride.
Another featured playwright is Mat Smart, whose The Yes Ready Within is being developed by Primary Stages of New York City. Smart's Midwinter was a featured reading at the 2016 Colorado New Play Summit.
"For almost 20 years, Perry-Mansfield has been a haven of new-play development deep in the Rocky Mountains," said Perry-Mansfield and Primary Stages Artistic Director Andrew Leynse (pictured right). "This year, more than 40 theatre artists from five leading institutions will join us in Steamboat Springs to collaborate and create something new. We are honored to welcome this diverse mix of voices and to be an important step in the life of these plays."
The public is encouraged to join the artists and be among the first to experience these premiere plays before they go on to be produced across the country.
Perry-Mansfield's 19th Annual New Works Festival
I Now Pronounce
By Tasha Gordon-Solmon
Presented by Actors Theatre of Louisville
Directed by Meredith McDonough
Comedies end in marriage. Tragedies end in death. This play begins with both. A disaster at a wedding leads those involved to question their own life choices over the course of an increasingly strange night.
Orange
By Aditi Kapil
Presented by South Coast Repertory
Directed by Jessica Kubzansky
Dramaturgy by Kimberly Colburn
Leela is different. A teenager from India, she sketches life's important moments in her journal, and she's about to go on an adventure through Orange County. When a family wedding gets boring, her rebellious cousin decides to make a run for it with her boyfriend—taking Leela along. As they careen through the night, Leela challenges their view of her—and each other. A touching story about a unique young woman's search for her place in the world.
The Quiet Ones
By Mary Elizabeth Hamilton
Presented by The Lark
Directed by John Clinton Eisner
How do you function in a world that is evolving without you? Katherine's old-school methods as a Kindergarten teacher have come under new scrutiny. She struggles to handle a disturbing event between two of her students, her only son is getting married and she can't decide on a pair of shoes, and she is still working to recover from the break up of her family 17 years ago after her husband transitioned genders. As Katherine attempts to navigate a new culture using all the old rules, the fragility of her world-view becomes painfully clear. The Quiet Ones explores what is lost or gained as we evolve as people and as a society.
The Yes Ready Within
By Mat Smart
Presented by Primary Stages
Directed Henry Wishcamper
Eden Prairie, Minnesota – 1971. On the night Apollo 15 lands on the moon, a draft dodger returns home to Eden Prairie from Canada. He risks arrest to deliver a message to a girl from his high school class. A play that asks: what does it mean to be brave?
Zoey's Perfect Wedding
By Matthew Lopez
Presented by the DCPA Theatre Company
Directed by Mike Donahue
Dramaturgy by Douglas Langworthy
It's November 2008. Obama has just been elected and Zoey has just gotten married. One of these things is about to end in disaster. ZPW is a new comedy about hope, expectations and the inevitability of growing up.
Reading Schedule
Friday, June 10, 4 p.m.: The Chief
The Yes Ready Within by Mat Smart
Friday, June 10, 8 p.m.: The Chief
I Now Pronounce by Tasha Gordon-Solmon
Saturday, June 11, 1 p.m.: Julie Harris Theater
The Quiet Ones by Mary Elizabeth Hamilton
Saturday, June 11, 4 p.m.: Julie Harris Theater
Orange by Aditi Kapil
Saturday, June 11, 8 p.m.: Julie Harris Theater
Zoey's Perfect Wedding by Matthew Lopez
Ticket information
Single tickets for each reading are $15 in advance, $20 at the door. Festival passes start at $60. BUY HERE. For advance ticket reservations and other information, call 970-879-7125 and ask for Toni.
About Perry-Mansfield
The Perry-Mansfield New Works Festival, now in its 19th year, brings performing arts professionals together in the Rocky Mountains to continue Perry-Mansfield's founding principle of nurturing new talent with new work. Presented under Executive Producer Jim Steinberg with sponsorship from The Harold and Mimi Steinberg Charitable Trust, Artistic Director, Andrew Leynse, (Primary Stages, NYC) and Grady Soapes, Associate Producer.
The New Works program was founded in 1997 to provide a collaborative festival for voices in the arts. Students have the opportunity to interact and observe a professional new play development process and our guest artists get to craft their pieces in a relaxed environment with a very supportive staff and audience.
Past festival works include Appoggiatura by James Still (DCPA Theatre Company and LAUNCH PAD); The Whistleblower by Itamar Moses (Pacific Playwrights Festival); The Few by Samuel D. Hunter (Rattlestick Playwrights Theater); Bronx Bombers by Eric Simonson (Broadway, Circle in the Square Theatre and Primary Stages); The Receptionist by Adam Bock (Manhattan Theatre Club); Lydia by Octavio Solis (DCPA Theatre Company, Yale Rep); The Blue Flower by Jim Bauer and Ruth Bauer (Prospect Theatre at the West End Theatre); Plainsong by Eric Schmiedl (DCPA Theatre Company); The Morini Strad by Willy Holtzman (Primary Stages, City Theatre); Maple and Vine by Jordan Harrison (Actors Theatre of Louisville, Playwrights Horizons); Eat Your Heart Out by Courtney Baron (Actors Theatre of Louisville); What's That Smell by David Pittu (Atlantic Theatre); and The Unauthorized Autobiography of Samantha Brown with books and lyrics by Kait Kerrigan and music by Brian Lowdermilk (Goodspeed).
https://www.denvercenter.org/wp-content/uploads/2018/04/featured-image-3145.jpg
369
600
John Moore
John Moore
2016-06-02 18:42:00
2018-06-14 15:08:56
Matthew Lopez among Perry-Mansfield featured playwrights